Non-government organisations, private companies and policy makers across the globe are trying to improve the sustainability of seafood production. Since the 1990s, the traditional approach has been to encourage both the fisheries and aquaculture sectors to follow more sustainable production strategies. But what do these measures actually encompass? How is sustainability itself defined?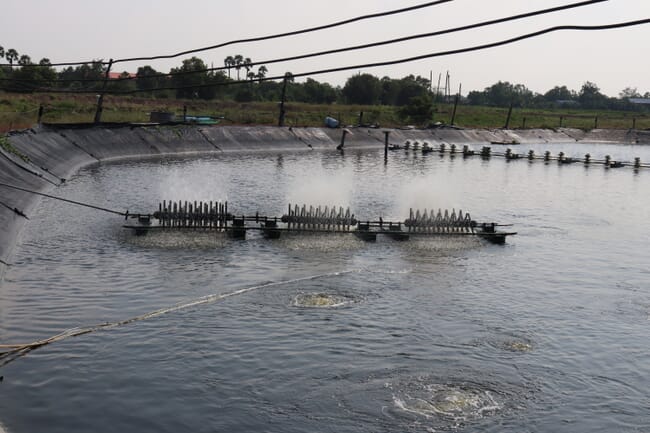 Experts recently released a scientific paper in Global Environmental Change, a highly-regarded international journal. They argued that the current definition and framework for seafood sustainability is too narrow and oversimplified. Present efforts overemphasise oceanic health and the role of primary producers, while ignoring the responsibility of other supply chain actors, plus the sheer diversity of the sector. They propose a wider set of social and environmental aspects when defining sustainable seafood. This should help realign and thereby improve the sustainability agendas of policy makers.

Associate professor Tlustly of the School for the Environment at the University of Massachusetts in Boston led the writing process, which involved experts like Max Troell, associate professor from the Stockholm Resilience Centre and Professor Simon Bush, chair of the Environmental Policy Group of Wageningen University.
Wider metrics for determining sustainability
Many NGOs and policy makers working on sustainability target oceanic health as the main goal of their programmes. Enhancing oceanic health should be accomplished by single-focus topics like improving the stock status of Atlantic bluefin tuna, or in the case of aquaculture operations, by minimising the habitat impacts of farms.
The authors, however, argue that it is unrealistic to expect that improving the practices of fisherfolk and farmers will directly result in the improved health of the oceans. They believe that false expectations are created by oversimplifying the situation for both stakeholders and consumers.
Major concerns like agricultural runoff, plastic pollution, oceanic dead zones, climate change and changes in oceanic currents probably play a much larger role in ensuring and enhancing the health of our oceans. To successfully address seafood sustainability, these additional concerns should be incorporated in discussions. Measures to mitigate these issues must constantly be analysed and improved by NGOs, the private sector and policy makers.
The paper explains how fisheries and aquaculture are becoming increasingly linked with terrestrial livestock production systems, making it much harder to separate the two. More agricultural products, like soy, are used in aquaculture, while processing wastes from fish farmers are used in livestock feeds and so forth. When evaluating and addressing sustainability-related issues, both sides must always be considered.
Less focus on producers, more focus on systems
Producers are frequently blamed for the flaws of production systems and consumer markets. This is currently a hot topic in Europe, where fisherfolk and farmers are blamed for many of the environmental problems of the North Sea. In response, fishers and farmers are now staging large-scale protests in the Netherlands, Germany and France.
This "productionist bias" as it is referred to by scholars, has an even larger impact in developing countries, where most of the world's seafood is produced. In terms of aquaculture, around 90 percent of farmed seafood comes from South East Asia and China. The burden and financial costs to improve the sustainability of the sector is offloaded to these nations, their farmers and fishers.

The rest of the supply chain, often conveniently located in western countries, receives much less scrutiny. For instance, while European retailers demand each aspect of shrimp production in Southeast Asia is audited, the same retailers try to maximise their profits through a variety of mechanisms to reduce prices offered to shrimp farmers. Retailers also incur significant volumes of waste from unsold products, while using considerable power and energy to store, cool and transport their goods.
The authors argue that a wider food system approach will shift the burden and responsibility away from producers to hold middlemen, transporters, retailers and consumers equally responsible and accountable.
Celebrating diversity
The authors further argue that NGOs, the private sector and policy makers often have a poor understanding of the enormous diversity of the seafood sector. Figures and numbers produced by seafood sustainability initiatives often label product categories in general terms like "fish", "tuna" or "shrimp", while the diversity of stocks, species and strains within these groups is tremendous.
When these same groups target particular species, they usually choose those which are popularly consumed in western countries, which often doesn't match global production importance. For instance, in terms of volume and land use, the world's top aquaculture species are various species of carp and tilapia. Improving farming practices for these species would have globally-significant impact, but since carp is rarely eaten in the West and since tilapia are considered low-value species, they are rarely the focus of attention.
Lumping species and production methods in groups such as 'shrimp' is also misleading. Warm water shrimp produced in an indoor RAS system in Iceland for instance, demands far more energy compared with extensively farmed warm water shrimp in the vast mangrove swamps of Myanmar.
The authors explain that by giving more attention to the collection of data which highlights challenges and benefits for individual species and production systems, a more truthful and fair picture of a particular farm or sector can be formed, thereby making decision-making more grounded, practical and effective.

Reframing the narrative
The collaborators hope their arguments will advance the discussion on seafood sustainability, resulting in the adoption of a wider definition for seafood sustainability. This should help realign and improve the efficiency and success of policy makers pushing for sustainability. This in turn can hopefully redistribute the burden of the work that needs to be done, with less weight on the shoulders of producers and developing countries, while providing more benefits for those working hard to create a sustainable and equitable future.