Diseased salmon debate heats up
This week's publication of footage showing wild salmon infested with sea lice tells a story that "lacks context and scientific veracity" according to the head of the Scottish Salmon Producers' Organisation (SSPO).
Footage released by Salmon & Trout Conservation Scotland (S&TCS), shows wild salmon in the tidal section of the Blackwater River, on Lewis, which are clearly suffering from an abundance of parasitic L.salmonis. S&TCS places the blame for their condition firmly at the feet of the local salmon industry, pointing out that migrating salmon have to pass seven farm sites within Loch Roag on their return to the Blackwater to spawn.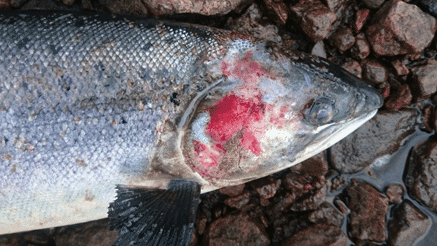 Andrew Graham-Stewart, Director of S&TCS, said: "We believe that the explosion in lice numbers on the Loch Roag farms, spreading out into the wider sea loch environment, has had deadly implications for wild fish, as they were waiting to enter the Blackwater. As the video shows, these fish were literally eaten alive and a large number of adults, that would have bred in the river, have been killed by the lice. Laboratory tests have failed to find any other possibility. Adult salmon are well adapted to coping with a few lice but, when plastered with hundreds, they simply do not have a chance."

However, Julie Hesketh-Laird, chief executive of the SSPO, warns that the footage should not be judged in isolation.
"The video footage and images circulated in the media recently are horrible to watch. I can completely understand why people would be disturbed by them. I am, too. But there is a problem here with using isolated footage and creating an assertion which lacks context and scientific veracity about the impact of salmon farms on wild salmon stocks.
"Lice occur naturally in places like river mouths, where there is low water flow and a lot of returning wild fish. This year, in particular, the warm weather has increased water temperatures, exacerbating the lice problem for wild fish, just as for farmed fish.
"Sea lice are not a new problem. There have been naturally occurring sea lice on salmon since there were salmon – wild and farmed. Rising water temperatures make that problem more complex to manage, but we are managing it and we see from our published farm-by-farm data on the incidence of lice, that the levels of lice on farmed salmon are in decline. In fact, they are at the lowest level for five years
"The salmon farming industry continues to invest huge amounts of money into scientific research and expert veterinary help. Employing veterinary medicines, equipment like "lice skirts" and cleaner fish are all playing a part in managing sea lice on farms.
"Mortality of farmed fish is generally not related to sea lice. Gill disease related to the warmer seas is the root cause of the current mortality trend.
"The men and women who work in the salmon farming industry take great pride in their job to raise healthy fish and make a positive contribution to their local economies and communities; just as those who work in the angling sector are proud of their heritage and contribution to the tourist trade. Both sectors deserve to be protected and supported and the farming sector is keen to see greater collaborative working between them. There is scope on both sides to do better at making that happen.
"Scrutiny of industries, where legal, is perfectly legitimate and we recognise the importance of maintaining high standards."