Cryopreservation: A Valuable Tool for Aquaculture and Wild Fish Stocks
GLOBAL - Cryogenetics is helping to increase fish numbers through its milt preservation and fertilisation technology, and also through its diverse gene bank. These services can offer assistance to both aquaculture and wild fish stocks, writes Lucy Towers, TheFishSite Editor.
As innovators and industry leaders in cryopreservation of aquatic genetics, the company's biggest service is the cryopreservation of milt. This technology freezes the milt at extremely low temperatures so that it does not degrade, allowing it to be used at a later date when it is needed for fertilization.
The ability to cryopreserve milt is a valuable tool for hatcheries. As well as this, hatcheries can also improve their fish through Cryogenetics' improved fertilization service.
The company is able to maximise the available output of a population through precise measurement.
"Our SDM6 Photometer measures sperm density precisely in billions of sperm cells per ml of milt. We know that it only takes one sperm to fertilise an egg but in the natural world, there are many millions of sperm cells made available for each egg. In hatcheries traditionally you would find a sperm to egg ration of 4-6 million which is more than enough to do the job. We take that precise measurement and through careful dilution, we can take that ratio down to 1.5 million sperm cells per egg," explained Russell Ferguson, Aquaculture Manager for Cryogenetics.
"This means that the milt available can be used for 3 or 4 times as many eggs. This is very significant where you have few elite males and you want to grow your populations with the best genetic material."
Cryogenetics stores the cryopreserved milt in containers called "SquarePacks®". These quick thawing containers hold the exact amount of frozen milt to fertilise the same number of eggs each time, thereby offering consistency of results and allows for good planning.
In terms of fertilization, Cryogenetics has a range of products that help improve the fertilisation results of many freshwater and marine species.
The AquaBoost® range of products to maximize and improve fertilisation includes; dilutors to get the perfect sperm to egg ratio, activators to "turbocharge" the sperm cells and extenders to keep sperm fresh for several weeks.
Gene Banking
Alongside its fertilisation work, Cryogenetics also offers gene banking.
Gene banking is a vital resource that allows a genetic back up for original genetic stock and back-up for a specific genetic enhancement or variation.
Mr Ferguson explained: "If there is a parasitic outbreak such as Gyrodactylus Salaris in a river, then the river is disinfected and all fish species will be killed. By removing the salmon milt before the river is treated and freezing it, when the river is ready to sustain healthy fish again, the original genetic source can be returned."
Similarly, milt can also be frozen until it is needed when eggs become available. It also allows for specific milt from a male to be crossed with specific traits from a female to produce offspring that have all the traits that you are looking for.
Most importantly, Cryogenetics' gene banking offers the ability to return a species to a desired point in its genetic history.
It provides the assurance that you can return to a specific point in time with the preferred genetic and trait selection.
This is a very useful tool as breeding programmes can occasionally drift too far away from the desired outcome, explained Mr Ferguson. It therefore allows you to return to your chosen route.
Operating in Canada, the UK, USA, Chile and Norway, the company can collect, freeze and store sperm from: Atlantic salmon, coho salmon, chinook salmon, sockeye salmon, rainbow trout, brown trout, brook trout, Arctic char, sablefish, halibut, zebra fish, lumpsucker and several more species.
Wild Fish Enhancement
These services offered by Cryogenetics are not only useful to fish farms, they are also fundamental to the enhancement of wild fish stocks.
Enhancement aquaculture is an important management tool for rescuing or building up stocks of wild fish that are under threat or for helping repopulate areas which may have lost fish populations through disease, overfishing, habitat destruction or other environmental challenges.
Also called restoration aquaculture, enhancement aquaculture is all about enhancement of fish or shellfish stocks by releasing into the wild juveniles that have been raised in hatcheries.
Hatcheries capture adult fish in the wild that are ready to spawn and strip them of sperm and eggs, and then where possible, release the adults back into the water systems.
The eggs are then fertilised and developed in the hatchery. When the juveniles become an appropriate size they are then released into the wild.
As well as giving the fish a good start, Cryogenetics' work also makes sure that the fish they release are optimum in terms of their performance, fitness and genetic make-up to suit the changing environment.
Explaining the benefits of raising the juveniles in the hatchery, Mr Ferguson stated: "In the wild, the most vulnerable stage of the fish life cycle is during the period from egg to juvenile. Enhancement hatcheries therefore offer increased survival rates for the juvenile stage as the fish and environment in the hatchery are closely monitored; there is abundant food containing the correct nutritional requirements and most importantly, there are no predators."
Cryogenetics is currently carrying out this important restoration work in various locations across the world.
In Italy, the company has been working for several years with a government sponsored stock recovery programme to help recover stocks of marble trout (Salmo marmoratus) whose genetic purity is at threat due to its breeding with native brown trout.
"Through working closely with the programme, we were able to select pure species males and females from the populations and apply our products and techniques to improve the fertilisation rate and juvenile output by many thousands," explained Mr Ferguson.
"We also cryopreserved sperm from the species so that it can be used in subsequent fertilisations. This acts not only as a fertilisation tool but also as "insurance" within a gene bank in case the population is threatened further. To date in our gene bank, we have sufficient milt from a whole range of males to reproduce in excess of 150,000 juveniles of sufficient biodiversity to maintain a healthy population."
Similarly, Cryogenetics is also working with tribes of the First Nations on the west coast of Canada to help conserve Pacific salmon.
"The pacific salmon have particular cultural significance within the First Nations and they have consulted with us to enhance the population as well secure the future of the species through improved fertilisation and cryopreservation of genetic material," explained Mr Ferguson.
"Through creating larger and stronger populations of Pacific salmon, they will return year after year to spawn in the same river system and this helps to create year-round valuable employment for First Nation people."
For more information on Cryogenetics and its products, please visit http://www.cryogenetics.com/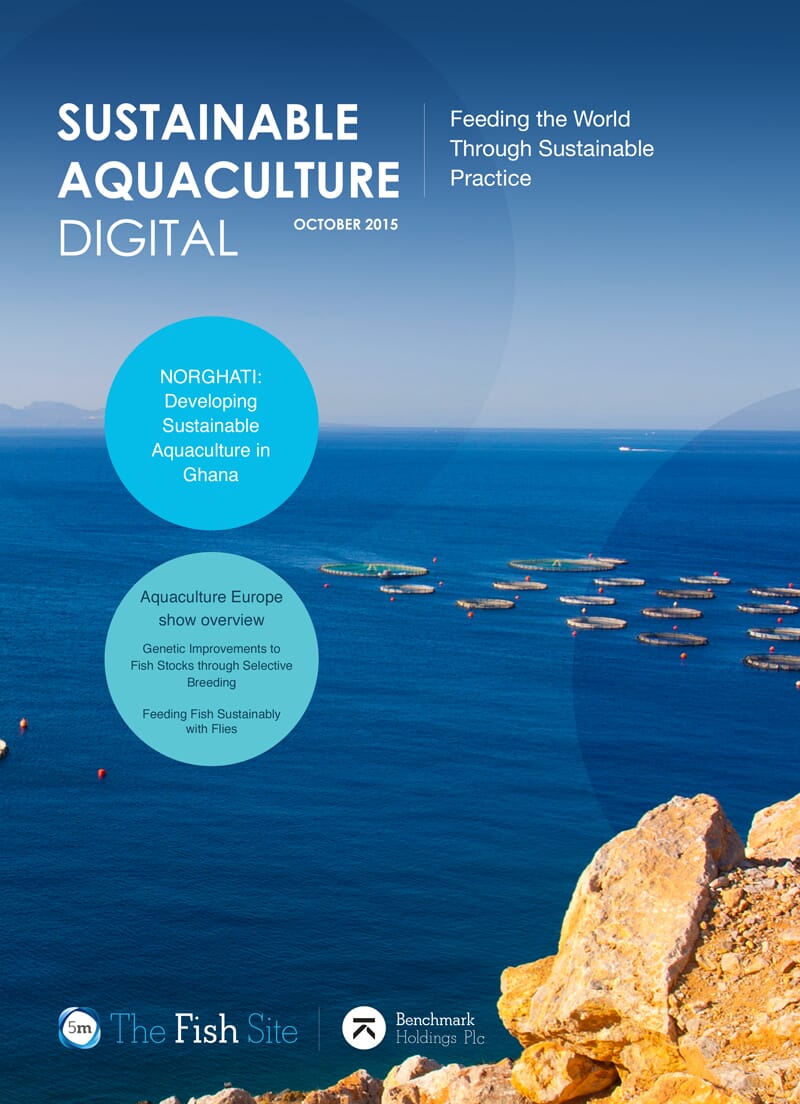 This article was taken from the October 2015 Sustainable Aquaculture Digital. To sign up for the February 2016 edition, please click here.