Weak Dollar Boosts European Crab Imports from Developing Countries
Preliminary figures point to increased volumes in the French, Spanish and Italian markets compared to 2006. The currency effect contributed to a shift from chilled imports, which are dominated by European suppliers, to frozen imports, which are increasingly supplied by non European producers.

Final figures for 2007 should confirm France as Europe's top crab import market in a year which saw French imports increase following a negative trend in recent years. French volume imports for the January – November period increased by 13% (+19% for values) on the corresponding period of 2006. The Spanish volume increase was stronger at 16% (10 months) while Italian imports were up 14% on the same period theprevious year.

Increase in French Frozen and Processed Crab Imports
The increase in French imports during 2007 is due largely to stronger frozen (+33%) and processed (+17%) deliveries. Chilled (including live) imports are, in contrast, down slightly on corresponding 2006 levels. These changes confirm a recent trend involving a switch from chilled to frozen imports. In 2004, chilled product accounted for over half of total crab imports, falling to less than 50% in 2005 and to 45% in 2006. Full year figures for 2007 are likely to show a chilled share of around 40% or lower.

The declining chilled share reflects falling live crab sales to France from the UK and Ireland, the two leading suppliers of this product. In contrast, frozen sales from both countries have been increasing since 2004, with the exception of a 19% volume decline from Ireland last year. Also up in frozen sales to the France were volumes from both Norway, doubling last year to almost 800 tonnes, and the Russian Federation.

In the preserved segment which includes crab in cans, pouches and jars, French imports increased by 17% to over 4 100 tonnes for the eleven month period last year. The value increase was significantly less at just 4% suggesting a volume boost based on cheaper euro import prices. Vietnam remains the leading supplier following a 16% increase although with its share of imports stable at between 37 and 38%. The strongest increase was from Thailand, French imports increasing by 50% to 1 200 tonnes. The Thai share has increased over the 2006 – 2007 period from 23 to 29%.

Portugal and Uruguay Increase Sales to Spain
Spanish crab imports during 2007 followed the French shift towards frozen as against chilled product. For the ten month period, the frozen share of total imports increased from 36% in 2006 to almost 46% last year. The corresponding fall in the chilled share was a drop from 62 to 53%. The stronger frozen share reflected an almost 50% jump in volumes from just under 4 000 tonnes to 5 800 tonnes. This increase was based on a quadrupling of sales from Portugal to 1 300 tonnes and a 29% increase from the UK. This latter increase allowed the UK to maintain its position as number one supplier to Spain although its share of frozen imports fell from 31 to 28%. There was also a significant increase in sales from Uruguay, up 41% to over 700 tonnes.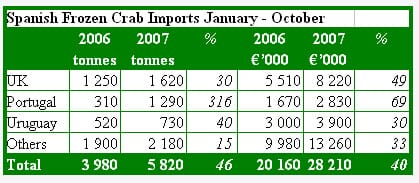 China Top Frozen Supplier to Italy
In contrast to trends in both France and Spain, Italian chilled crab imports increased, in volume and value terms, last year. For the first ten months of the year, Italian imports rose by 7% compared with the same period in 2006. However, with frozen imports rising faster at 27%, the frozen share of imports increased at the expense of chilled.

Within the frozen category, the most striking increase was recorded for China which saw sales to Italy increase five fold to over 250 tonnes. This increase pushed China into the number one supplier position for frozen crab with its share jumping from 7% in 2006 to 31% last year.

Positive Outlook for Euro Crab Markets
The prospect of a weak dollar, at least for the remainder of the current year, points to a continuation of the positive trend for frozen and processed crab imports in euro markets. These markets are likely to continue to attract imports from countries such as China, the Russian Federation, Uruguay and Vietnam which saw significant increases in sales to European markets during 2007.

March 2008