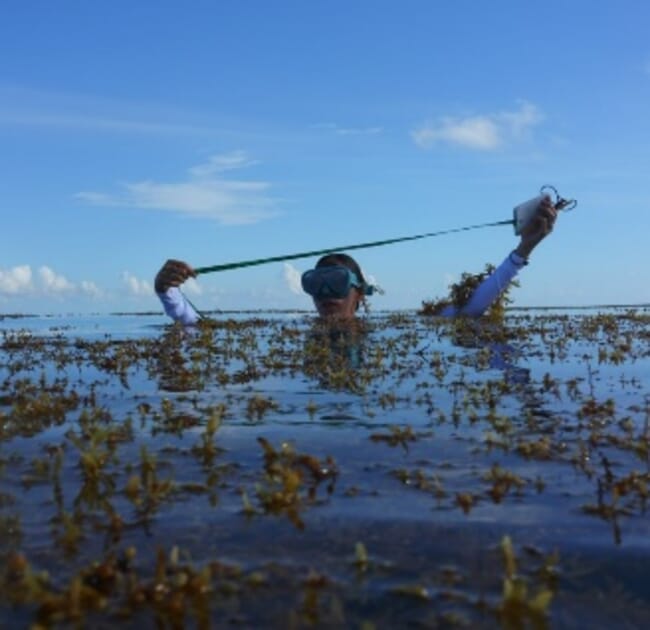 The new paper, Ocean afforestation is a potentially effective way to remove carbon dioxide, has been published in Nature Communications and was written in response to an article published in 2021 by Bach et al, titled Testing the climate intervention potential of ocean afforestation using the Great Atlantic Sargassum Belt.

The main conclusion of the earlier paper was that biological feedbacks can diminish the efficiency of ocean afforestation potential for carbon dioxide removal.
However the authors of the rebuttal – who include Seafields' scientific project manager, Dr Franziska Elmer and Dr Mar Fernandez Mendez, together with Chinese colleagues from the State Key Laboratory of Marine Environmental Science in Xiamen and the State Key Laboratory of Numerical Modelling for Atmospheric Sciences and Geophysical Fluid Dynamics in Beijing – highlight that "the Great Atlantic Sargassum Belt is not an appropriate analogue to open ocean seaweed aquafarming performed with the purpose of enhancing carbon dioxide removal".
The authors suggest that "the assumptions made by Bach and colleagues are not adequate and recalculate more realistically the role of calcification by organisms growing on the surface of the seaweed that emit CO2, and nutrient distribution with phytoplankton".
They conclude that the effect of these biological feedbacks on the carbon dioxide removal (CDR) potential of Sargassum is much lower than previously assumed.
The authors also point out that ocean-based CDR methods such as ocean afforestation need thorough evaluation, based on real data and not assumptions, before they are implemented at scale.
Dr Elmer commented in a press release: "Our team at Seafields has successfully measured carbon drawdown in our prototype Sargassum aquafarms and we continue working together with the scientific community to refine the methods to monitor report and verify carbon removal in the ocean."