North Korea: salmon farming's next superpower?
North Korea is steadily increasing the farming of a range of aquatic species – including salmon, pollack, carp, and catfsh.
So claims the state-run Pyongyang Times, which reports that a number of fishery stations have stocked net pens in the East Sea of Korea with "millions" of salmon fry.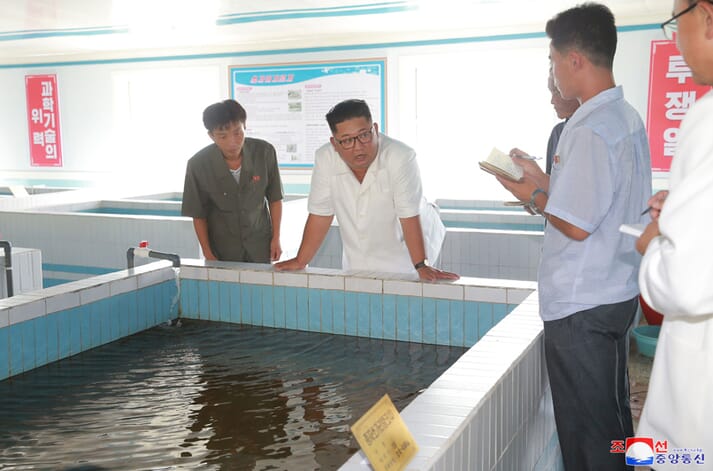 The paper also reports that "millions" of Alaskan pollack (Gadus chalcogrammus) juveniles, produced in North Hamgyong Province, were stocked into marine net pens in the East Sea of Korea last year, following a first feeding breakthrough by the Ryonjin Fishery Station. It adds that researchers in South Phyongan Province have "succeeded in adapting tropical goldfish to the West Sea of Korea, providing a technical guarantee for doing its farming on a large scale".
In recent years, it continues, "over a dozen fish farms and breed fish farms in Pyongyang have built material and technical groundwork for doing scientific fish farming and increased the species of fish for farming while raising the production of fries for stocking ever year".
Meanwhile fish farms along the Taedong and its tributary the Pothong apparently released "tens of millions" of fry into these rivers last autumn.

Net pens are increasingly widespread in the country, with "over a dozen units set up thousands of square metres of cage nets and produced dozens of tons of fishes" in Pyongyang, "hundreds of cage nets of various sizes" installed in the Taedong River "to produce various species of fish" and more being established in rivers and lakes in Kangwon, South Phyongan and Jagang provinces.

The Yonphungho Fish Stocking Station was also inaugurated last year, in order to seed the lake with species including silver and grass carp.
"We will as ever stage an all-people movement to dynamically increase the country's aquatic resources so as to pass on rich and beautiful rivers, seas and lakes to the future generations," the report concludes.