"If this is not a catfish invasion, I don't know what it is!" says Ben Solomon, a laboratory technician, with a smile as he takes a bite of his beef kebab and a sip of beer at the Roadside Court at Dzorwulu in Accra. "Until recently, most of the patrons here came to drink beer, eat a couple of kebabs and, of course, enjoy the music and the outdoor scene. But a year ago I saw that guy mount his stand, and a few days later the Nigerian patrons started trickling in. Now they come in droves, everyday. And these days, the Ghanaians are joining in. But hey, they've added to the fun. Nobody's complaining."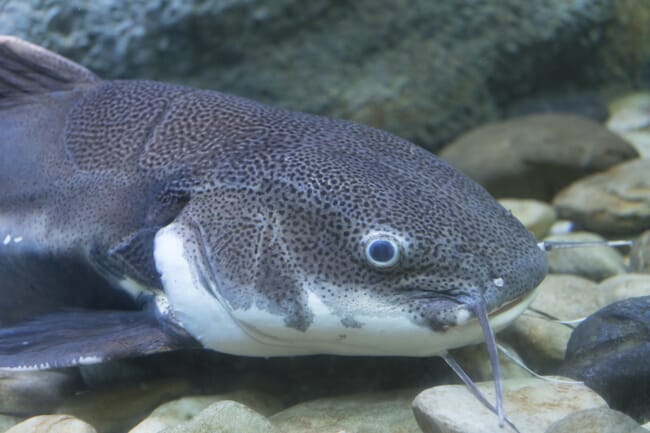 Ben Kayode, a Lagos-based software engineer who regularly does business in Ghana, found the place by chance. "Some months ago I took a walk from the hotel, about 50 metres away, sat down and asked for a beer. To my great surprise here was this catfish joint with quite a number of my folks having a good time. Now I never miss it when I come to Ghana."
Mostly operated by Nigerians, catfish joints can now be found all over the major residential areas and around nightclubs in Ghana's cities and towns. They usually start serving customers from 6.30 in the evening, and continue till well past midnight. The main item on the menu is catfish "pepper soup" served with eba, a cassava meal, or grilled catfish served with rice, yam, plantain and vegetables. The catfish is purchased from fish farms and stored in plastic tanks, usually over a week, and patrons are able to choose their preferred fish size.
The popularity of these cafés reflects the increasing numbers of Nigerian youths flocking to Ghana to work. But the abundance of catfish in the past few years is also being fuelled by the growing production figures of several major Ghanaian catfish producers. Dutch-owned Cluster Farming and SkyFox Ltd are two of the big operators whose output could help to make Ghana's catfish production outstrip its tilapia output.
This trend is being compounded by the current dip in tilapia production. Although it is expected to eventually recover from the ongoing fish health crisis on Lake Volta, it has resulted in a tilapia shortage on the market. But Gerrit Valkenburg, head of Cluster Farming, believes that current catfish production is by itself well beyond the overall 100,000-tonne aquaculture output that the Ghanaian government targeted in 2018.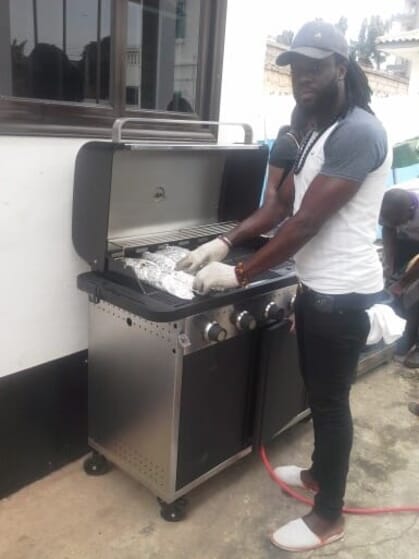 Cluster Farming and SkyFox could multiply their operations in the very near future. Cluster Farming is partnering with Ghana's prison service in a venture that is expected to see commercial farms established on all 45 prisons in Ghana. And in April SkyFox started another integrated aquaculture and crop-production project at Donkorkrom in the Eastern Region, covering 400 acres. As with the other projects, members of the community will be able to invest in the project. Most of the investors in the earlier projects have been women.
SkyFox presently offers live and grilled catfish for sale at its head office in Accra, where a number of catfish café operators buy their stock. Deborah, a 24-year-old Nigerian, rents a kitchen at The Calabash, a popular beer parlour at the Sakumono Beach, where she serves catfish to increasing numbers of clients.
"I sell 10 kilos of catfish on weekdays, but during weekends the patronage is very high. My customers love the freshness of the SkyFox fish, and their prices give me room for good profit," she says.
Increasing numbers of individual customers are also calling to buy grilled catfish. Buju, the grill-master, says: "We are always busy. Our product is catching on. Big time."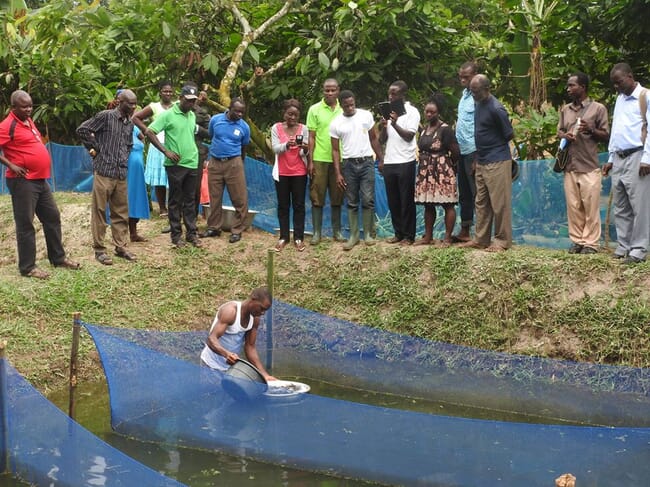 Patrick Apoya, CEO of SkyFox, says that when their processing plant is completed, "We will be offering good quality catfish to hotels and catering establishments, and individual consumers. Smoked catfish has been the preferred option for many years, but we are changing the story."
For many years, the Ghanaian market has been used to smoked catfish averaging half a kilo in size. But bigger fish, from 1kg to 1.5kg and beyond, are quite normal at catfish farms. Whilst grilled tilapia sells at US$3 per kg, patrons pay $4/kg for grilled catfish, indicating good prospects for catfish farmers.
Panyin Sackey, an agricultural marketing specialist, says that "there are exciting days ahead for catfish farmers, especially when one considers the huge untapped markets in Nigeria and America. But tilapia will not necessarily be pushed out of the market. Urban dwellers just love tilapia, so people in the tilapia business will not lose their market share."