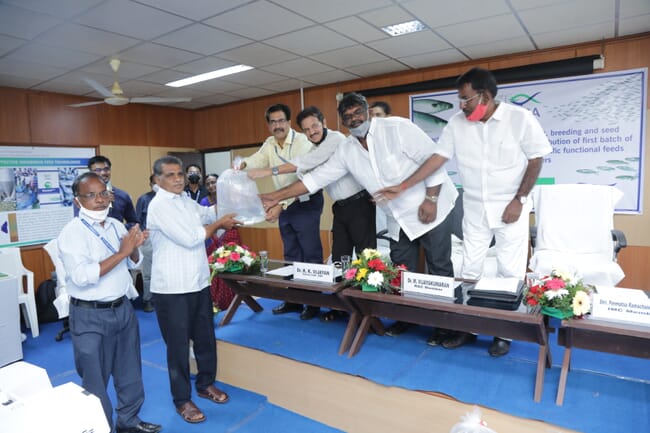 The grey mullet (Mugil cephalus) fingerlings were produced by the ICAR-Central Institute of Brackishwater Aquaculture, Chennai functioning under the aegis of Indian Council of Agricultural Research.
Grey mullets are commonly called "Madavai" in Tamil, "Thirutha" in Malayalam and "Kathiparega or Mala" in Telugu. They feed primarily on detritus and benthic micro-algae, are efficient converters of primary productivity into quality fish protein.
According to a press release from ICAR-CIBA the fish fetch Rs. 350 to Rs. 500 per kilo, while fast growth rates and omnivorous feeding habits make them a popular fish for brackish water aquafarmers. The mullet is also an ideal candidate species for polyculture and integrated multitrophic aquaculture systems. A production of up to 3.5-4 tonnes per hectare, per crop can be achieved at a benefit cost ratio of about 1.9.
Last week the first batches of fingerlings were distributed to farmers in Andhra Pradesh, Tamil Nadu and Kerala. These will be raised in their respective farms and developed into F1 broodstock, which will be brought back to CIBA hatchery for further breeding and seed production. These initiatives towards species domestication may make a wider breeding window of grey mullet available and the process of induced maturation less challenging.
CIBA has already standardised seed production of brackish water food fish species; Asian seabass, milkfish, pearlspot and whiskered catfish.
"CIBA looks forwards towards scaling up of grey mullet seed production in partnership with enterprising farmers and state governments as we take another step towards a diversified and sustainable brackish water aquaculture sector. Representative from the industry, aquafarmers, fisheries scientists have welcomed the breakthrough, as another sought after farmed fish, which can be farmed in brackish water, freshwater and marine has been added to Indian aquaculture species basket," the press release concluded.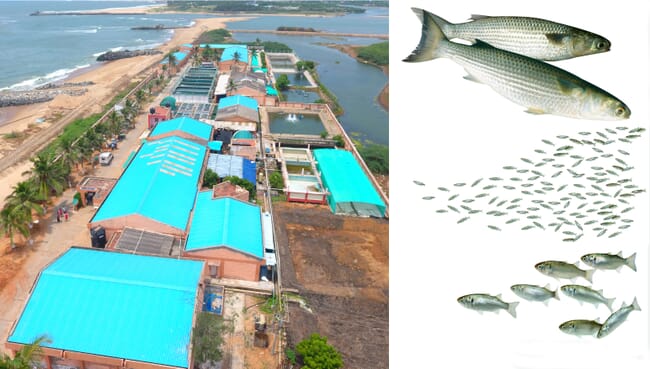 Background
Captive reproduction of grey mullet was first reported in Taiwan in 1960s, thereafter Hawaii, the United States of America, the Israel, Italy, Egypt and Abu-Dhabi have achieved fry production on experimental scale.
In India, attempts to develop captive breeding technology for grey mullet were initiated in 1980s. One of the primary challenges relates to its short annual reproductive period limited to few weeks during monsoon and reproductive dysfunctions in captivity. One time breeding character further contributed to the efforts in breeding.
In India, the reproductive period of captive grey mullet is July in the south-west coast and November in south-east coast, related to monsoon showers, low water temperature. Considering its significance in brackish water aquaculture, CIBA has given greater impetus in the breeding of grey mullet since 2015, giving special focus on developing a captive broodstock and breeding. As a result of these efforts, successful breeding and larval production of M. cephalus was achieved using pond reared broodstock in 2016-17. This season by December-January, CIBA completed producing its third batch of hatchery-reared grey mullet fingerlings. Formulation of indigenous pellet feeds for the broodstock, larvae, nursery and grow-out feeds has contributed to the present success in developing the indigenous hatchery technology.