As a result of these factors, EBIT/kg rose to £1.83, a 10 percent improvement from Q1 2017. And the company reports record revenues of £43.4 million (up from £35.1 million in Q1 2017), driven largely by harvest volumes rising to 7,136 tonnes (up from 5,685 tonnes in the same quarter last year).
The anticipated harvest volumes remain at 26,500 tonnes in 2018. Revenue per kg was £6.08/kg (Q1 2017: £6.18 /kg), while costs/kg ended at £4.24/kg (Q1 2017: £4.51/kg). On the biological front, the company attributed a reduction in mortalities to colder sea water temperatures since the start of the year and "initiatives taken to improve the biological situation".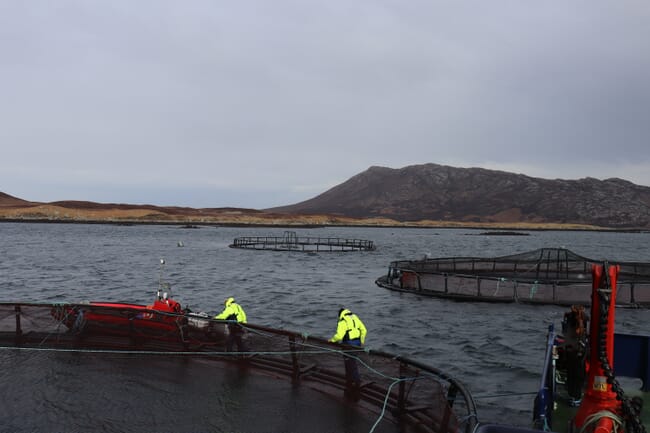 The quarter also saw SSC being awarded "Best Aquaculture Practice" (BAP) certification for all its marine sites, while export volumes accounted for 61% of total sales during the period, up from 47% in Q1 2017. SSC has stated ambitions to increase exports worldwide, underpinned by provenance and a strategy of brand development. During the quarter Lochlander salmon was successfully introduced to the North American market and exports to markets outside Europe increased to 20%.
Craig Anderson, company CEO, said: "Our long term strategy to grow our business and to offer premium branded quality products produced in a sustainable way remains. Harvest volumes during the first three months of 2018 increased for the fifth consecutive quarter."
"Growing exports and strengthening our presence in overseas markets continues to be a key priority. This strategy is based on development of long term partnerships, promotion of our brands and strong customer relations. During the quarter, our new Lochlander brand was introduced into the USA and was well received."
"Operational efficiency is key, we continue to work to improve performance and efficiency throughout the value-chain."
"Demand for Scottish salmon as a premium product remains strong. We aim to capitalise on this through continued development of our premium brands."