The event, which attracted a capacity crowd, involved five aquaculture and fish health experts answering questions regarding the use of cleaner fish for sea lice prevention in UK salmon farms.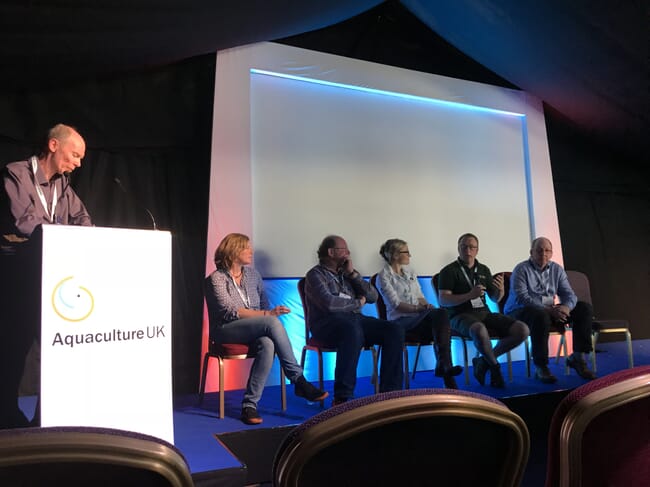 The panel chair, Jim Treasurer – editor of the first comprehensive book on cleaner fish – opened the session by welcoming the returning, new and overseas delegates and exhibitors in attendance. He then introduced panel members Angela Ashby from the Fish Vet Group, Chris Hempleman from Scottish Sea Farms (SSF), Richard Pricket from Dorset Cleaner Fish Ltd, and Dr Sonia Rey Planellas and Dr Andrew Davie from the Institute of Aquaculture.
The range of topics covered in the session included: issues and recent developments in cleaner fish hatcheries, fish deployment and husbandry practices, and health and vaccinations in both ballan wrasse (Labrus bergylta) and lumpfish (Cyclopterus lumpus) production and use in the UK.
Cleaner fish have become an integral part of salmon farming since their introduction to Scotland in 1990, said the author, and demand is projected to increase to 10 million cleaner fish in the UK by 2020. Given that only four million lumpfish and 300,000 ballan wrasse were reared in the UK in 2017, there is ample room for improvement and growth of the sector.
The first question for the panel concerned how to secure lumpfish egg production in the UK, to which Richard Prickett replied that the UK should start by producing its own supply of lumpfish eggs rather than continue to buy them in from Iceland and Norway.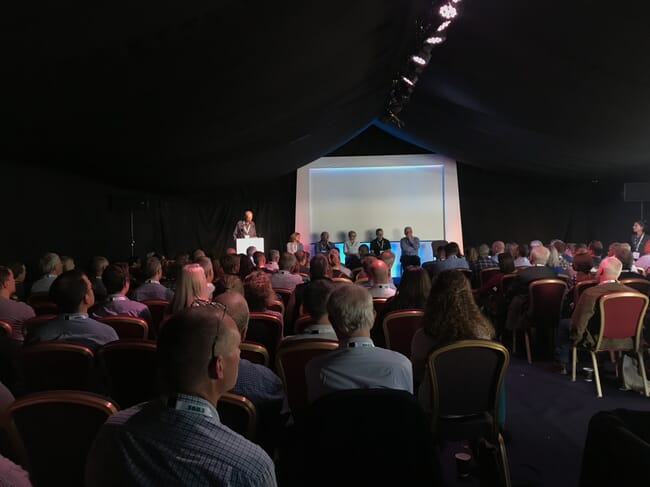 "Depending on outsourced eggs makes us vulnerable," SSF's Chris Hempleman said, before adding that the industry needs to close the lumpfish life cycle and move away from wild catch sourcing methods. The University of Stirling's Andrew Davie added that cleaner fish use in aquaculture is a relatively recent practice, so egg production and biosecurity research is ongoing and still developing. The same question was asked of ballan wrasse larval production, as this species has particularly high mortality rates (60-70%) during the weaning period between live and pelleted feed. Dr Davie answered that it takes six years for ballan wrasse to mature, resulting in broodstock programmes being long term investments. He added that this causes a 2-3 year gap between discovering a beneficial change that needs to happen and seeing that change put into practice. It was suggested farmers could increase larval production to make up for the high mortality rates while a sufficient selective breeding programme that maintains diversity is simultaneously developed.
When asked about methods that could be used to improve cleaner fish development and recovery (and their potential re-use), the panel answered that using a combination of best husbandry practices is likely the best approach. Angela Ashby added that these 'best practices' are not yet well understood, but that simple husbandry and deployment practices like adding hides before adding the cleaner fish, transferring fish when they're healthy, using vaccinations and providing the fish with feed they want to eat could have big benefits. An audience member asked if cleaner fish can transfer diseases to salmon in cages, and the panel answered that there are no cases of the common diseases in salmon farming being transferred from lumpfish or ballan wrasse to salmon, or vice versa, but that farmers should always be vigilant in disease monitoring.
Jim Treasurer thanked the panel for their knowledge and contributions and concluded that the main issues that need to be addressed are the need to improve wrasse production efforts, and cleaner fish survival and safe re-use after being deployed in cages – through health and husbandry practices, vaccination and biosecurity.
His new book Cleaner Fish Biology and Aquaculture Applications is available from http://www.5mbooks.com/cleaner-fish-biology-and-aquaculture-applications.html