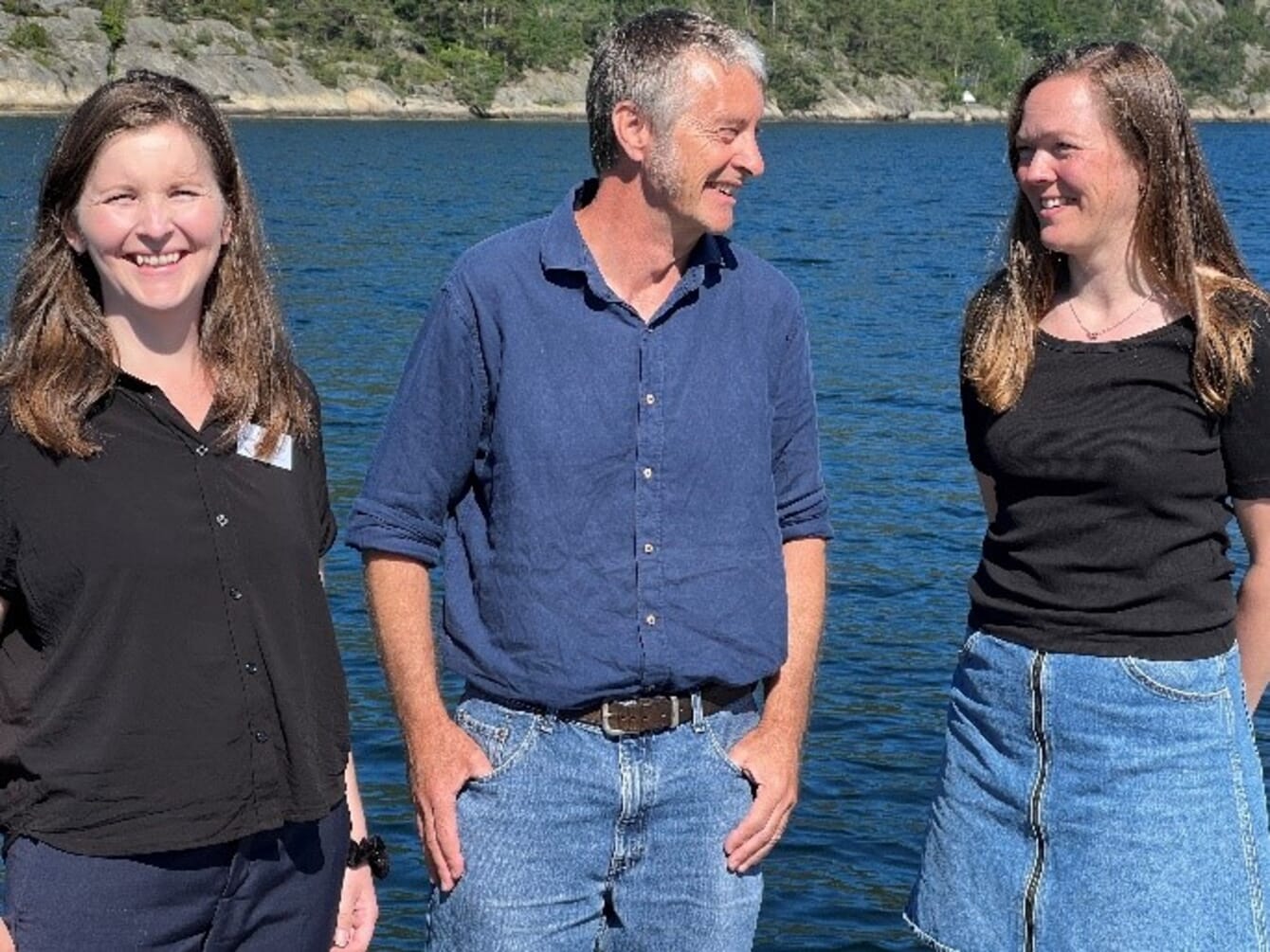 They are investigating what it is about the genes of various species of Pacific salmon that makes them more resistant to salmon lice compared to Atlantic salmon. The researchers will then apply this knowledge in research aimed at gene-editing the eggs of Atlantic salmon using CRISPR-Cas9. The purpose is to confirm whether the genes they identify can be edited to increase the resistance of farmed salmon to salmon lice.

The University of Bergen's Aina-Cathrine Øvergård and Helena Marie Doherty Midtbø have joined CrispResist. Øvergård worked at the Sea Lice Research Centre, a hub for research-driven innovation, from 2012 to 2019. Together with Midtbø, she has continued the research started at the centre in two FHF projects, ModuLus and SaliVax, in which they are specifically examining the host-parasite interaction between the salmon and louse. Like the other CrispResist researchers, they want to find solutions that can help reduce the prevalence of lice in salmon, thereby improving their overall welfare.
More knowledge about salmon lice
"Aina and Helena will contribute skills and more knowledge about salmon lice, and make the project more comprehensive," says Nofima's Nick Robinson, the project manager for CrispResist.
They specialise in the characterisation of proteins in the salivary glands of the lice, which can attenuate the salmon's immune response to the lice. They will continue researching how these immunomodulatory proteins can be used in vaccines against lice.
But Øvergård and Midtbø are now motivated to take the basic research they conduct on salmon lice in a new direction:
"I think it's important that basic research can ultimately be channelled into trying to solve a problem. We hope we can be an important piece in the big puzzle, and perhaps help the project incorporate a lice-centred perspective," said Øvergård in a press release. The immunomodulatory proteins from the louse can potentially override some edits in the salmon, which is why increased knowledge of these is important.
"Joining CrispResist gives us the opportunity to more specifically investigate how the proteins act and influence each other. In vaccine development, you need to know that a protein affects the salmon's immune system, but you don't need to understand how. In gene editing, it's important to have a deeper understanding of what is really happening, since gene editing requires great precision," said Midtbø.
The project brings together researchers from Norway, the United Kingdom, the United States, Canada, Sweden and Australia, and is led by Nofima.
"It's a complex problem to solve. There are a wide range of mechanisms that affect how well the salmon can protect themselves from the lice, but we hope we will find answers. We are using gene editing in our research to determine whether selected genes have an effect," explained Robinson.
Why gene editing?
Gene editing is a collective term for genetic technologies that make targeted changes in the genetic material (DNA) of an organism. It could, for example, relate to removing or adding one or more bases to the DNA, or replacing one gene variant with another. The most common technology used is CRISPR/Cas9.
If the research in CrispResist confirms that the genes can be edited with a positive result, that does not mean that gene editing can be implemented as a tool in salmon farming. Implementation requires both government approval and consumer acceptance, as well as industry interest.
Øvergård is in favour of adopting new technologies to produce food and provide better health to farmed fish. However, should commercial operations move to adopt tools such as gene editing, she stresses that it is important that fish health and welfare should be the driver. Another precondition is that the farmed fish could not be able to cross-breed with wild fish.
"In such a scenario, it would be great if the use of gene editing can eliminate salmon lice as a health problem in farmed salmon. It could also reduce pressure on wild salmon and spare cleanerfish," said Øvergård.
The project involves many researchers who assess the risks of the gene editing technology. For example, partners from The University of Melbourne are examining whether it might be possible for the louse to adapt to the changes we introduce to the salmon in the experiments. The researchers from the University of Edinburgh are also studying the population dynamics (number and spread) of salmon lice, and this information could indicate how reduced numbers of lice in fish farming will affect wild salmon and their welfare.
What about vaccines?
"We still have faith in vaccines against salmon lice but that does not exclude gene editing as a new approach. A combination of gene editing and vaccination could produce a higher lice resistance than one of these approaches alone. Moreover, vaccines are already an accepted method. You can get one onto the market within five years," said Midtbø.
The CrispResist project is funded by the Norwegian Seafood Research Fund (FHF) and Kjell Maroni, who follows up CrispResist on behalf of FHF, said: "Since its establishment in 2001, FHF has funded research for the prevention and control of salmon lice. A continuous stream of new knowledge about how both salmon lice and salmon react when they come into contact with each other can help make the salmon less attractive as a host for salmon lice. Perhaps this can be done with completely traditional breeding methods, provided one first understands the underlying genetic mechanisms. To this end, it's great that the CrispResist team has been expanded to include researchers from the University of Bergen, allowing them to draw even closer connections between the research of several previous and ongoing projects. But we probably have a long way to go before farmed salmon become a less attractive host for salmon lice, so it's a good thing that we already have existing technological tools for both prevention and control."
CrispResist is led by Nofima. The partners are the University of Edinburgh, the University of Stirling, Rothamsted Research (UK), the University of Melbourne (Australia), the University of Prince Edward Island (Canada), the Bigelow Laboratory for Ocean Sciences (USA), and the University of Gothenburg (Sweden), as well as the Institute of Marine Research and the University of Bergen from Norway. Benchmark Genetics, Salmar and Mowi are industry partners.