Gael Force Group owner and MD, Stewart Graham, was on hand to provide the Cabinet Secretary with a tour of the company's engineering facility, which is set to double in capacity to assist in accommodating an increased programme of barge builds over the coming two years, including that of barge build capacity for other Scottish Salmon producers. The company expect that the initial order will enable the creation of around 20 new jobs at the Group, adding to the 43 staff that have already joined the company this year. They also anticipate that a minimum of another 12 jobs will be created in the Group's own supply chain and the wider rural Highland economy.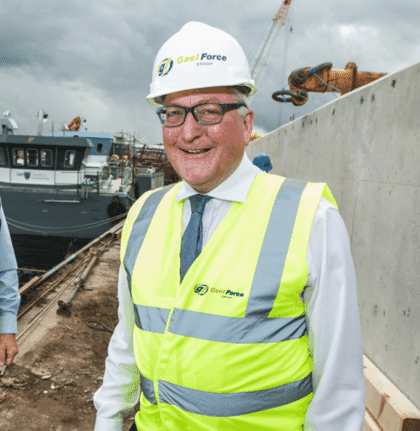 On welcoming Mr Ewing to Gael Force, Stewart Graham said: "We are delighted to welcome the Cabinet Secretary to Gael Force today and I am pleased he has been able to see at first-hand the quality of output from our team. His continued support of the strategic plan for Aquaculture growth to 2030, and of the Scottish Aquaculture industry as a whole, has been unwavering and for that he should be commended".
Mr Graham went on to say, "…as a direct consequence of the success of Scottish Salmon we have created many new jobs this year and will continue to recruit on the back of this order. We are grateful to Marine Harvest for placing their order and their trust in Gael Force as a leading Scottish fish farming supplier. There are huge positive benefits to the wider rural economy and its communities and this order is a great example of that positive impact on the Highland economy."
Gael Force Group currently employ around 170 employees across the UK, the vast majority of whom are based across the Highlands and Islands.