In a recent article, Dr John Benzie, who leads the organisation's genetics work, explained how WorldFish's latest strain of Genetically Improved Farmed Tilapia (GIFT), the 16th generation, shows that selective breeding for increased growth is still delivering gains of about 10 percent per generation. The latest generation developed in Malaysia grows nearly twice as fast as the first generation of crossbred fish. And, in 2016, WorldFish sent fry of this latest generation to the Rajiv Gandhi Center for Aquaculture (RGCA) in India and to the Department of Fisheries in Myanmar to strengthen their breeding programmes.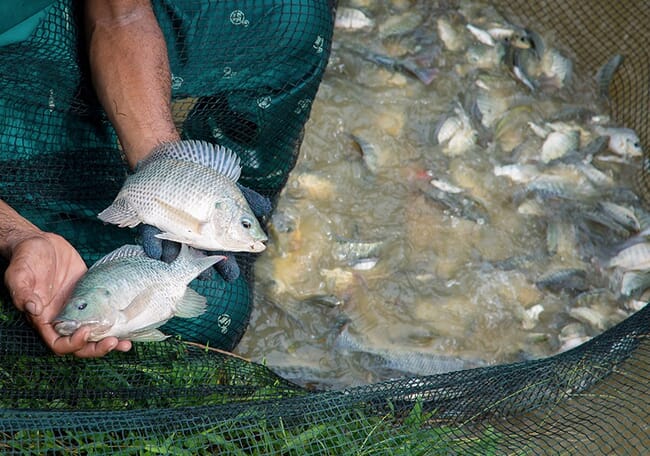 Meanwhile the strain produced in Abbassa, in Egypt, which is now in its 13th generation, is also showing strong gains.
"Last year my production using the common strain was around 9.5 tonnes per hectare," said Mohamed Gamal, an Egyptian fish farmer who received the improved strain Abbassa strain in 2016. "This year the production of the Abbassa strain reached 12 tonnes per hectare." Despite the higher price of the fry, farmers are eager to buy more, Gamal stated.
These improved strains of tilapia are spreading rapidly. More than 70 percent of tilapia production is the Philippines now comes from GIFT or GIFT-derived stock, as does some 50 percent in Thailand and 20 percent in Vietnam.
Carp breeding potential
The project's work on carp species is at an earlier stage, but it has now produced its first selected generation of rohu carp, as well as establishing base populations of catla and silver carp – the essential first step in developing a selected breeding programme.
In 2015, the project started looking into whether there is genetic variation for feed conversion in the GIFT strain. There are indications from the work in Egypt that the improved Abbassa strain does need less food to achieve the same amount of growth as the local strains. In 2017 the project published a paper that describes, for the first time, an approach to measure feed efficiency traits of individual fish reared in a group – the essential precursor to efforts to breed for increased feed efficiency.
The project, Improving the technological foundations for sustainable aquaculture, is funded by the European Commission and the International Fund for Agricultural Development.