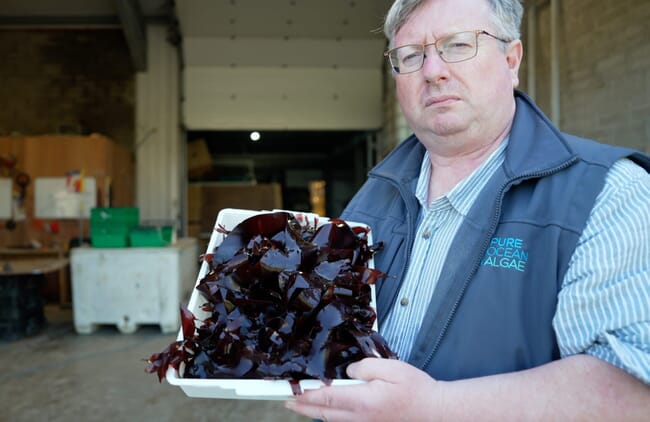 Seaweed farming is in its infancy in Ireland, however, the publication of Irish Macro-Algal Cultivation Strategy to 2030 by Bord Iascaigh Mhara (BIM) – Ireland's state agency responsible for developing the Irish seafood industry – sets out ambitious plans to increase the volume of farmed seaweed in Ireland.
In referring to the objectives of the new strategy, Caroline Bocquel, BIM's CEO, said in a press release: "To ensure a sustainable and economically profitable aquaculture industry in Ireland, the volume of farmed seaweed must increase. This new strategy sets out a roadmap for the seaweed sector to realise its potential. Ireland's long coastline and clean, cold waters present the ideal conditions to cultivate seaweed, and to sustainably develop this crop that is highly resource efficient, requiring minimal resource input."
There are currently 25 licensed seaweed farms in Ireland, located along the north west, west and south west coastlines, with the farmed seaweed grown on ropes and nets.
Michael O'Neill, founder and CEO of Pure Ocean Algae, a macroalgae-based biotechnology company – who recently invited The Fish Site to visit the company's facility on the Beara Peninsula in West Cork – welcomed the new strategy and spoke of the need to unlock the potential of the seaweed sector in Ireland to meet the growing demand for sustainably produced food.
"Ireland has always been a supplier of high-quality seaweeds for various uses, but there have been limitations to date on the scalability of the industry," commented O'Neill.
He added: "The advances in cultivation technology and processing leaves Ireland extremely well positioned to become a major player in the international seaweed industry, with the demand for seaweed biomass and seaweed-based products outstripping supply for the foreseeable future."
The strategy and accompanying documents can be read in full on the BIM website.