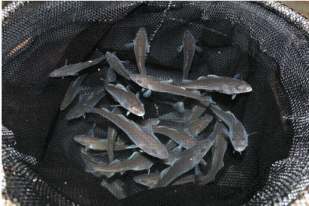 Source: Nofima
The scientists have prepared a set of operational recommendations so that fish farmers can produce more robust fish with a low rate of malformation.

The recommendations are presented in a new book about how to avoid malformations in cod and other fish species, which will be published this winter. The target market is everyone involved with fish farming.

"We need to consider the biological limits in the fish," says Nofima Scientist, Synnøve Helland.

"The fish is programmed how it shall develop. If we do something incorrectly, it can develop wrong. The majority of malformations occur in the first six months of the cod's life, but they can also form later."

She has, together with other scientists at Nofima, spent considerable time finding out how to prevent malformations in farmed fish. The recipe - or protocol as the scientists call it - provides a detailed step-by-step guide.
Temperature
"The temperature and speed of the water that flows through the tanks is important," says Ms Helland.

"The optimal temperature for normal development may be lower than the temperature that gives the greatest growth. Our recipe allows the cod to grow slower in the first couple of months, which gives a more robust fish. Since it is so flawless, it will compensate with growth later in life."

The scientists tested their recipe on 80 cod families in 2008. After six months, malformations were found in just three percent of the fish, which is well below average.
Fish welfare
Cod with fewer malformations provide enhanced fish welfare and better profits for the aquaculture industry.

"It costs the same to feed a fish with malformations, but the slaughter weight will be about half a kilo lower" says the scientist. "Fish without malformations provide better earnings for the industry, while it is also of great significance for the welfare of the fish."

The book is entitled "Control of malformation in fish aquaculture; science and practice", and results from the EU-financed research project FineFish.

The objective of the research project was to acquire new knowledge about how to prevent malformation in the production of fry and juveniles.

Eight research institutes and 10 fish farms from throughout Europe participated in the project. The project was co-ordinated by the Federation of European Aquaculture Producers (FEAP).
Nofima Marin has been responsible for the scientific activity.
December 2009