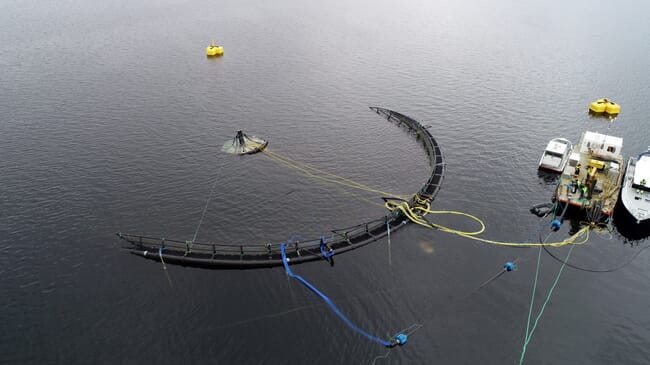 "One year after being awarded the development licence, the first fish are in the system, and we're quite happy with that," says project manager Trude Olafsen.

"We have had our challenges, and what we are trying to achieve is not easy. But this is exactly why we need the development licence. It gives us the opportunity to test the technology on actual biomass for three generations – and we are grateful for that," she continues.

The first version of the submersible pen is now product-certified, and the project is now entering a phase of where the behaviour and well-being of the fish will be closely monitored. At the same time operational staff at SinkabergHansen, AKVA group and the service company Nærøysund Aquaservice, which also played an important part in the actual development work, are acquiring valuable experience on deep operations. The goal is to have the pen submerged as much as possible, and at the surface as little as possible. The submersible pens can in principle be moored with regular frame moorings. The investments are justifiable in relation to the operational benefits it is expected that Atlantis will provide.
"I have great faith that this may be a solution in certain locations with rough conditions at the surface. We have developed a lot of experience in keeping the fish deep in ordinary pens by using deep feeding and appropriate lighting, and see benefits from that in the form of less sea lice infestation, among other things. If the technology from Atlantis Subsea Farming also allows us to use more exposed locations, this is a solution for the future," says Finn Sinkaberg, who is leading the project.