The Marine Alliance for Science and Technology for Scotland's (MASTS) seventh Annual Science Meeting (ASM) took place on 4-6 October 2017 at the Technology & Innovation Centre, Glasgow: an event that drew hundreds of marine scientists from across the UK and beyond, to hear talks on all manner of marine matters – from wreck recovery to offshore renewables.
The aquaculture coverage was particularly strong in General Science Session 4, held on the afternoon of the 5th, which was chaired by Jimmy Turnbull from Stirling's Institute of Aquaculture. Talks included a summary of what is known about the exploitation of wild wrasse species in Scotland for use as cleanerfish in salmon farms, by Nabeil Salama of Marine Scotland Science; the results of a study on how environmental enrichment in hatcheries can influence the behavior of lumpfish larvae, by Bruce McAdam of Stirling's Institute of Aquaculture; and the development of a model means of predicting the prices for farmed salmon, by Simone Martino from SAMS.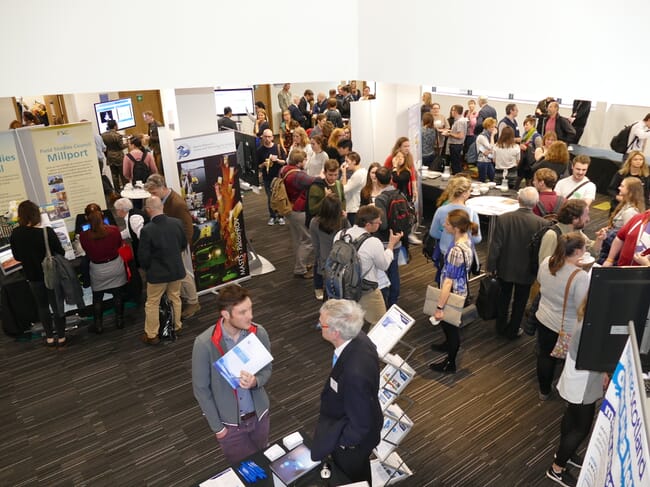 Armin Sturm, from the Institute of Aquaculture presented his research into the genetic basis of drug resistance on L. salmonis – a study that could, in the long run, help lead to the creation of an effective vaccine that could be used on salmon against this perennial parasite; Ana Rodriguez, from Heriot Watt University, described a pioneering method for visualizing the movement of juvenile oysters that was as inventive as it was inexpensive; and Caroline Coccoli, from AZTI, explained how a spatial Baysian belief network could be used to help relocate fishermen displaced by the establishment of an offshore shellfish growing installation in the Bay of Biscay.
ARCH-UK
Meanwhile, the next day saw an event dedicated to sustainable aquaculture, at which representatives from Aquaculture Research Collaborative Hub for the UK (ARCH-UK)discussed key research funding priorities. With an estimated £4 million of funding from NERC and BBSRC to apply for during 2018, they are keen to ensure the funds are allocated wisely and have set up Work Groups across eight priority areas to identify the most pressing priorities.
Although relatively new – ARCH-UK was established in March – the meeting was also a chance to showcase recent examples of inspirational research projects funded by the BBSRC aquaculture innovation that they would like to emulate. These included a project at Aberdeen University, led by Prof Sam Martin, which is using the gene editing tool CRISPR/Cas 9 to try and suppress the immune response of salmon cells in order to improve the possibility of culturing viruses in the laboratory. In the long-run this could lead to the culture of viruses – such as those causing CMS and HMSI – that have previously eluded scientists.
Another featured project, this time from Dr Ross Houston at the University of Edinburgh, explained how genetic markers had been identified to allow for the breeding of Pacific oysters (Crassostrea gigas) resistant to oyster herpes virus (OsHV-1). The final one, presented by Dr Jason Holland at the University of Aberdeen, related to a project led by Prof Pieter Van West which involves harnessing unique aspects of Saproneglia biology to improve the protection provided by dip vaccinations. By combining a Saprolegnia gene along with the potential antigens it dramatically increased their absorption and therefore the possibility of greater protection.
The meeting also helped to highlight ARCH-UK's role in making recommendations to BBSRC/NERC about the current short and long-term research priorities for aquaculture and will be engaged in supporting researchers to develop projects. The organization will also recommend funding models for the calls but it will be entirely up to BBSRC/NERC as to how they use these recommendations and formulate the call, which will be open to researchers across Britain. BBSRC/NERC will then deliver the call and allocate the funding using an independent panel of experts. Further details will be on the BBSRC/NERC webpages in the coming weeks.