Prof Rana is one of the authors/tutors working with the University of St Andrews and TheFishSite.com on their undergraduate certificate, postgraduate certificate, postgraduate diploma and MSc. e-learning courses.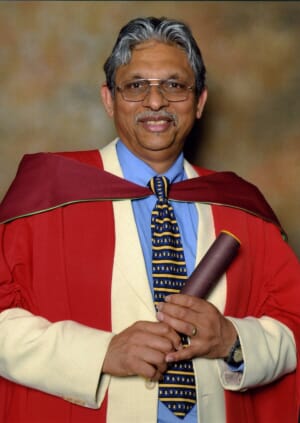 The award followed a peer review submission of his research by two eminent UK scientists. He was seconded to FAO for nearly five years and engaged with FAO in over a dozen Expert Consultations as specialist resource person in international forums.
Prof Rana who was at the Institute of Aquaculture, University of Stirling for 25years, was the only academic staff at the University to hold a DSc degree in Aquaculture. He received his 25years service award in 2011 and in 2006 was presented with the Stirling Provosts academic award in "recognition for his outstanding achievement in the field of academic research". He was elected fellow of the Linnaean Society, London for his contribution to aquatic conservation.
Prof Rana's needs-driven research focus, resulting in over 150 publications, has earned him international recognition in his fields of research, translating science into: Policies, Strategic Frameworks, National Master Plans and environmental assessments for national governments; systems design, technical audits and evaluation for government and private operations for hatcheries and on-growing aquaculture programmes and facilities; as well as contributing globally to the training of over 500 post graduates in aquaculture.
Prof Rana can be contacted via the University of St Andrews at:
kr42@st-andrews.ac.uk