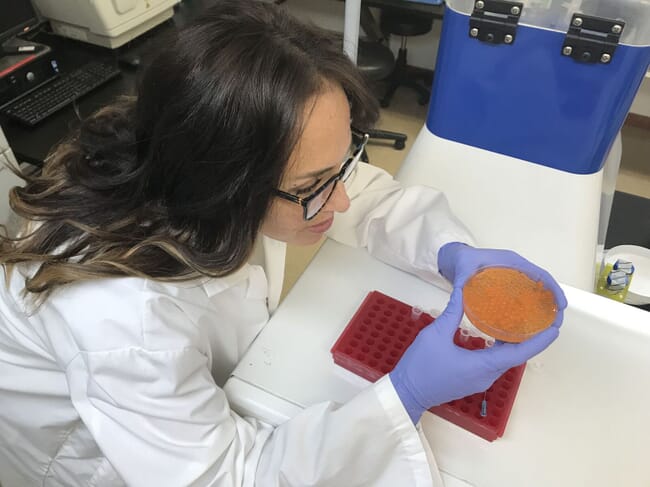 The offering follows the publication of its financial results for the first half of the year – a period in which it lost $6.6 million, mirroring the $6.8 million in losses reported for H1 2019.
On more positive note the company reported the first harvest of conventional salmon from its Indiana RAS facility and the receipt of a $4 million loan from the First Farmers Bank & Trust to fund improvements and equipment purchase at the site. The company says it has also made progress in the process of selecting a site for a new 10,000 tonne capacity farm, which it plans to start constructing in 2021.
Sylvia Wulf, CEO of AquaBounty, stated: "The highlight of the second quarter was the announcement of our first harvest of conventional Atlantic salmon at our Indiana farm, an important milestone as we refine harvest systems and processes ahead of our expected initial harvest of AquAdvantage salmon in the fourth quarter this year in Indiana, followed by the anticipated first harvest of AquAdvantage salmon at our Canada-based, Prince Edward Island Farm in the first quarter of 2021.
"The first harvest of conventional salmon represents the start of the commercialization phase for AquAdvantage salmon (AAS), a milestone over 30 years in the making. This will be a breakthrough moment not only for AquaBounty, but for the industry – as it will be the first sale of a genetically engineered animal protein in the US. We completed proprietary consumer research in Q4 of 2019, and the insights have been used to build out our communications program that we began executing in conjunction with our first harvest and anticipate will support the commercial launch of AAS later this year. Furthermore, we continue to receive inbound interest from potential offtake partners, who see the inherent value in AAS, from both a sustainability and economic perspective, and we anticipate finalizing commercial agreements with key potential customers and distributors in advance of the first AAS harvest."