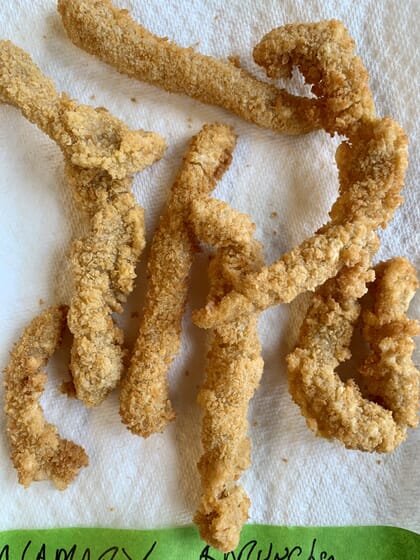 According to the startup, its fermentation technology yields mycoprotein with a realistic appearance, taste and texture plus high nutritional value. The team claimed to have perfected its realistic texture and preparation, and will offer calamari fries in seasoned and breaded options.
Culinary advisor Johnny Carino, an executive chef who helped lock in the formula for the company's first product, said in a press release: "As you bite in, you get an immediate crunch note that combines with the realistic, slightly chewy texture of the calamari. It looks and acts like calamari. There was no learning curve as you'd expect with a completely new product or ingredient."
"We're moving on an accelerated timeline from the R&D stage to commercialization, and now our focus will be scale-up, strategic alliances, and go-to-market partners such as restaurant chains," said Aqua Cultured CEO, Anne Palermo. "Hitting this milestone ahead of schedule is an achievement for the alt-seafood and alt-protein sectors, as well as for us as a company."
2022 is set to be the year of alt-seafood according to many industry experts. US alt-seafood sales grew by 23 percent in 2020 and it is expected to be a $1.3 billion market in the next decade, fuelled by increasing awareness of sustainability issues surrounding the conventional seafood supply chain. According to the startup, fermentation uses a fraction of the resources of traditional aquaculture, and Aqua Cultured has refined the science of fermentation for fish and shellfish analogues.
In addition to calamari, the company is developing shrimp, scallops, and fillets of animal-free tuna and whitefish. Its fermentation methods do not use any animal inputs, genetic altering or modification and can be marketed as non-GMO. Per serving, products will contain 18-20 grams of protein, 10-12 grams of fibre and no sodium, saturated fat or cholesterol, and Omega-3s. These nutritional values are similar to cod, which contains 18g of protein, 0.7g of fat, nearly 43mg cholesterol, 54mg of sodium, and no fibre.