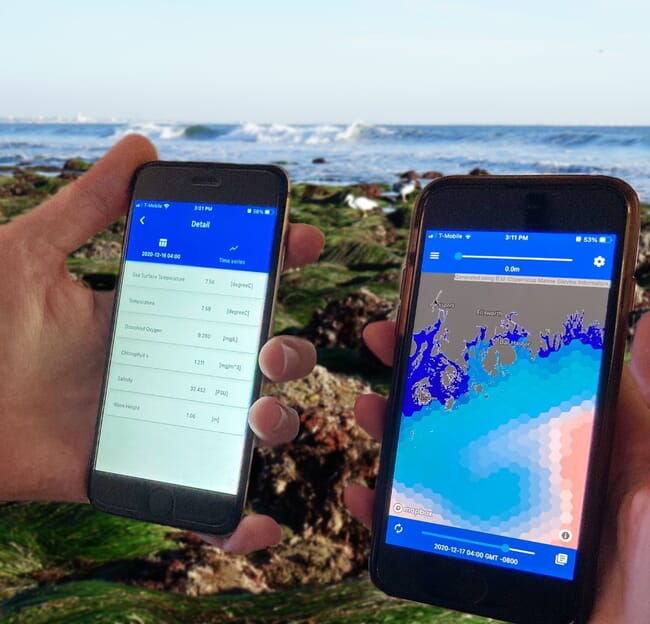 Pulse is a new ocean data service from Umitron that provides a high-resolution map of critical environmental parameters such as water temperature, chlorophyll, dissolved oxygen, salinity and wave height. The iOS application launch completes Umitron's roll-out of Pulse after the its initial launch for desktop computers in July, followed by the Android application release in November.
Umitron reports positive feedback from farmers growing a variety of species in regions around the world.
As Gary Zippel, of Zippel's Smoky Bay Oysters in South Australia, reflected: "Temperature data helps me make management decisions about grading, and over time I will align outcomes with the data to make other management decisions''.
Fish farmers are also benefiting from the data provided by Pulse.
"We check and record the temperature, dissolved oxygen and salinity values displayed on Umitron Pulse daily. Until now, we have been using a sensor to manually check each water quality parameter individually. Compared to the old operation, Pulse has made processing data much easier and faster and not dependent on the weather or any equipment," said a spokesperson for Hyodo-suisan, who farm red sea bream in Ehime, Japan.
"Being able to visualise a wide area rather than a single point for important parameters such as chlorophyll and wave height is extremely useful for understanding our farm site's environment more deeply. We think Pulse has the power to appeal to many farmers. We hope that it will continue to improve and contribute to the development of the aquaculture industry," they added.

Umitron has also recently been awarded a business demonstration grant from the Japan Space Forum's open and free satellite data demonstration programme. Umitron will work with yellowtail farmers in Oita, Japan to provide ocean data and analysis by combining satellite remote sensing data with multi-spectrum camera observations provided by local sensors. The project aims to determine how camera sensors near the farm can be integrated with satellite-based sensors in outer space to improve data accuracy and resolution.