The reaction of the fish gills to the marine parasite results in respiratory distress for the fish which can cause very high mortality levels if left untreated and makes the fish more susceptible to stress.
The disease was first observed in Tasmania in the 1980s, where it has remained the number one health challenge, and in Europe in 1995.
To date, AGD has been found in Australia, Chile, Norway, France, Spain, Scotland and Ireland. The Faroe Islands have also detected the amoebae by molecular tests (PCR), however, they have not seen any actual cases of AGD.
In order to understand AGD, over the past 25 years Australia has been carrying out research into the disease, but there are still gaps in the knowledge. At present, feed, broodstock, and pharmaceutical companies, as well as research groups and the salmon farming industry, all have this disease as a focus for research and investigation.
"With the recent emergence of the disease in the Northern hemisphere, there is now a plethora of research projects running at national and international level and there are a number of research applications submitted at present looking for significant future funding to find means and methods to control this disease," said Dr Rodger, FishVetGroup.
Where Are We Now
Although cases have generally gone down over the last two years, AGD has not gone away.
During 2013 and 2014, AGD has been detected at a few sites in Scotland and across Ireland and treatments have been undertaken in response to control the disease.
"Salmon in Ireland have been treated through the use of freshwater baths (<3ppt for three hours) and in Scotland via hydrogen peroxide treatment at approximately 1400ppm for 20 minutes but concentration and time is dependant on the fish and site variables such as temperature, gill condition, fish health, etc," explained Dr Rodger.
"On a rising temperature and rising gill score, treatments are being initiated as soon as AGD is confirmed (usually through a combination of diagnostic tests and as early as possible (gill score at 1 or less)).
"If the initial infestation on the gills is high and gills are compromised then repeat treatments may be required within weeks, however, every case should be assessed independently due to variables such as the environmental conditions, gill scores and general fish health."
During February to April of 2013, Scotland undertook a strategic nationwide peroxide treatment to reduce the burden of amoeba. This has not, however, been repeated in 2014, although some regions and companies did repeat this spring strategic treatment, Dr Rodger continued.
Throughout 2014, monitoring in Scotland detected N. perurans by PCR and some fish have been confirmed with AGD by histology, showing that the problem has not gone away.
"Other gill conditions caused by harmful algae, harmful zooplankton and other parasites, for example, have also continued to be observed and therefore have complicated the picture of gill health and decisions with regard to treatment," said Dr Rodger.
AGD Threat Heightens During the Summer
As we continue through the summer months and sea temperatures become warmer it is highly likely that more farms will show signs of AGD, said Dr Rodger, speaking in July.
"AGD can occur at any time of the year however the peak and highest risk period are during the late summer/early autumn months. The amoebae may be present at low levels in the environment all the time but when conditions and hosts are optimal for it (which remains to be fully determined) it can proliferate exponentially and rapidly at high salinities and warm water temperatures.
For Ireland, the peak time for new cases of AGD has been July and August, in the last three years; however, some new cases were confirmed during May this year.
What to Look For
During the summer months, it is important that farmers closely and regularly (weekly) monitor gill conditions by physical means (gill scores), microscopy (fresh smears), histopathology and use PCR for surveillance, and then be ready to initiate rapid treatment if required.
Farmers should look for any white, pale, mucoid spots or patches on the fish. These will be observed before changes in behaviour which can include lethargy, fish off their feed, an elevated body position in the water column and increased respiratory rate.
If behavioural changes are seen, it is likely that the disease is already advanced and mortalities will occur, said Dr Rodger.
How to Treat
According to Dr Rodger, freshwater is still the most effective treatment but this can be a challenge for a large marine farm if they have not undertaken this before and have no ready access to plentiful freshwater as fish need to be treated for at least three hours in freshwater of <3ppt.
Hydrogen peroxide has also been used to treat AGD on Scottish and Norwegian farms. "It has been found to be an effective treatment as long as temperatures are not too high and gills are not too damaged," commented Dr Rodger. "However, it becomes much more hazardous when the temperature rises above 14°C and the gills are compromised."
Farmers should also ensure that they avoid moving infected fish and thoroughly clean any equipment that have been in contact with an infected farm as they could lead to parasite transfer.
It is also important that cleaner fish, such as wrasse and lumpsuckers, are screened before transfer or introduction to salmon farms as these have been demonstrated as being susceptible to the same amoeba.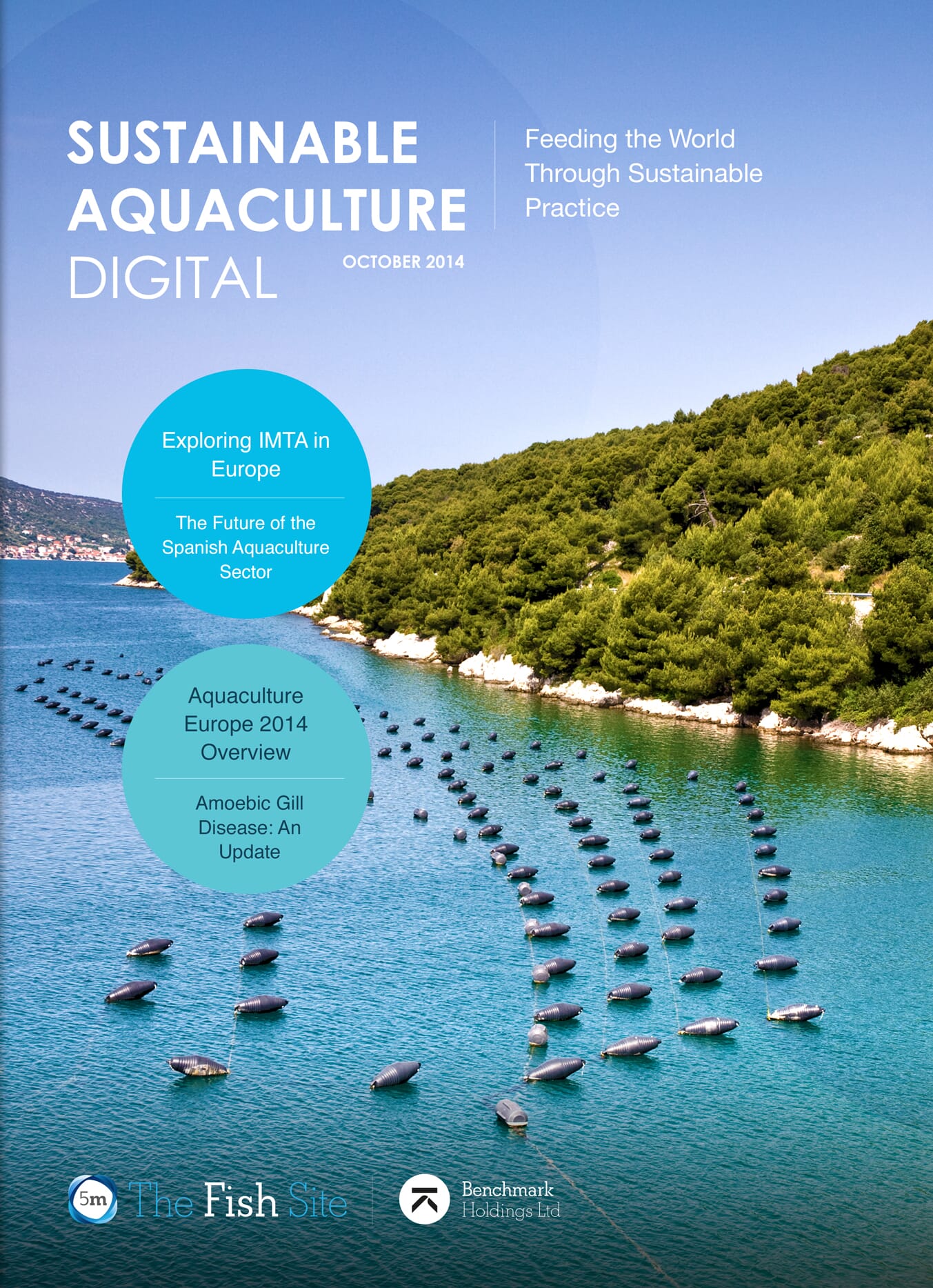 This article has been taken from the October 2014 Sustainable Aquaculture Digital. To read the full article please, click here.
You can sign up for the next edition of the FREE Sustainable Aquaculture Digital, here.