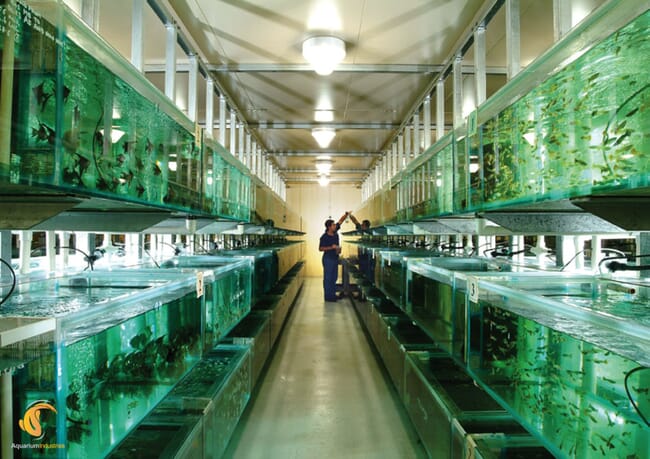 Background and business opportunities
There's a lot of buzz today about aquaculture. Fish farming to feed the world's growing population. Sustainability, profitability, environmental impacts and generation of jobs are just of few of the factors driving production.
One sector of the aquaculture industry that does not draw much attention is the production of ornamental and aquarium species of fish, invertebrates and plants. Having very few negative environmental impacts, it has always been a quiet industry, producing captive animals for the past 70 years.
The recent event, the World Ornamental Aquarium Virtual Conference and Exhibition (WOA21) brought industry leaders, government researchers, farmers, the pet industry, and the general public together to discuss the present and future of the industry. Challenges, opportunities, effects of the pandemic, new species and culture techniques were some of the topics presented in an informative format, with high attendance and audience satisfaction.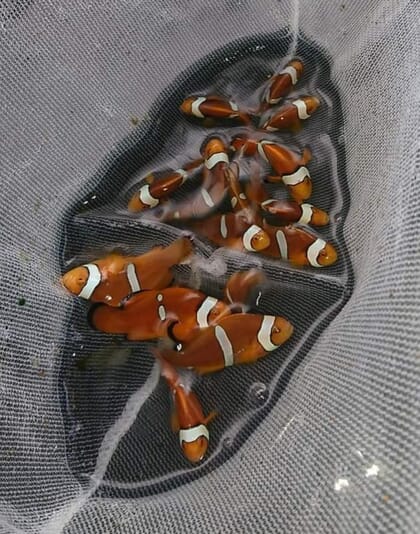 Ornamental aquaculture is big business. As Shane Willis, president of the Ornamental Fish International (OFI), Australia states: "The aquarium trade features over 1,000 freshwater fish species, with over 90 per cent coming from aquaculture". Most freshwater fish are farmed in Asia (China, Singapore, Indonesia, and India) as well as Florida in the US. Africa and South America supply both farm-raised and wild caught species. Japan is famous for goldfish and Koi varieties. In additional to specific freshwater fish species, the industry produces many sizes and varieties (colour morphs, albino, long fins, dwarfs, etc.). Ricardo Calado, principal researcher at the Centre for Environmental and Marine Studies, Portugal noted that marine ornamental farms now even produce "designer" clownfish, while aquatic plants are becoming more popular too.
As Josiah Pit, general manager, sales & operations at Aquarium Industries, Australia reports: "Freshwater aquatic plants continue to be an up-and-coming part of the industry. The market for farm-raised plants is growing with new 'tissue culture' products becoming more readily available. With increased availability in plant nutrients and more people focusing on indoor underwater gardens, aquatic plants are becoming more popular".
Marine ornamental aquaculture has only about 100 fish species, produced at relatively few farms. There are over 1,800 wild-caught fish species from Indonesia and some Pacific Islands countries (Philippines, Fiji, Vanuatu). Cultured corals (150 species) are becoming more popular as more species are propagated around the world, some far from the ocean. Invertebrate species caught in the wild number 720, but few are cultured.
Major markets are still in North America and Europe, with emerging markets in Brazil, China, and India.
Ornamental aquaculture is an exciting and rewarding business venture. It requires expertise in pond management, biology, and unique breeding and husbandry techniques, as well as business savvy to operate at a profit.
Freshwater farms can be low tech, compared to marine farms (clownfish, corals, etc.) which require more technical expertise. Some farmers are now embracing the new recirculating aquaculture systems (RAS) technology to grow ornamental species anywhere in the world.
Food fish aquaculture requires hatcheries, nurseries, grow-out ponds or sea cages, and processing facilities. Ornamental aquaculture starts and ends at the hatchery, which means less capital and operational expenses, and less risk of major financial losses. Most fish can be bred and raised in less than six months, with low feed costs, and sold at a small size (2 to 5 cm).
"Marine ornamental fish are valued at over US$ 1,000 per kilo, compared with food fish average price of US$ 13," reports Bryce Risley, a US-based marine social ecologist and journalist.

In developing countries, ornamental aquaculture aids in gender equality, jobs, income and improving science education in children. Dr Juli-Anne Russo, technical consultant at Aquatic Animal Diseases and Nutrition in Italy, says: "It is a promising source of income for unemployed youth. As less strenuous labour is needed, women can run small home farms and uplift their social and economic status in the community."

This is a guide for those interested in the business of ornamental aquaculture. We will cover both freshwater and marine farming. Compared to freshwater, marine ornamental farming requires higher capital and operational costs, more technical expertise, and with a higher risk potential. These factors are offset by higher market prices, sometimes marine fish fetch 10 times the price of freshwater species.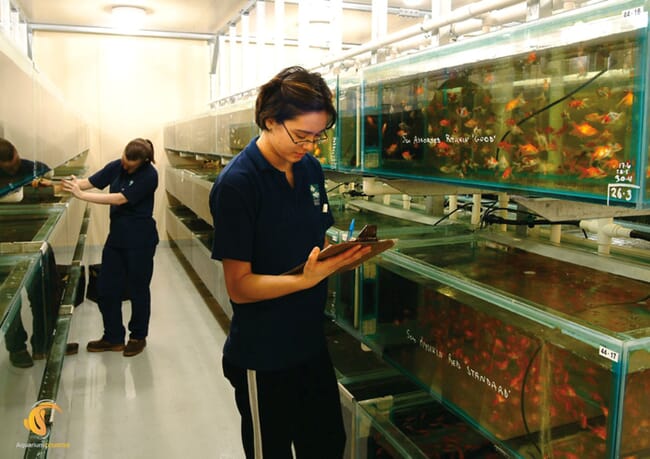 Starting an ornamental aquaculture business
Consider these when planning an ornamental aquaculture venture:
1. Business and technical expertise
Do you have prior experience running a business? Do you have prior aquaculture experience? Many businesses fail because they concentrate on one area or the other.
Some are enamoured by the aquaculture and forget about the business aspects. And we know, businesses do not run themselves.
If new to aquaculture, hire experienced experts at first, and then become one.
If you are not ready or willing to wear both hats, consider hiring a good manager, or seek employment in the aquaculture industry elsewhere.
2. Money
Do you have adequate capital for purchasing, leasing, or building a farm, as well as all production costs and enough cash to make it to first harvest? Can you weather low production, disease events, or market down turns?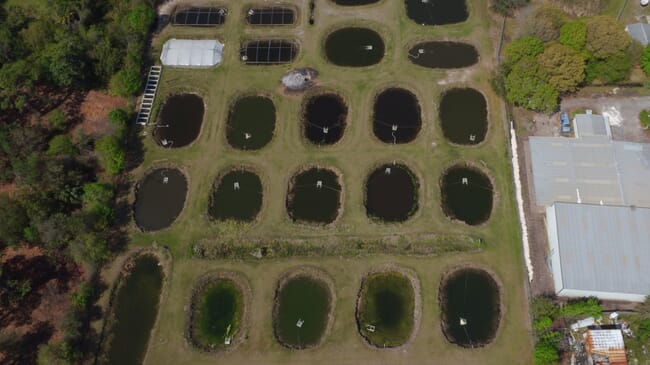 3. Location
Is there a thriving industry in the area you wish to start? This includes available and affordable land, sufficient quality water, suitable climate, and favourable government regulations and support.
How will climate and the outdoor growing season affect production? How will you manage adverse seasonal cold weather? Remember these are "tropical" species, but with new RAS technology, they can be produced anywhere. Most orders are shipped via air freight, so proximity to airports is essential.
4. Staff
Will you manage or hire a manager? Or even operate the whole farm yourself?
Are there skilled and unskilled workers available?
5. Markets
Do you have a reasonable idea of the species, quantities, and buyers of your production? What price can you expect to get? The current pandemic has resulted in more people staying home and buying more ornamental varieties. But this advantage has a downside with higher freight prices, and flight shortages.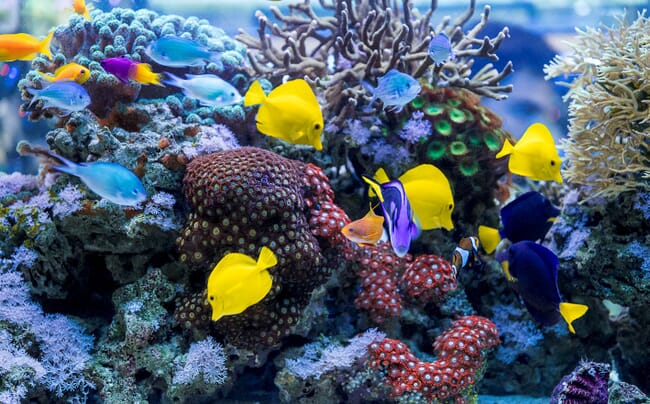 6. Risk
Aquaculture is prone to all types of natural disasters and manmade problems. Floods, droughts, freezes, disease, pollution, theft and vandalism are all potential causes of financial losses. Fish insurance is a possibility, but an expensive one.
A clear advantage is that the recovery time (months only) for most losses is rapid, compared with food fish.
Consider these options before starting
If you buy or rent an existing farm, check the following:
Production records. If there aren't any, walk away.
Sales records. If there aren't any, again walk away.
Staff. Will you retain staff or clean house?
Past or potential legal problems. This is a deal killer if not resolved.
Permits. Governments are not flexible when it comes to violations and failure to report incidents and production figures.
Accounts payable and receivable. Make sure you are not taking on old debts.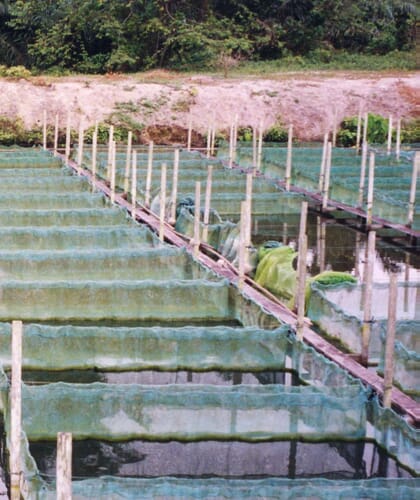 If you build a new farm, check the following:
Get required licenses from government agencies. This includes environmental impact statements. This could take considerable time, with the possibility of rejection.
Find a good farm site. With increased urbanisation, this could be the biggest problem. RAS can be a solution.
Getting necessary local construction permits. This is for digging ponds or constructing hatchery and shipping facilities.
Getting necessary operations permits, including water usage and discharge. Water restrictions and environmental regulation of wastewater disposal must be determined.
Land costs. Urban versus rural locations.
Facilities costs. Ponds, buildings, and water supply.
If you go into partnership at a new or existing farm, check the following:
Find a good partner. Easier said than done. Define individual roles and responsibilities, and what each partner brings to the business.
Getting necessary legal partnership documents. What to do when disagreements occur?
Conclusion
We will cover both freshwater and marine ornamental aquaculture in upcoming articles.
Remember to look before you leap. Start with a small farm to determine if this is what you want to do. It's still aquaculture, which means it is still farming, 24/7, year-round, with late nights and early rises, and successes and failures. Most of all, it is not a hobby, it's hard work. But it is very satisfying knowing you are producing a unique product and bringing happiness to home aquarists.