The IFFO is a global trade association which represents fishmeal and fish oil producers and related trades. The association represents two thirds of world production and 80 per cent of trade in fishmeal and fish oil worldwide with producers in Europe, South America, Africa, the US, China and India.

Use of fishmeal and fish oil

Mr Jackson highlights that the use of fishmeal has changed dramatically over the last 50 years. Figure 1 shows that in 1960, 90 per cent of fishmeal produced was used in the pig and poultry sectors. By 1980, the aquaculture secotr had taken 10 per cent of this market and in 2008, 59 per cent of the fishmeal market was aquaculture production. Fishmeal production peaked in 1995, and has fluchuated greatly since then, in 2009 production was just below 5,000,000 tonnes.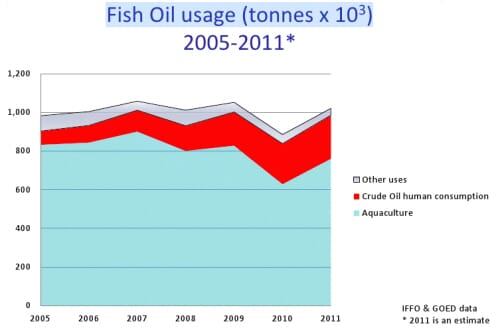 Figure 1: Changing uses of fishmeal
The use of fish oil has also changed over this time period, says Mr Jackson. In 1970, 80 per cent of fish oil produced was hardened edible type. by 1990, aquafeed had taken 16 per cent of this market, which has increased to 80 per cent in 2010. Whilst fish oil production has increased slightly since the 1960's, it has remained relatively static over the last 10 years. In 2009, fish oil production was about one million tonnes.

Mr Jackson says that the industry is driven by sustainability which sometimes has a negative effect on fishmeal and fish oil production volumes. He used the example of Peru, who with the help of the Peru Marine Association (IMARPE) are moving towards an ecosystem approach.

"Chile are also looking at tightening quotas and controling international fishing for jack mackerel through the Fishing Institute (IFOP), whilst the EU is looking at reforming it's Common Fisheries Policy (CFP)."

Increasingly fishmeal is coming from fisheries by-products (now 25 per cent of global production), with Mr Jackson saying that there is increased pressure on producers to convert trash fish to fismeal and fish oil - particularly in South East Asia.

Over five million tonnes of low value fish are used directly for animal feed each year, predominantly in the pig, poultry and increasingly aquaculture sectors.

The mass balance of production in 2008 consisted of 21,964,000 tonnes of fishmeal and fish oil fed globally. The main inputs for this were 16,473,000 tonnes of whole fish, 5,491,000 tonnes of fish by-products, 1,032,000 tonnes of fish oil, and 15,990,000 tonnes of water/steam.

Mr Jackson says that on a fish-in-fish-basis (FIFO), the aquacultural sub-total in 2008 was 0.39. Salmon and trout are the least efficient with a FIFO of 1.77. For salmon this has dropped substantially in the last 10 years. In 2000, FIFO for salmon was 2.5, which means that for every fish that came out of production, 2.5 went in. FIFO for all fed aquaculture has also dropped from 0.6 to 0.4, over the same time period.

The volumes of whole fish rendered for aquaculture is increasing, year on year. Over the last ten years there has been an increase of three million tonnes. In 2008, 11,000,000 tonnes of whole fish were used in aquaculture production.

For salmon this figure has remained static over recent year, at around the four million tonnes mark.

Demand

Overall the global use of rendered whole fish is decreasing. Whilst its use in aquaculture is increasing, the use of whole fish in pig and poultry production is falling.

In 2008 it was estimated that 16 million tonnes of rendered whole fish were used globally. This was previously 22,500 million tonnes in 2000.

Mr Jackson predicts that aquaculture will continue to take a larger share of the fishmeal market. Whilst dietary inclusion levels will continue to fall for established species, he expects that new farm species such as tuna, cobia will start with high dietary levels.

Whilst lower inclusion levels are desired, they will require higher quality, specialised products such as enzyme produced peptides.

With the importance of fish oil increasing in human and animal health, Mr Jackson predicts that higher volumes will go into human consumption as well as algal and aquaculture.

Supply and sustainability

Mr Jackson expects the supply of whole fish from feed fisheries to remain tight, and says that increasing volumes of raw material will come available from fisheries by-products.

An increasing proportion of these by-products will come from aquaculture, says Mr Jackson. He also believes that stakeholders need to be reassured that supplies of whole fish come from responsibly managed fisheries.

"Currently there is only one recognised measure of good management, which is the FAO Code of Responsible Fisheries.The Marine Stewardship Council (MSC) does certify fisheries that are managed to the FAO standards, although very few are MSC approved."

Mr Jackson told the audience that the IFFO had recently launched its Global Standard for Responsible Supply. The standard requires an applicant to demonstrate that the factory:
Sources its whole-fish raw material from fisheries managed according to the FAO code
Avoids the use of IUU fish
Manufactures under a recognised quality control scheme to ensure product safety and purity
Recently the first approved plant was announced in Peru - for the processing of Peruvian Anchovy.

Mr Jackson said that another 70 factories were under assessment this month in four different countries, and that if approved they would cover 25 per cent of world production.

He went to clarify that MSC and IFFO's Responsible Supply were two very different things.

"Responsible Supply is a certification programme that allows factories to demonstrate that they responsibly source raw materials from well managed fisheries. The MSC's certification programme and seafood eco-label recognise and reward sustainable fishing.

Mr Jackson is concerned that factories in some countries will find the Responsible Supply Standard difficult to achieve, and he has no desire to reduce the standards. Instead he believes that government commitment will be required as well as access to capital funds for investment in factory and fisheries management.

In conclusion, Mr Jackson said that fishmeal and fish oil will continue to play an important role in the healthy production of many farmed aquatic and terrestrial animals.

"Whilst fishmeal is becoming less a commodity and more a strategic nutritional ingredient, the unique properties of fish oil will ensure continued strong demand to promote human health.

"It will become increasingly important to be able to demonstrate that production is being conducted in a responsible manner, but marine ingredients will continue to make a vital contribution to sutainable aquaculture."
June 2010