Constructed by Norwegian shipbuilders at VARD, the official launch marked the culmination of over two years of design, collaboration and construction.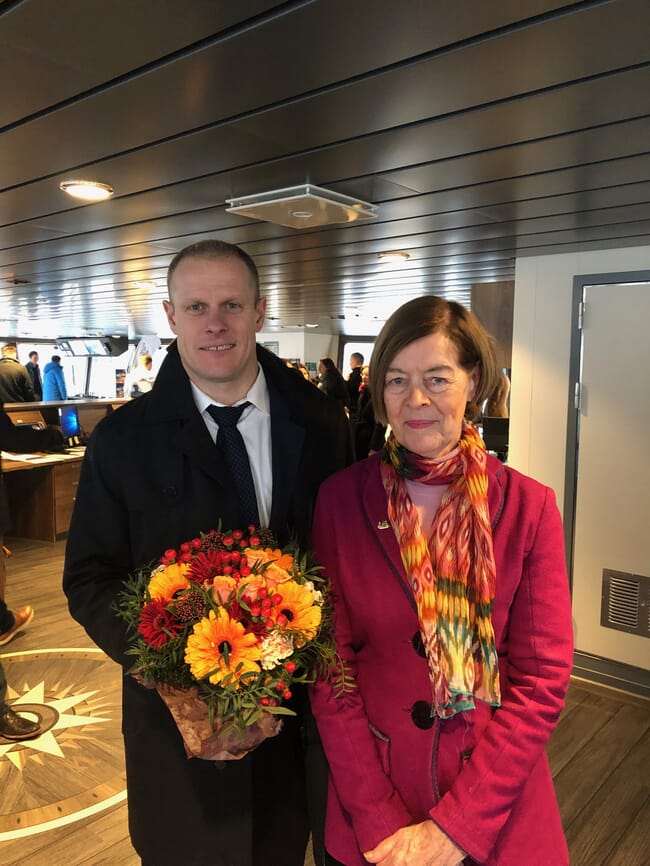 With a total of 40 Norwegian companies contributing to the vessel, the two-year build and final fit-out has kept in excess of 900 people busy working to have the vessel ready for the 2019 harvesting season. A large proportion of its catch will be used by the aquafeed sector.
Matts Johansen, CEO of Aker BioMarine said: "We have put all our experience and know-how into building a vessel capable of matching our ambitions and operational needs, a vessel we could have only dreamt of when we started our very own Antarctic adventure for more than a decade ago".
"Named in tribute to polar explorer Sir Ernest Shackleton's Norwegian-constructed vessel, Endurance, the name also reflects our own perseverance over the years. Energy efficient and equipped with a host of environmentally friendly technologies, Antarctic Endurance is specifically designed and constructed for our unique business, with direct input from our experienced crew. It is truly one of a kind, and our very first purpose-built krill harvesting vessel".
The Honourable Alexandra Shackleton, granddaughter of renowned Polar explorer Sir Ernest Shackleton, and godmother of Antarctic Endurance, was invited to officially name the vessel.
She said: "It is an incredible day for me to see my grandfather and his crew's heroism honoured in this way. Antarctic Endurance is a symbol and reminder of the importance of our shared polar expedition legacy and an important part of the history for both Norway and The United Kingdom. My grandfather Sir Ernest Shackleton had his vessel, Endurance, built in Sandefjord in Norway and now a new vessel named Endurance built in Norway is on its way to Antarctica".
The 130-metre, Norwegian flagged vessel is constructed at a cost of 1.1 billion NOK, (US $140 million), and showcases the strength in depth of Norway's maritime cluster.

Yard director Fredrik Mordal Hessen from Vard Brattvaag said: "We are incredibly happy to see Antarctic Endurance set sail from our yard for its debut harvesting season. A unique project, in partnership with Aker BioMarine we have overcome a number of challenges to deliver what we believe is an industry-defining vessel".
A custom designed newbuild, rather than an existing supply or trawler vessel with equipment retrofitted to it, Antarctic Endurance is fitted-out with a host of innovative technologies and equipment from a wide variety of Norwegian companies.
Along with reflecting the core operational needs of our business, the new vessel has been meticulously designed and equipped to maximise energy efficiency. Utilising a number of innovative processes and technologies on board, the vessel is 30 per cent more environmentally efficient, compared to today's trawlers.