Applications for 42 new designs were made to Norway's ministry of fisheries in the final weeks leading up to the initiative's deadline on 17 November, making for a total of 104 designs submitted.
FlexiFarm is a floating closed containment system, it is based on flow-through technology that filters all inflow water and then treats it with UV-light to prevent the intake of lice, algae, bacteria, and viruses.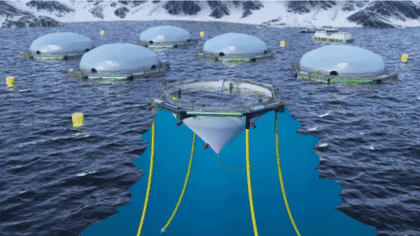 The goal for the system, which is being developed in conjunction with Botngaard System AS, is to reduce losses incurred in the marine phase of the production cycle, protect the environment against undesired impacts, increase productivity, and at the same time reduce production costs.
"In Cermaq we focus on innovations that improve sustainable farming on existing locations in coastal areas. This approach characterizes this concept as well as the iFarm concept for individualized farming. Cermaq has leading expertise in farming technology and fish health, and has excellent prerequisites for succeeding in these ambitious innovations," said Knut Ellekjær, Managing Director of Cermaq Norway.
If developed, FlexiFarm could be used at more than 80 percent of the existing sites in Norway, according to the maximum wave heights.
"It is a major goal for the development of FlexiFarm that investment and operation cost will remain low, and that the anticipated effect will ensure that production cost per kg salmon is reduced," says Magnus Stendal, general manager at Botngaard.
"We have succeeded designing a solution which addresses both the biological and environmental challenges in the industry, and which on top will be profitable to implement," says Harald Takle, R&D Technology Manager in Cermaq Group
As well as preventing the ingress of lice, the system's flexible composite walls should help to minimise the risk of escapes.
The system is also designed to break up any waste so it can either be widely dispersed, thus minimising the impact of the benthic communities below the farm, or collected and transported to shore for further processing.
So far applications for 23 of the 104 designs submitted to the Ministry of Fisheries have been rejected, while the only one to have been built is SalMar's Ocean Farm.