A blueprint for industrial-scale seaweed cultivation
A compelling vision for the industrial scale cultivation of seaweed was shared by Bert Groenendaal, from AtSea Nova, at the annual gathering of the Scottish Seaweed Industry Association in Oban this week.
Groenendaal's talk, which was given to a record 162 delegates at the event, outlined his ideas on the growth of Europe's fledgling seaweed cultivation sector. It included some compelling statistics and valuable insights into the seaweed cultivation tools that his company has been developing over the last three years.
As Groenendaal pointed out, 99 percent of global seaweed production currently takes place in Asia – of which over half comes from China – and is typified by small-scale, rope-grown, labour-intensive farms.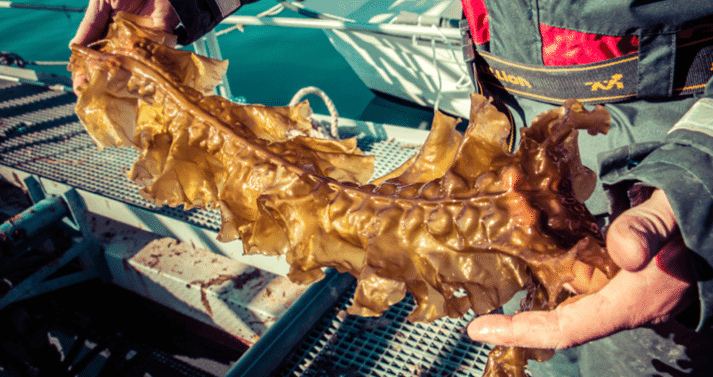 In Europe, on the other hand, seaweed landings are currently dominated by the harvest of wild seaweed. However, according to Groenendaal, dredges – as used in Norway and Scotland – or "scooby-doo" discs, as favoured by the French, are "not that sustainable and I think [wild harvesting] will be banned within 20 years."
According to Groenendaal, the challenges facing the European seaweed sector include "a mismatch between seaweed demand and existing product – a mismatch that is getting bigger and bigger. The demand for seaweeds is going to really start to explode in the coming years and industrialisation is therefore essential."
The is where, he hopes, the Belgian firm can play a crucial pioneering role. Founded in 2015 on the back of the successful EU-funded AtSea project, it aims to sell "turnkey industrial scale seaweed farms" and he believes that the time is right for establishing such large scale cultivation ventures.
"There's an exponential increase in the need for seaweeds – there will very soon be new applications in animal feeds, in biofuels and in biomaterials," he argued.
"We will also have to move offshore – we've already seen it with salmon farms in Norway and the same will happen with seaweeds – meaning an increase in size and industrialization."
While Europe has always been dwarved by Asia in terms of seaweed production, he believes that the North Sea offers tantalising opportunities.
"If you look at the North Sea area it is a very nutrient rich sea. We have a background in strong marine-based activities – fisheries, oil & gas, transport: we know the seas and we know how to work them," he observes.
The burgeoning growth of offshore windfarms – by 2030 they're predicting these will cover 8,000 km2 of the North Sea, said Groenendaal – add to the opportunities for seaweed farming and other forms of offshore aquaculture.
As he reflected: "If 10 percent of this area (ie 800 km2) was used for seaweed farming that would be 4,000 20 hectare farms, capable of producing 15 million tonnes of seaweeds – which is half the global production today."
It would also, he claimed, absorb enormous amounts of C02, making it very attractive as Europe aims to reduce its carbon footprint, and create at least 40,000 jobs.
In order to help achieve these goals AtSea Nova has been developing "advanced textile substrates" to grow the seaweed on.
"We're focusing on 2-D substrates, because you can get much higher yields – up to 10-15kg of Saccharina per metre, compared to 4-6 kilos per metre of ropes," Groenendaal explained.
The company has also developed substrates for other species in other parts of the world – including bio-based options with are made of corn.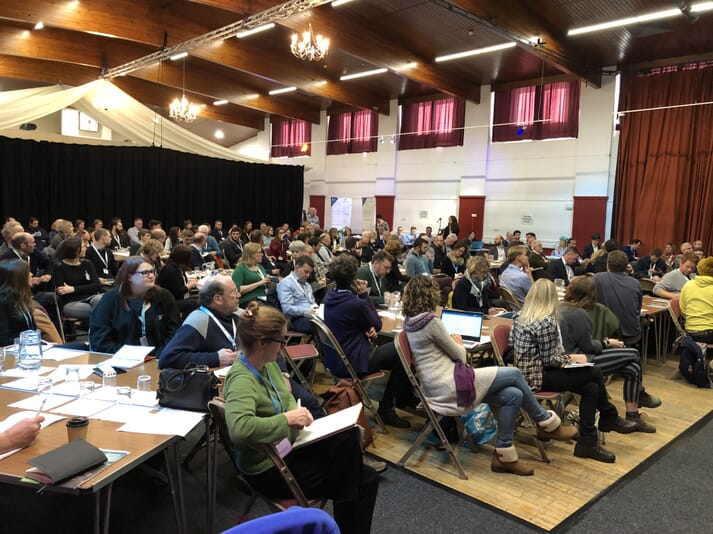 Trials have, he explained, been promising – with horizontal nets in Solund, in Norway, yielding 10-12 kilos of Saccharina per metre, while vertical nets employed by SAMS in Scottish waters yielded 17-19 kg per metre.
The company has also developed a "tubular cultivation system" for growing the substrate, a system that is due to be trialled at two two-hectare sites in the North Sea before the end of the year.
The first, which he hails as "a reference point for offshore seaweed farming" is taking place at a wind farm 20 km off the Belgian coast. The latter is close to the Dutch port of Rotterdam. Both are due to start cultivation in the autumn.
"We know we're going to learn a lot and we know we're going to fail on some things – we've already done a project in the North Sea and know the challenges we have there. But I think that we will succeed in the end in these locations and these will be the reference for more commercial projects," Groenendaal explained.
The company has also developed special barges for harvesting and seeding the farmed seaweed – with the first generation being built and trialled at the moment – and is currently in the process of developing a self-propelled second generation which is due to be launched in May 2021.
According to Groenendaal, the stage is set for pioneering suppliers, using such techniques, to start to fulfil burgeoning global demand for seaweed.