Briefly describe your aquaculture career
My first aquaculture job began in 2011 when I managed a tilapia farm in Vilanculos, Mozambique. Our focus was on high-quality fingerling production. Living and working in Mozambique for two years was an incredible experience, and I went on to manage an African catfish farm in the small town of Graaff Reinet in the Eastern Cape of South Africa. There, I officially started teaching aquaculture.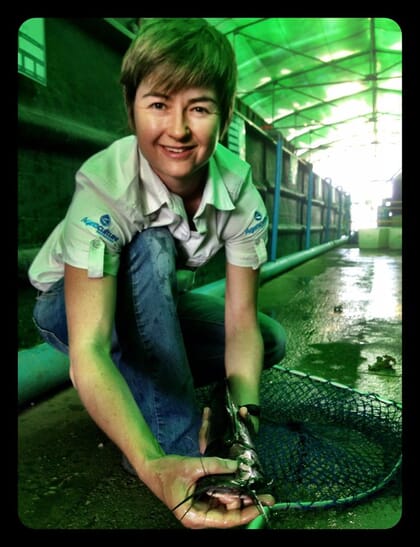 I then worked as an aquaculture advisor and trainer, offering consultation services to a commercial operation, upgrading their RAS systems, training staff and initiating tilapia and catfish breeding programmes. I was also appointed as a government aquaculture mentor to assist and support emerging farmers, and have recently been appointed head of the Gariep Dam Hatchery, which is a government hatchery and aquaculture demonstration centre that aims to develop sustainable aquaculture through high-quality fingerlings, training and support.
I actually wanted to be a marine biologist. I was invited to tour an aquaculture facility and felt very comfortable in the environment, excited and interested in what I had seen. My enthusiasm led to a job offer!
When I enter the hatchery, I observe fish behaviour, check water levels and systems and calibrate water-quality testing equipment. If required, I decide what remedial action needs to be taken. We have a breeding schedule for tilapia, carp, catfish and ornamental fish (koi and goldfish) so I need to ensure that the broodstock have been conditioned and selected, and eggs artificially spawned, selected or harvested. I also have ongoing daily staff training, as well as mentoring of students and budget and procurement tasks.
In addition, I analyse a weekly report regarding water quality, breeding, FCRs, health checks and stock, and manage research experiments, focusing on possible improvements on systems and production efficiency, as well as sustainability issues such as alternatives to fishmeal in feed. I also need to keep up to date with trends and innovations within the industry. My other tasks include market research, and I also arrange permits – for fish when they are introduced to the hatchery and for provincial emerging farmers. I manage project planning, training and support services for emerging farmers and ensure that high levels of biosecurity are maintained. In the near future, our onsite feed production plant will be up and running so we are making final arrangements there as well.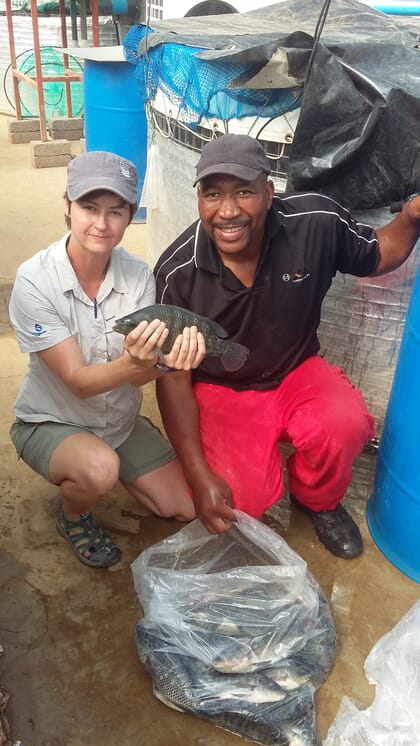 What's the most interesting, inspirational experience you've had working in aquaculture to date?
The most inspirational is seeing my trainees, mainly women from poor communities, become competent fish farmers. Many of them are the only breadwinners in their households. I also really enjoy the breeding component of aquaculture, and continually strive to improve survival rates within the hatchery by managing broodstock, water quality and correct feeding. Aquaculture production offers many daily challenges, so it's good that I enjoy problem solving.
What's the most unusual experience you've had in aquaculture?
Performing experiments to determine the most humane method of killing catfish when harvesting. I had to experiment with electricity and it was quite nerve-wracking, running a current through the fish. Catfish, which are very hardy, recuperate shortly after being stunned. Eventually we discovered that clove oil kills them humanely.
How important are sustainability concerns to you and how do you address them in your work?
Our country is experiencing water shortages so it's extremely important to ensure that effluent water from the tanks is reused. We operate with a recirculating aquaculture system, which maximises water usage. We also make sure that the hatchery prevents any escapees, in our case, Nile tilapia, carp and catfish, by screening outlets as well as having a retention dam. Regarding sustainability in feed, I am currently looking at supplementing our feed with MagMeal, which is produced from black soldier fly maggots, instead of fishmeal.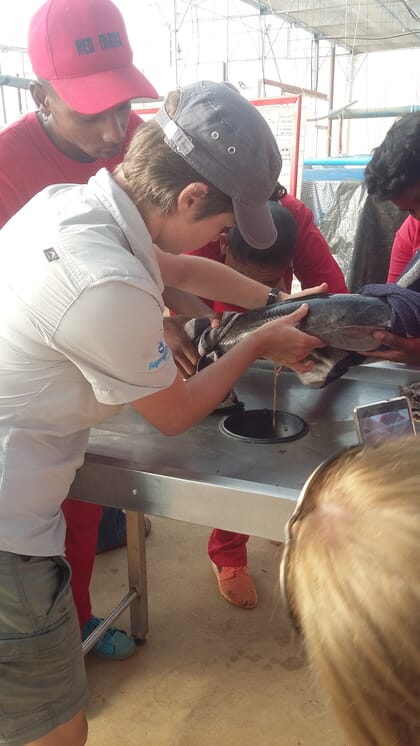 What new technical or production innovation do you think has the most potential to change aquaculture?
RAS systems and offshore aquaculture, because both have smaller environmental footprints.
Are there any individuals or organisations in aquaculture you've found particularly inspirational?
The FAO because it shares aquaculture knowledge with the world and provides emerging farmers with the tools that they need to get started.
Have you faced any particular challenges as a woman in aquaculture?
When a contract was coming to an end, I applied for another job but my employer at the time told me that aquaculture is a male-dominated industry so I shouldn't get my hopes up too much. I got the job.
How are women addressing inequalities in aquaculture in your region and have you seen the opportunities improve in recent years?
There has been an improvement. I know of quite a few women with government positions in aquaculture. In many poor communities, funding is now being made available for training and most applicants are women. I believe women are empowering one another a lot more.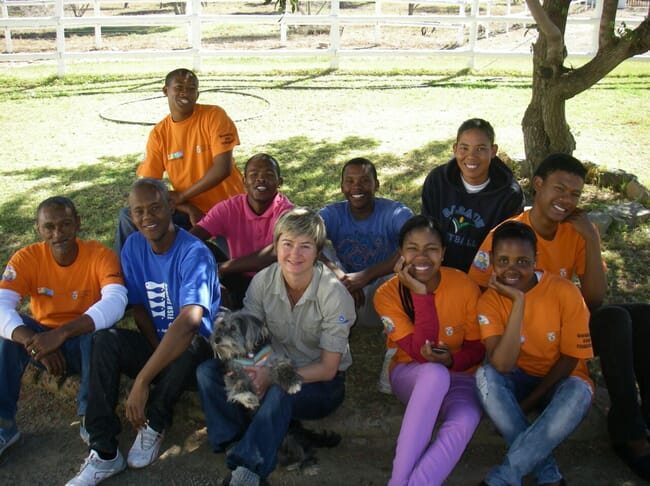 What advice would you give to women looking to start a career in the aquaculture sector?
See yourself as an equal. Study hard and work hard. Do not stand back, believing that some work should be left to the men. Get involved all round. Spend time learning and developing your knowledge and skills in areas that you are not too familiar or comfortable with. You need to be an all-rounder – that includes a bit of engineering, getting dirty and wet and carrying bags of feed.
What would be your dream role in aquaculture and do you think it's realistic to achieve?
My dream position would be to work for the Food and Agriculture Organziation of the United Nations (FAO) in developing sustainable fish farming globally, to aid in alleviating food shortages and poverty. I do believe that this is an attainable goal.
What has been the aquaculture industry's greatest accomplishment in recent years?
The reduction in the FIFO [the "Fish in, Fish out" ratio – ie how much fishmeal is required per kilogram of fish produced] in terms of salmon farming, as well as the research and development in using fishmeal-free feed alternatives.