The issues and conditions of supply have changed significantly since the first annual report was issued seventeen years ago. Since that time, not only has the added value market developed enormously both in volume product sophistication, but the raw material supply sources and much of the primary processing have shifted out of Europe to a significant extent. New species have also risen in importance with the decline of traditional ones, such as cod, whilst aquaculture products are now having an impact.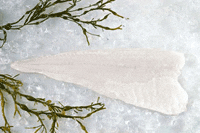 Such significant changes bring with them new challenges, some which are not only of direct concern to the processors, but to the consumers as well. Among these can be included sustainable fisheries, ethical and legal supply, international trade considerations, including trade tariffs and the growing demand for ecolabelled products.

Supply statistics in the report are based on analysis and interpretation EU Eurostat data. However, it is becoming increasingly clear that with improved processing efficiencies, official yield factors for converting fillets back into whole fish equivalent can now overstate the amount of fish used quite significantly.

Key developments highlighted, which can impact supply and environmental impacts are based on the experience of AIPCE members and the proactive steps they have taken to either enable supply or to mitigate potential supply issues. The aim is to ensure a price competitive supply base meeting stakeholder and consumer expectations.

Overview of the Study Findings
Whilst the supply analyses are for 2006, data is not readily available until well into 2007, so the discussion within the report is current to August 2007.

The overall trends are very much following those of previous years with declining supplies from EU waters coupled to further increases, including from aquaculture sources, from third country waters.

Eurostat and Customs codes have not identified all species individually, so that, for example, certain species such as Pangasius (Vietnamese catfish), Nile perch, and tilapia are all classified together. Such species are increasingly important to the processing and market economy in Europe, so AIPCE is seeking to rectify these data deficiencies with the EU Commission. With fillets produced and imported from all fresh water fish equivalent of over 560,000 tons live weight; this is now almost equivalent to the total volume of all hake species. A separate evaluation of Pangasius has been completed to demonstrate the growing importance of this species, where around 100,000 tons of fillets, after deduction for glaze, was imported. This clearly demonstrates the need for more detailed data to be collected by the EU and AIPCE.

In the previous report reliance on imports for all fishery products was estimated to rise from 58 per cent in 2005 to 60 per cent for 2006, but the actual figure was 67 per cent and is estimated to be 69 per cent for 2007.

Whilst the concerns over IUU fish, illegal, unreported and unregulated fish supply, had been growing in previous years, these developed further during 2006/2007, with particular concern over cod from the Barents Sea and the Baltic. However, proactive steps by Governments, NGOs and industry do now seem to be significantly reducing the problems.

AIPCE previously developed and agreed a Control Document, to be followed by members for the purchase of cod and haddock from the Barents Sea. This was adopted in September 2006 and positively endorsed by WWF. A similar Control Document was adopted for the Baltic in October 2007, with the full backing of the Polish member association. The launch of the document was accompanied with a press release requesting the Polish Government to comply with EU demands to enforce the ban on cod fishing for the remainder of 2007 and not to encourage any further fishing.

The North East Atlantic Fisheries Commission, NEAFC, Port State Control Procedure for Frozen Fishery Products, which came into force on first May 2007, has been seen to have a positive impact on the Barents Sea fishery. In the first six months to October, over 600 Russian landings within Russia and NEAFC signatory countries were accepted without any issues arising. The statements made by President Putin that Russia had to comply with all fisheries legislation in order to protect the long term interests and value of their resource, clearly impacted as well.

In the Baltic region, the eight EU member state governments at the Baltic RAC in May 2007 were signatories to an agreement take positive action to control IUU. This was seen as a very positive move, so it was unfortunate that the Polish Government subsequently delayed implementation of EU restrictions on cod fishing, as referred to

above. Proposed EU legislation to control IUU, including for imported prepared fishery products, was issued for consultation in early 2007, with draft legislation is anticipated later in the year. Whilst AIPCE welcomes the proposals, they have stated that legislation should be proportionate, targeted and should neither disrupt trade from reputable sources, nor unduly impact developing countries.

The EU legislation concerning autonomous trade tariffs for certain fish species finished at the end of 2006, but despite early negotiations with DG Fish, new legislation was not agreed in time for continuation without interruption. In fact, it was July before final agreement was in place, which added to the financial burdens on importers of fish for processing. An improved system has to be in place before the completion of the current 3 year agreement at the end of 2009, so that there is not the disruption and uncertainty seen this year. Whilst AIPCE requests for increases in relief for cod were initially treated with scepticism, due to the potential IUU problems, there is no doubt that the AIPCE Control documents assisted in welcome increases in the quota and a new agreement for cod fillets.

Primary processing of raw material fishery products has continued to increase in third countries, supplying semi-prepared products for the European added value processing industry. This has raised questions concerning socio economic impacts in third countries and carbon footprint/food miles.

Many AIPCE members already apply international ethical auditing standards to their supplies from third countries. Since these third country processors are often new to the industry, they are often not only exceeding EU hygiene standards and requirements, but are fully compliant with international labour laws as well.

With respect to carbon footprint, because semi processing and finishing of fish raw materials is typically by hand in third countries, rather than mechanically done, yields can be up to 30 per cent greater than in Europe. New energy efficient transport vessels, handling up to 14,000 container units per shipment also significantly reduce fuel usage, so that overall, carbon footprints can be less than processing in Europe. This is clearly counter-intuitive, but some initial studies are confirming this, although much more thorough investigation is still required. The EU debate on what action to take over ecolabelling of fish continued throughout 2006, with AIPCE supporting Option 3, which is independent third party certification initiatives, but in compliance to minimum agreed EU standards. Meanwhile, the number of fisheries certified to MSC standards, which are in full compliance with FAO Guidelines, continued to increase. Ever more retailers and brand owners across Europe are now adopting and applying the MSC label on their products, which is driving supply demand to a significant degree.

Overall, the fight against IUU, sustainability and carbon footprint/ international supply matters are expected to dominate the work of AIPCE white fish supply matters during 2007/2008.
October 2007
Further Reading