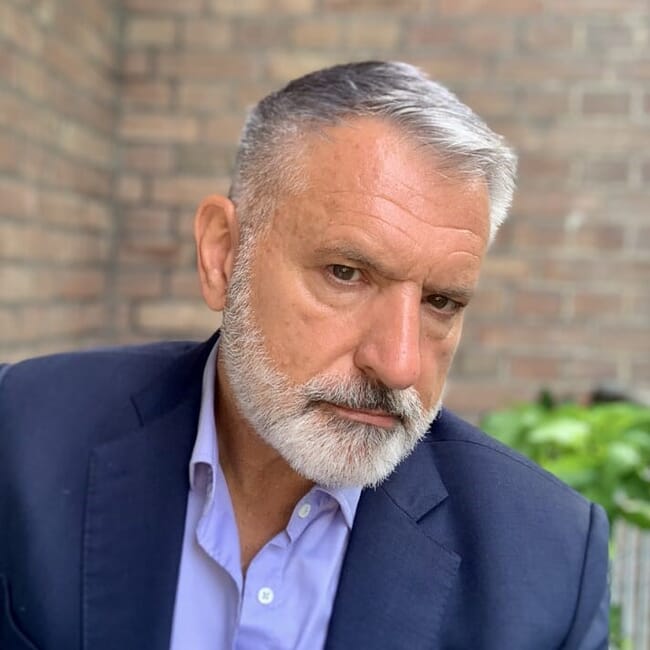 Ahead of the Animal AgTech Innovation Summit, which is taking place virtually on 14 September - when he will be part of a panel event on accelerating innovation in aquaculture - he compares the development of aquaculture to that of more established animal protein sectors.
Why is innovation needed in the protein market?
Our global story is not new; we have to feed 10 billion people by 2050 using half of the resources we're using today. Fundamentally, we all play a role in the protein supply chain. However, animal protein is not the only way to provide a nutritious protein to people who need it. A lot of people are involved with alternative protein, and we have been looking into all the ways to supply food protein moving forward. We believe it will be more of a combination of animal farming and alternative protein, wasting less food and being more efficient in farming. It's not any; it's all. We have some ventures in the field of alternative protein, but it's not against animal protein, it's to succeed in tackling the protein supply going forward. Nutreco is and will remain an animal nutrition company at its core supporting the farmers. We simply don't have the luxury to pick whether we want to advocate farming and disregard the rest; we are going to need everything.
Globally, aquaculture is in the limelight as we move away from wild catch to sourced seafood. To do this and to grow, we'll need to continue to learn through research just like we learned how to grow the swine, poultry and other species markets. Due to our history in aquaculture, Nutreco is well positioned to help advance the industry, as we are heavily involved in salmon and shrimp farming and feed.
What innovations are most needed?
Salmon and shrimp farms can be very sophisticated and high tech, but our farmers are still experts in the wild. We have found that aquaculture species are a bit like farming free-range animals. To some extent, we are where pig and poultry farmers were 50 years ago - exposed to the biological challenges and environmental conditions in the world - when the chicken and pigs were outdoors. However, swine and poultry farmers found innovations and techniques to overcome their challenges. For aquaculture, this has not happened yet, but we are moving in the right direction. We are now talking about recirculating aquaculture systems for salmon, which are still very new but garnering a lot of attention and investment.
A key challenge to overcome across all species is the 40 percent gap between animals' genetic potential and what they actually deliver. For aquaculture species like salmon and shrimp, this gap is wider than for pig or poultry which are well-researched. Innovation can help all species improve, but shrimp and most other fish species, even salmon to a lesser extent, are under-researched. We have been farming them for only a few decades, so we don't know them well and there is so much to learn and much to improve.
This is why innovation in aquaculture is extremely relevant. Our gap is wider. We need to deploy a lot of energy, technology and effort to increase the yield of a poultry farm or pig farm by just a few digits. But when it comes to salmon, or shrimp, we need to see double digit improvements, and these can be achieved with technology and innovation. Pig and poultry producers were in this spot 30 years ago, and they didn't have the technology we have now. Fortunately, it's the perfect opportunity to apply bioinformatics, engineering and technology – everything at our disposal - in the field of aquaculture species to address challenges and advance the industry.
What are the bottlenecks to industry advancements?
In aquaculture, our bottleneck is that too high of a proportion of shrimp, salmon and other fish don't reach the stage where you can turn them into food because they are dying due to biological challenges. In the last decade, we have viruses affecting salmon farms, sea lice and algal blooms. In shrimp, we have many diseases – including viral diseases, bacterial diseases, white spot, EMS. This is not unlike, for example, African swine fever virus in the pig population today. Disease, often enabled by suboptimal farming conditions, is our biggest bottleneck.
In aquaculture, we are farming high value animals, like free-range chickens or Iberian pigs. It's not only about keeping animals alive, but it's about taking care of all animals in a proper, decent way, that's high welfare. We need to keep animals healthy, tackle environmental challenges and make sure that we can farm in conditions that are acceptable to communities and society.
The key to digital solutions is the mere availability of the data. We aren't there yet – as an industry, we need to work with a data team to start the information flowing more freely. We aren't sharing as an industry – either because we are too competitive or because we just don't have the data - and that's a bottleneck to advancing our industry.
How is innovation being used today?
When you are growing shrimp or fish in ponds, it's often difficult to know if the shrimp are alive and healthy because the water is so muddy. It's difficult to know whether they are healthy or sick, underfed or overfed when you have no way to see or monitor them other than with cumbersome and often inaccurate manual sampling. We are looking at options to solve this problem through technology and innovation. You'll see that innovation isn't always related to new tech – it's often about new insights you can gain using the technology available.
Ecuador has become a very prominent place to farm shrimp amid strong demand. We identified that the shrimp were healthy but weren't growing as fast as they could. Using relatively simple technology, Nutreco and a startup partner managed to increase the yield of the farmed shrimp from 50 percent to 80 percent. We couldn't see the shrimp because they were under a metre or two of water, but using sensor technology and getting that data to the cloud, we could determine the temperature and pH of the water and identify dissolved oxygen. With acoustic technology, we could listen to the shrimp and hear them moving on the bottom of the pond. This simple sensor becomes super high tech when it lifts the data to the cloud for more than 10,000 hectares of farmed shrimp. Once the data was available for analysis, we could understand what was happening in the water and advise the farmer about a better way to feed the shrimp. In this situation, it wasn't about changing the feed, but feeding at the right quantity and the right time. They used to feed the shrimp when there was no oxygen in the water, so the feed was going to waste. Data analysis that resulted in insights about feeding improved the business' bottom line and made all the difference.
Acoustic recognition is really promising technology. An acoustic signal can be used to identify shrimp weight, how they are behaving, if they are active - these are insights that can gauge health and growth. AI is certainly applicable with this technology and is likely the way forward.
When we consider Asia, they are dealing with a bacterial disease, EMS. It has been very damaging to shrimp production in the region. With disease, the solution can't be to add antibiotics in the pond. It's about prevention and detecting disease early through diagnostics. This can't really be done through acoustic recognition because you need to see the shrimp. However, learning to recognise the early signs of disease through imaging is a possible solution. AI can use established patterns from an image database that builds information for analysis. Then data analysis can help farmers see what's coming and identify how to prevent it from ever occurring.
How is Nutreco using innovation in protein markets?
One of the unique features of Nutreco is that we are exposed to aquaculture more than most of our competitors because of company's history. It's a real focus for us and is about half of our business. The dramatic increase in yield for the Ecuadorian shrimp farm that I shared earlier happened also because of innovation. We did it by connecting with the right start-up company to partner on this project. They had a relatively low-tech sensor technology paired with smart cloud computing technology, and it worked miracles to close the efficiency gap.
Another area where innovation is important across the protein value chain is antibiotic use. Our previous CEO spoke to the United Nations on this topic. It's a huge challenge for the industry, and as an animal nutrition business, we can't fix it alone. It requires us to cross over into animal health arena. We are currently working with a start-up to develop and deploy a new technology called RNAi therapeutics to help in this space.
We see real problems to solve and we don't always have the solution. So Nutreco has embraced working with startup companies and giving them an opportunity to showcase their abilities, technology and products. Nutreco's programme to stimulate this is called the Feed Tech Challenge, but instead of prize money, we offer access to our validation facilities because technology must be proven on animals in real-world situations. For many startups, this opportunity to validate their product offers great value.
Why is your company participating in the Animal Agtech Innovation Summit?
We don't really have a choice and neither does anybody else. Doing what needs to be done is not easy for a big corporation. Competition is fierce. It would be easier to close the door and try to outsmart everyone by doing what we can. But that simply doesn't work.
What we are after - it's about food and preventing food riots. It's about feeding 10 billion people one day. We need events like this where we open up and talk to our peers and collaborate. We cannot get this job done alone; we need to work together to find solutions.
Further information
Laurent Genet will be speaking as part of a panel discuss about Accelerating Innovation in Aquaculture at the Animal AgTech Innovation Summit event to be held as a virtual event on 14 September.
A full programme of 1-1 meetings, interactive panel debates, start-up pitching sessions and investor insights will provide an unrivalled platform for new business development in animal health, nutrition and precision farming.
This interview was originally published on www.thepigsite.com