"We've got a 4,000m3 capacity which we thought was pretty big. But it's already, arguably, too small – it would probably be better to have a capacity of 6,000 or even 8,000m3," says Magnus Gjerde, 38, about his new vessel.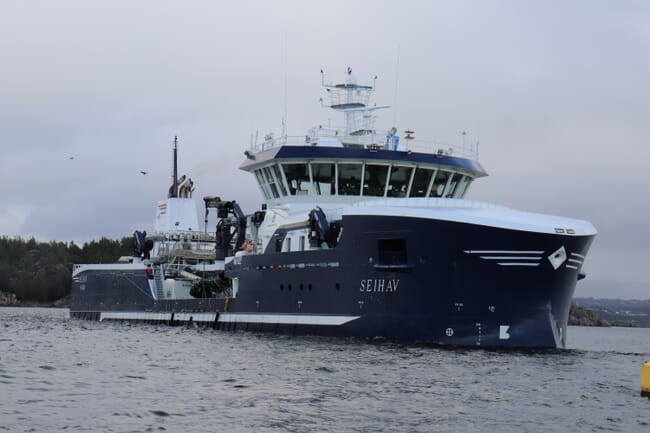 And he's right: the biggest wellboat currently operational, the 116m Ronja Storm – which was designed mainly to treat salmon infected with amoebic gill disease in Tasmania – has an eye-watering 7,450m3 capacity. Despite the colossal dimensions, according to Magnus such vessels are likely to become increasingly common in Norway in the coming years.
"Operating wellboats of that size would not be a problem from my perspective – in terms of conducting treatments, for example. Although some factories might struggle to cope with such big vessels, and it might not be possible to travel between some of the islands along the coast because of the size of the boat," Magnus observes.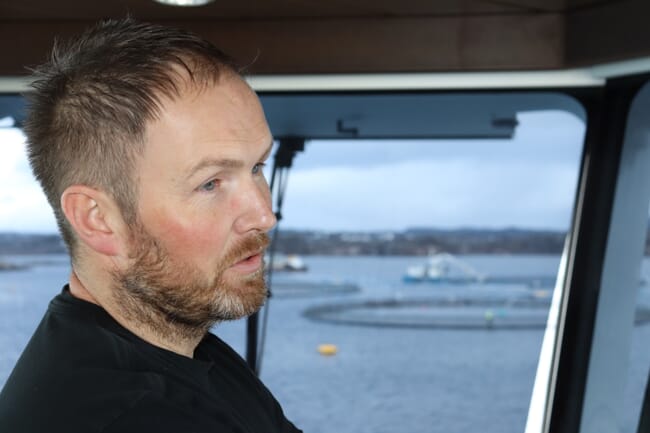 Although he's still proud to be skipper of the 78m vessel, he feels that a bigger alternative would be ideal.
"Seihav will still be a good ship in 10 years but others will be bigger, with a greater variety of systems on board, and it will be easier to change which systems are fitted," he explains.
Magnus speaks with some authority, having been at sea for 16 years, in the process gaining his D1 – a licence that allows him to captain any civilian ship on the planet and gives him the title "sea captain". From his leather upholstered chair on the bridge, which offers a panoramic view of the ship's surroundings, there's a bank of touchscreens, a joystick and serried ranks of buttons, which he can use control all manner of operations – being a wellboat captain involves much more than just sailing a boat.
For there's still an impressive array of equipment at his disposal, including a two-line Optilicer, which can delouse 200 tonnes of fish per hour, by running them through a bath of water warmed to 30-34°C. Meanwhile the vessel's wells can hold up to 550 tonnes of live fish – for treatments, for grading or for transporting to the slaughterhouse.
"From here I can control any of the operations – grading, harvesting, delousing or operating the moving bulkhead in the well, which means that the fish can be offloaded without the use of pumps," he explains.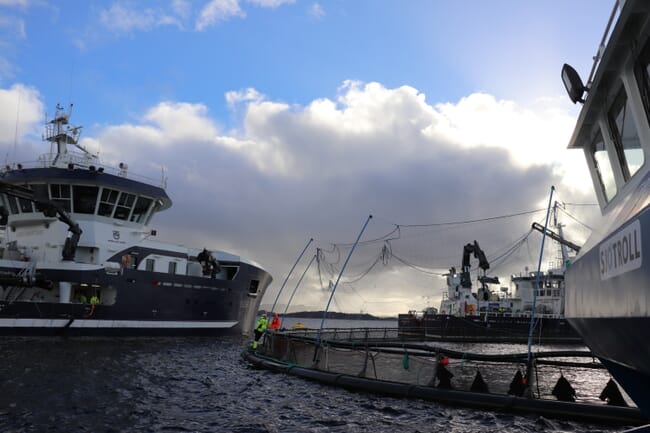 One of the new technologies Magnus has recently been working with is Benchmark's CleanTreat – a system that removes any chemicals from the well's water after treatment and is currently being trialled in conjunction with the same company's new trial sea louse treatment. Water from Seihav's well is pumped across to the neighbouring CleanTreat vessel to be purified before being put back into the environment free from both lice and chemicals.
"It's a system that's easy on the fish, and has a good clearance [of lice], at least for a few weeks – the fish respond well to the chemicals, which is exciting – but the biggest challenge from our perspective is discharging the water to the CleanTreat system after each treatment, as it takes 8 to 10 hours," explains the skipper.
Seihav is currently contracted to Lerøy Seafood Group, and it is important for Magnus to keep the salmon producer happy. Even if Lerøy may have a 50 percent stake in the wellboat company Seistar, hiring one of their vessels is not only a serious investment in itself, but also requires an array of other boats and crew to be on hand, ready when the wellboat arrives at the site. And they're all on the clock.
"If you ask what my job is, I'd say fish handling and phone calls. I have to keep a lot of people informed of my movements and am always having to plan at least two or three jobs in advance. At every job there's always another bunch of people waiting, and often you find there are more jobs to do than you were first told," explains Magnus.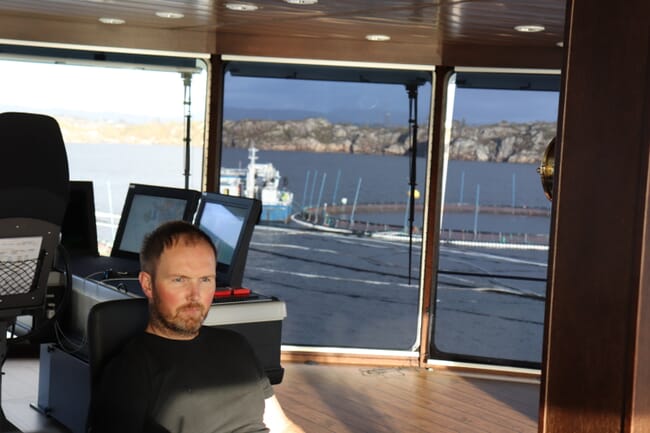 Given the range of operations at Seihav's disposal and the demand for the various services it offers – farms that exceed Norway's maximum lice threshold of 0.5 adult female lice per salmon face the risk of an enforced harvest of their entire crop – the pressure is constant when the boat is in the water, which it is year-round, but for one or two trips to the boatyard.
"There's so much equipment on board and there's a demand to keep it running 24/7. Whenever we're scheduled to arrive at a site the farmer will have to mobilise so many other resources – from workboats to diving teams – which all cost money, so stopping is never an option," explains Magnus.
Indeed, according to the Norwegian coastal shipowners' trade organisation (Kystrederiene), renting a wellboat typically costs 14,000 kr to 16,000 kr per hour (£1,274 to £1,456), so it is obvious why there's pressure on Magnus to perform.
"We need to be safe, good and fast, as well as needing to ensure optimum fish health, but we can work in most conditions," he says.
And he is also encouraged to do as much of the maintenance work as possible during any downtime the vessel has. In addition the boats are regulated with a 48-hour quarantine period to wash and disinfect wells and other equipment after transporting fish to the slaughterhouse, before getting new fish on board.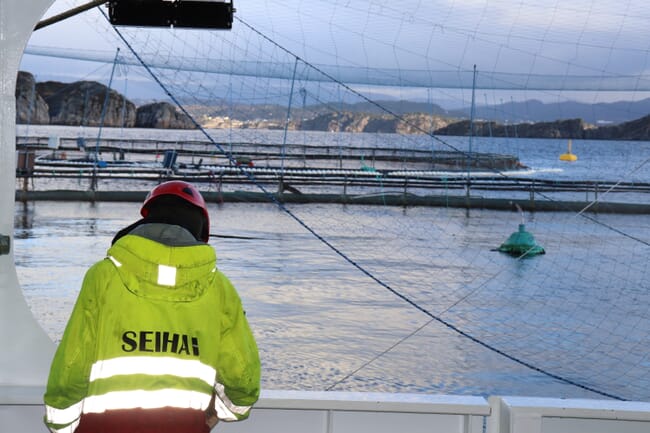 "Hygiene is very important on board. Our goal is to promote good fish health, reduce the risk of infection, and operate as efficiently as possible. If something is not working we'll try everything to fix it – twice – before we give up," says Magnus.
However, he adds, despite mainly operating in relatively sheltered waters – as this is where the vast majority of the Norwegian industry's farms are sited – there are occasions when even a vessel of Seihav's size would be foolish to operate.
"Strong winds or very fast currents can deform the shape of the pens and therefore make it risky from a fish-health perspective to load up the fish for treatment or harvest – as they can get stuck in pockets in the net. These are the only factors that really prevent us from working around the clock," he says.
Despite the hectic schedule, Magnus is happy to be kept busy, in order to stave off the boredom that could otherwise affect the morale of himself and his eight-man crew.
"When you're on a ship the worst thing's when you have nothing to do – that's when you start thinking about what other people are up to back home – but here we're constantly busy, so time goes quickly," he reflects. Which is lucky, as wellboat captains generally work for 21 or 28 days straight.
The crew typically work six-hour shifts on and off in 24 hours, and in their downtime they have access to the sort of facilities that would not look out of place in a five-star hotel – including a cinema, individual cabins with en suite bathrooms and – Magnus's favourite amenity – a well-equipped gym.
"We can relax between shifts and get everything we need to do good a job," he explains.
With 350 million krone of wellboat and equipment at his disposal, not to mention several hundred thousand salmon in the system, it is reassuring to hear.