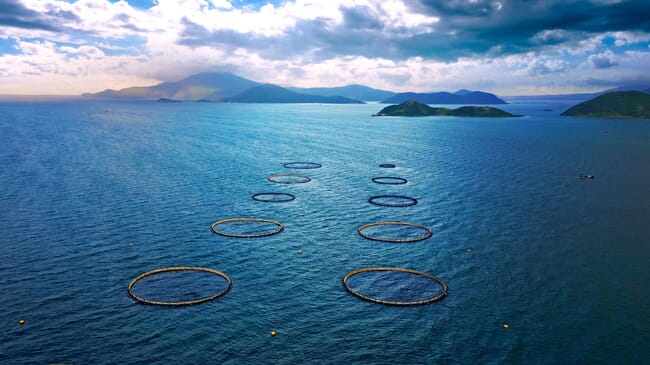 The certification covers its ocean-based farm in Vân Phong Bay, central Vietnam. The company's farming system integrate seaweed cultivation and a purpose-built frozen supply chain that minimises food waste and CO2 emissions.
Australis was established in 2004 by veteran aquaculturist Josh Goldman. He embarked on a three-year quest to identify a fish that could be farmed at globally meaningful scale in an environmentally sustainable way.
After profiling over 30 fish species, he chose barramundi (Lates calcarifer) and set out to develop a vertically-integrated farming operation in the tropics from the ground up – establishing hatchery, nursery, grow-out, harvesting, processing, and packaging capabilities. Today, Australis produces a line of frozen barramundi products under The Better Fish and Clean Harvest brands.

Barramundi, also known as Asian sea bass, is native to the Indo-Pacific. Popular in Southeast Asian and Australian cuisine, it is reported to have become the fastest growing aquaculture species globally over the past decade.
"This is another milestone for the ASC and we're thrilled to see a farmer with such an obvious commitment to environmental sustainability embracing the programme," said Kathleen McDavitt, ASC's US market development manager. "This is also really great news for conscientious American consumers, as it helps to meet a growing demand in the country for responsibly produced seafood. Barramundi isn't something most people eat every day but it's easy to cook at home and delicious – an ideal way to support responsible food production."
"Australis chose ASC because it is widely recognized for its comprehensive, science-based approach. ASC's new Tropical Marine Finfish Standard brings a thoughtful and well-structured approach to measuring social and environmental accountability of aquaculture," said Goldman. "ASC's market links will enhance trust in our brand and deepen our connections with our customers."
The TMFF standard was launched in 2019, and is one of the most wide-reaching ASC standards, covering nine separate genera of fish, including barramundi, groupers, snappers, pompano, and croaker. The standard was intended to meet growing demand and reflects the diversity of global aquaculture industry. In 2018, total farmed tropical marine finfish production accounted for almost 3.7 million tonnes, mostly centred around tropical and sub-tropical seas is Asia and Australia.
As production of this diverse group of species increases, so too do the potential impacts to the environment and to people. The standard includes dozens of requirements, covering both environmental sustainability and social responsibility. Among other things, farms must monitor and limit impacts on water quality, minimise disease outbreaks, may not be established in mangrove ecosystems, must pay and treat workers fairly, be good neighbours and engage positively with local communities.