Valuable discoveries in the cultivation of finfish larvae
By Jane Jordan, Editor, TheFishSite.The development of novel marine finfish production requires reliable and cost effective supplies of juvenile fish. The OPEL project - 'The optimisation of environmental conditions for cultivating marine finfish larvae' - was set up to evaluate production methods and establish the economic value of improving the quality of juveniles produced by hatcheries.
The investigations, at the Martin Ryan Institute, Carna, Ireland and Fosen Aquasenter, Norway, aimed to evaluate and refine protocols for cold water larval culture - the premise was to provide a network of information on marine finfish hatchery techniques.
Cod: Stability essential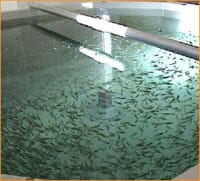 Cod juveniles. Improving hatchery practice and hygiene protocols could make a significant difference to productivity.
The worldwide production of cod juveniles is regarded as a rather erratic process. Some of the major problems are attributed to fluctuations in water quality, relating to temperature, salinity, total gas pressure, microbiological parameters and the feeding regimes used. The high incidence of malformed juveniles seen in the early days of production are thought to be a result of these issues, and so there is scope to improve production techniques.

Traditionally, most marine finfish larval culture processes employ single-use flow-through seawater systems. However, this method is only really effective when sea water conditions are stable, production is seasonal, pumping costs are low and temperature control is both efficient and economic.
There can be financial and operating incentives with re-use water systems, in particular for locations where quality parameters are variable. However, current knowledge on this technology in aquaculture is only suitable for rearing adult fish, youngstock of warm water species and/or for freshwater organisms. But by using a water re-use/ recirculation system, the water used can be treated and isolated from exterior influences, thus allowing the establishment of optimal larviculture conditions. A re-use systems can also reduce the volume of effluent/waste water produced which is also a key environmental consideration.
Re-use rewards
King (2003) reported a survival rate over the first 100 days post-hatch of 30 per cent in a commercial cod hatchery that used a water reuse system. And, in a subsequent year, this research reported larval survival rate of 55 percent, which is probably the highest recorded survival rate achieved by an intensive cod hatchery to date.

The development of water re-use systems is important to northern aquaculture industries - a more sustainable and cost effective cod industry would be economically advantageous. It's particularly significant in Western Ireland and Sweden, which have huge interests in the cod business.

In addition to water quality issues, another of OPEL's objectives was to develop an efficient and reliable live feed feeding system. Rearing youngstock with live food is a very labour-intensive process and incurs considerable costs. It is also a potentially unstable component of larval culture.
The research compared the hatchery process at the MRI finfish unit in West Ireland with the practices used at the Fosen Aquasenter, Norway. It details hatchery layout and describes in detail, water treatment and reuse systems, the husbandry protocols associated with live food production and larviculture management. It also assesses results of water chemistry in the larval unit and biometric data on cod juveniles reared at MRI in 2005. The water treatment and re-use systems used at Fosen Aquasenter is also evaluated, along with the results obtained from water quality monitoring and overall juvenile production performance at this hatchery during 2005.

A water re-use system, illustrating degassing tower and bio-chambers, next to larval rearing tanks
The results indicate that during the winter period, intensive water quality treatment can vastly improve the survival of fish compared to batches grown without water treatment. Unfortunately, during the summer months survival rates were not as good, indicating that there is still a need to address water quality issues.
Conclusions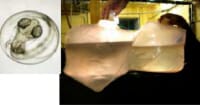 A cod egg (left) and eggs in transport containers. Note the difference in stage of development between bags on the right the eggs are more developed than
those in the left bag. (Pic.R. Wilkes MRI)
As a result of comparative water sampling between the two project partners, the Fosen centre changed its water system from the reuse process to a vigorously treated flow through supply that offered better production results. Fosen have since compared this treated flow through system with an untreated seawater supply and have found that the untreated supply yielded production batches of only 1,000 to 35,000 cod per six litres of eggs, while the treated flow through system produced 150,000 fish for the same volume of eggs in the first two batches.

Fosen has also established a live algal production unit to augment its cod larval culture protocols. Work at MRI has shown that microalgae present in the larval tanks can enhance the survival and proliferation of Artemia, a vital fish food.
The collaboration and information exchange between the project partners, encouraged MRI Carna to introduce a number of improvements to its live feeding system and general husbandry techniques. The hatchery invested in automatic feeders, which provide a more reliable and consistent supply of rotifers and have significantly reduced labour requirements. During the project standing stocks of rotifers ranging from 4-6 billion were maintained throughout the larval culture period and 600-1000 million rotifers were harvested each day. Hygiene protocols were also upgraded which addressed bacterial contamination issues. Using mircroalgae has benefits here too. The major benefit at MRI Carna was seen from the automatic live feed developed during this project. It significantly improved the feeding of microalgae, rotifers and Artemia to the larval tanks - and so overall productivity.
OPEL was a collaborative venture between a commercial operation and research organisations Martin Ryan Institute, Carna, Ireland and Fosen AS, Norway under the Aquareg programme.
Aquareg was a regional framework initiative, funded by the EU, that linked marine industries operating in three peripheral regions of Europe: the Western Coast of Ireland, Galicia in Spain and Trondelag in Norway.
The programme comprised 12 research and development projects aimed at improving the commercial viability of marine businesses in these regions. It linked science and commercial interests through knowledge transfer, collaborative and applied research and co-operative projects involved with education, resource management and environmental development.
Information about Aquareg, its partners and the projects can be found at:
www.aquareg.com
September 2007
Further Reading