The main diseases vaccinated against are furunculosis, vibriosis, coldwater, vibriosis, winter sore, infectious pancreatic necrosis (IPN), pancreas disease (PD) and infectious salmon anaemia (ISA).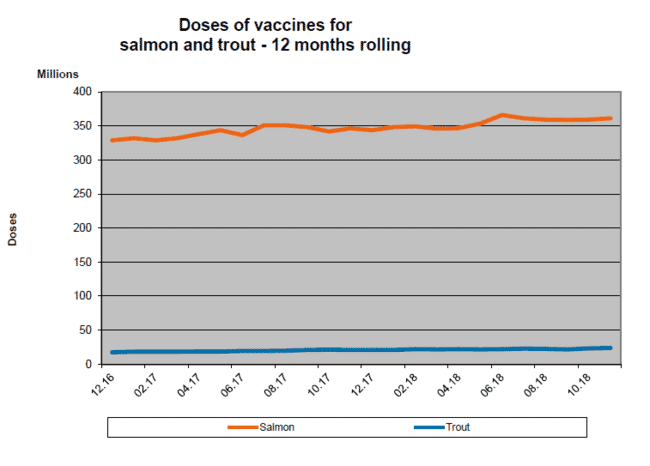 Of the November sales 13.4 million doses were PD-vaccines, 9.0 million of which were the 1-component version, while 1.3 million doses of 7-component ISA-vaccines were sold, according to the latest report on the sector by Pharmaq.
Over the last 12 months in Norway 361.4 million doses of vaccines were sold, up from 346.3 million doses in the 12 months up to the end of November 2017. Of these 130.1 million were PD-vaccines., 6.5 million were 7-component ISA vaccines.
Meanwhile the Norwegian trout sector bought 3.3 million vaccine doses in November compared to 2.9 million in November 2017. Total sales of vaccines to trout over the last 12 months were 23.9 million doses, compared to 20.9 million in November 2017.