US Shrimp Market Report November 2007
Report prepared by Javier Lpez (INFOPESCA) - FAO GLOBEFISH 2007. US shrimp imports between January and September 2007 declined slightly compared to the same period in 2006.
Market trends
Total shrimp imports in the period under review were 391 959 tonnes worth US$ 2 709.3 million (-2.3% and -1.7%). Unit values remained almost unchanged, with a minor positive variation, +0.7%. Up to August, imports maintained the monthly trend shown in previous years, but in September there was an important drop with volumes falling more than 5 000 tonnes compared to September 2006. Most imported shrimp products showed this negative trend during the first nine months of the current year, however, those with a positive trend showed important variations on the previous period. As for the domestic supply, landings have been lower than in 2006 (-23.5%). Meanwhile, this year has been marked by the increase in oil prices, and growing gasoline prices have affected negatively the restaurant industry as households have less disposable income to spend.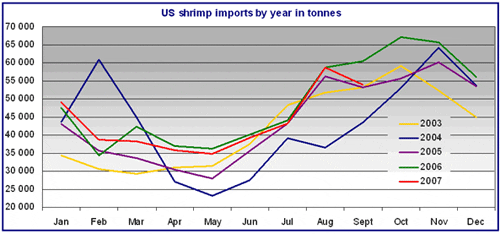 Thailand remains the main supplier to the US market. This country accounts for 33.8% of total imports in the period reviewed with 132 347 tonnes. Ecuador is far behind as the second exporter with a market share of 11.9% at 44 281 tonnes. The Indonesian share of imports remained almost unchanged and Vietnam grew from 6.3% between January and September 2006 to 7.1% in 2007. Chinese sales fell from 45 343 tonnes in 2006 to 34 373 tonnes in 2007 with market share dropping from 11.3% to 8.8% in the first nine months of 2006 and 2007 respectively.


The case of Chinese exports deserves a special mention. By the last days of June, the FDA (Food and Drug Administration) blocked the sales of five types of farm raised seafood from China, including shrimp, due to contamination with unapproved drugs and additives. This was reflected in imports from this country between July and September which fell to the lowest level since 2003, and reversed what seemed to be a growing trend for Chinese sales to the US, as can be seen in the graph below. Another interesting aspect is that while Chinese exports fell, the total market share of the top five shrimp exporters to the US remained almost unchanged, accounting for 73% of total imports. This could reflect the fact that other countries managed to cover the demand for products which came from China and which were banned by the FDA. 61% of Chinese exports in terms of volume are breaded frozen shrimp, and this product accounts for 56.3% of the traded value between these two nations. The second product category is "other frozen preparations" which accounts for 24.2% and 26.1% of the traded volume and value respectively. The NOAA is actually running inspections in processing plants, and it is expected that in early 2008 an agreement between the NMFS and China's Administration of Quality Supervision, Inspection and Quarantine will be reached in order to improve the traceability of products.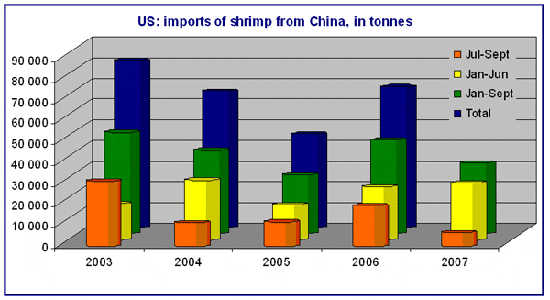 Thai exports to the US market up to September reached 132 347 tonnes worth US$ 854.4 million. This means a 1.5% increase in terms of volume and a 1.7% increase in terms of value compared to the same period in 2006, when total sales amounted to 130 135 tonnes and US$ 840 million. Two product categories account for more than 60% of Thai exports, peeled frozen shrimp (32.2% of the volume and 34.3% of the value), and "other frozen preparations" (31.6% and 32.8% in terms of volume and value respectively). Ecuador is in second place as a shrimp exporter to the US in terms of volume, accounting for 11.9% of foreign supply, but in terms of value it is in fourth position. The most important Ecuadorian product category is peeled frozen shrimp which accounts for 20.4% of the total volume supplies and 24.8% of values. All shell-on products together account for 78.1% of the total volume, and 73.4% of the value, of Ecuadorian supplies to the US, but no single size sub-category accounts for over 19% in volume or value. Indonesia and Vietnam have in common the fact that almost half of their sales are of peeled frozen shrimp. In the case of Indonesia, this category accounts for 50.3% of total US volume imports from the country and 49.7% of import values, while for Vietnam, the share is 49.7% and 49.6% respectively. In the case of Vietnam, recently, one of the most important Vietnamese companies exporting shrimp to the US market obtained approval from the Ministry of Planning and Investment to increase its investment capital in the US to about US$ 20 million for the import and distribution of peeled shrimp in the market.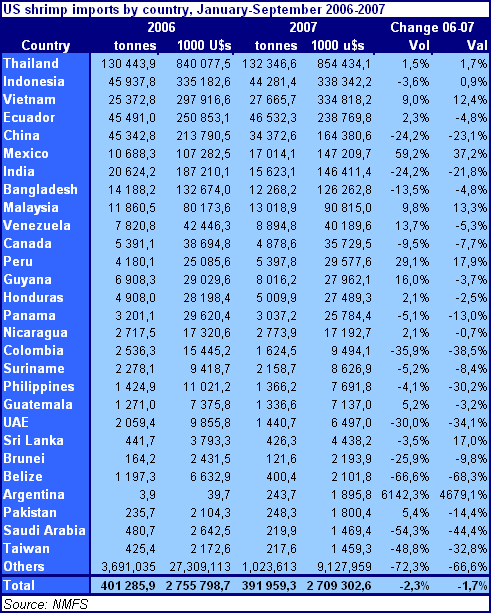 It is interesting to note the remarkable growth of Mexican exports. Sales to the US from this nation jumped from 10 688 tonnes in the first nine months of 2006 to 17 014 tonnes in 2007, although the growth in terms of value was not so remarkable (37.2% against 59.2%). However, it managed to surpass India and obtain the sixth position as one of the top suppliers to the US market. Regarding the Mexican shrimp industry, it is worth mentioning that wild shrimp producers have shown a lot of disappointment regarding captures which have been about half the level of captures in 2006, a record year. On the other hand, farmers in the State of Sinaloa have reached a very good level of stocks, but as they stated, most of them remain in the domestic market. Regarding India, sales fell significantly compared to the same period in 2006, a possible consequence of the problems experienced by producers from this country with the anti-dumping duties and the "zeroing" policy applied by the US.

With a much lower share, it is worth highlighting the astonishing jump in sales from Argentina which increased significantly from almost zero last year. This increase could reflect a new strategy from Argentinean exporters to get new markets for their products, which are currently experiencing a price reduction in traditional European markets given the abundance of the resource, or the fact that with lower prices they managed to begin entering the US market.

WTO and the anti-dumping duties
In the last report, we referred to the WTO ruling in favor of Ecuador against the method of calculating anti-dumping duties by the US Department of Commerce (DOC). The Ecuadorian shrimp sector is considering filing a new lawsuit against the US at the WTO, requesting a refund for the anti-dumping duties payments made to US Customs, which they estimated were approximately US$ 15 million in cash, plus the US$ 45 million that the US government asked as a warranty (bonds).

On the other hand, the WTO recently ruled in favor of Thailand and India which had petitioned against the zeroing practice and the 100% bonds requirement. The WTO stated that these practices are illegal and that they violate the accepted rules for international trade. The Indian petition was against the imposition of a continuous bonding requirement for Indian shrimp exporters for the equivalent of 100% of the duty value of the product from the previous year. This made the export activity for Indian producers extremely expensive and was alleged as one of the main causes for the drop in sales to this market. Now Indian traders are aiming to obtain a similar conclusion for their petition regarding the "zeroing" practice on their exports. With the abolition of the 100% bonds, Indian exporters would only have to pay a 7.22% duty according to the last administrative review. Meanwhile, Thailand obtained a similar verdict which will probably substantially reduce the current duty on Thai shrimp, or even abolish it, after winning a demand against the practice of "zeroing" at the WTO.

Most important import products
Very few shrimp categories performed well in terms of growth in the period reviewed. The best performance was shown by peeled frozen shrimp, which is also the second most imported product category. Imports of this product grew both in terms of volume and value (+10.7% and +12.8% each). However, at a higher level of disaggregation, the best outcome during these nine months was shown by the 21-25 pcs/lb size of frozen headless shell-on shrimp, which grew 35.2% and 27.1% in terms of volume and value respectively. Although the 15-20 and 15 or less grades also performed well, total frozen headless shell-on shrimp imports fell 3.4% in terms of volume and 4.5% in terms of value although still remaining the most important import category.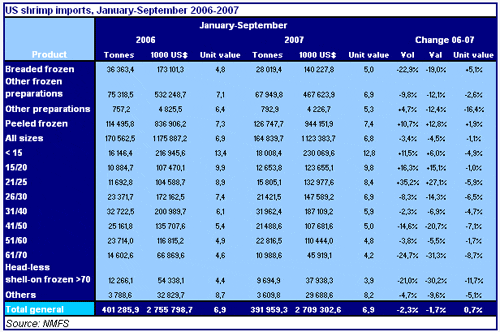 Headless shell-on: As noted, this was the most important import category, accounting for 42.1% and 41.5% of total imports in terms of volume and value respectively. During the first nine months, the unit values of all sizes fell, and in the total average, the drop was 1.1%, being most significant for the 70 pieces and up size (-11.7%), The most important supplier of this category is Thailand with a share of 25.3% in total volumes, followed by Ecuador with a 22% share. Far behind comes Indonesia with a 9.5% share, Mexico (8.7%) and Vietnam (5.9%), always in terms of volume. Regarding the value of imports, the order remains the same but with different shares (Thailand 21.4%; Ecuador 15.6%; Indonesia 10.9%; Mexico 10.8% and Vietnam 10.6%). The most important size imported in terms of volume is 31-40 with 31 962 tonnes. But in terms of value the most important category is 15 or less which also has the highest unit value of all products. Only three sizes saw an increase in sales, both in volume and value: 15 or less (+11.5%, +6% respectively); 15-20 (+16.3%, +15.1%) and 21-25 (+35.2% and +27.1%). For these three sizes, it is also interesting to note that Mexico is one of the top suppliers for the period under review.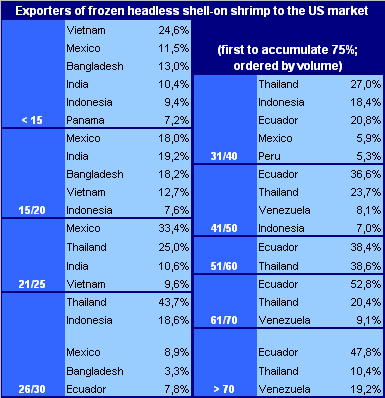 Peeled frozen: This was the second import category and showed the best performance, +10.7% in terms of volume and +12.8% in terms of volume, reaching 126 747.7 tonnes worth US$ 944.2 million in the current year. Regarding the origin, 33.7% of the imported volume comes from Thailand, followed by Indonesia with 17.6% and Vietnam with 10.8% as the most important suppliers. This product category's share in total imports grew from 28.5% between January and September 2006 to 32.3% in the same period in 2007, which represents a 13.3% growth in its share. The uneven trends between volume and value of imports, is reflected in an even higher share in the total value of imports (from 30.4% in 2006 to 34.8% in 2007).

Other frozen preparations: Imports of these products fell both in volume and value, from 75 318.5 tonnes worth US$ 532.3 million in 2006 to 67 949.8 tonnes worth US$ 467.6 million in 2007, -9.8% and -12.1%. For the unit value there was also a negative variation, -16.4%. Supplies of this product category are highly concentrated, 61.6% of total volumes come from Thailand, followed by China with a 12.3% share.

Breaded frozen: Imports fell by 22.9% in terms of volume and 19% in terms of value between 2006 and 2007. However, the average unit value of this category was one of the few that grew in the period under review, +5.1%. The main supplier of breaded frozen shrimp is still China, accounting for 74.8% of total imported volume. It is interesting to note that 97.2% of the reduction in the imported volume is due to the fall in sales from China which in August and September went down by more than 72% compared to the same months in 2006.

Other products: Imports of the products included in this group fell both in volume and value, except for shell-on shrimp fresh, dried, salted or in brine. Imports of this item had a remarkable increase, both in volume and value, +23.9% and +57.5% respectively, although, the share of this line of imports is extremely limited. It is also interesting to note that its unit value grew 27.1%, and in terms of sales value, this item has already surpassed the US$ 3.6 millions reached for 2006 as a whole. In terms of value, India is the main supplier, and only exported peeled shrimp fresh, dried, salted or in brine in the period under review, accounting for 56% of the imported value of that product. It is not surprising that in the overall results, again, Thailand is the main supplier in terms of volume.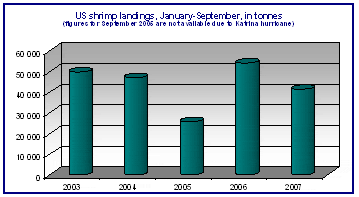 Domestic supply
Accumulated landings this year remain far behind the level for January to September in 2006. Last year, landings in the period reviewed were 54 137 tonnes, while in 2007, landings in the same period were 41 425 tonnes. This is contributing to short supplies which are pushing prices up. As can be seen in the graphs below, Gulf shrimp prices, both white and brown, have recovered, except for the 41-50 grade brown shrimp although an upward trend was evident for this grade during the August – October period. There are no expectations for a recovery in landings, so the strong price trend is likely to be maintained, specially taking into account the upcoming holiday demand for Christmas events.

Regarding variations for Gulf shrimp, prices for both white and brown product increased between November 2006 and November 2007. For white shrimp, the annual average variation for all sizes is a 16.1% increase, 16-20's being the size with the strongest growth rate, +30.7%. As for brown shrimp, the average increase in prices was 30.3%, led by 16-20 counts, with quotes 45% higher from one year to the next.

Outlook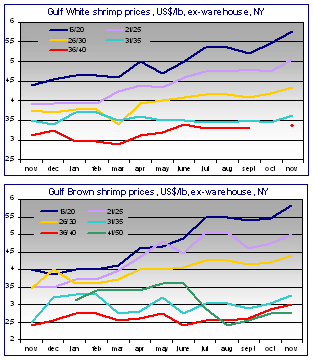 Lower imports and lower landings mean a lower level of supply of shrimp for the US market. At the same time, extra shrimp consumption can be expected in the short term with the prospect of Christmas / New Year festivities. Demand is improving, but it is not so clear that supplies can grow in the same proportion suggesting that a further price increase can be expected.

Regarding the main suppliers, the WTO has ruled in favor of petitions from Ecuador, Thailand and India against the "core" of the anti-dumping duty calculation system, a development which might improve the performance of imports from those countries, or at least allow a reduction in their costs. As for China, inspections are currently taking place in several plants with numerous processors in line waiting to be inspected, and negotiations are taking place, with the hope of reaching an agreement to improve controls by early 2008. Meanwhile, Chinese businessmen recently showed interest in promoting investments in Costa Rica to promote shrimp farming in ponds for export to the US market.

On the other hand, there is concern that the US economy is on the edge of recession. This year has been marked by the increase in oil prices, touching the US$ 100 per barrel level, and affecting households' disposable income. A reduction in income would have negative effects on the restaurant industry, which is the primary end user for most shrimp items. Also this sector has been impacted by the problems which have affected the housing business and stock markets and which have tightened credit availability. For the forthcoming holiday season, some operators expect many surprises.
December 2007