JAPAN
The sashimi market in Japan remained dull in general during January-March this year due to the persistent cold weather snow fall and ice rain. Instead of going out or eating raw cold tuna, consumer preference was more for home cooked warm food like Nabe (pot boiled dishes).

Meanwhile local newspapers and television channels continue to report about food contamination in imported packaged food from China which has affected supermarket sales of frozen and packaged food including seafood by almost 50%.

The latest data released by the government indicated almost an equivalent quantity of tuna landings in Japan during 2007 in comparison with 2006. Although landings of the major species - bluefin, bigeye and yellowfin were much lower than the year before, increased catches of albacore from Japanese coastal waters, compensated the overall decline. Besides reduced quotas and stringent regulations in foreign fishing grounds, Japanese distant water fishing efforts are reduced due to the high fuel cost and declining catches.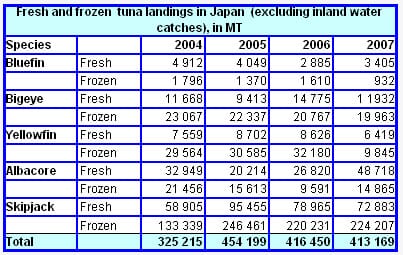 The average price of imported tuna in Japan increased between 30-40% over the last two years. However, consumer prices in Japan are yet to reflect these rises. Supplies of red meat tuna this year are expected to be lower than before.

In order to cope up with this price rise, leading local supermarkets in Japan have started to increase prices of fresh and frozen sashimi tuna through changes to portion sizes as consumers remain highly sensitive to any price increases. The product weight of a sashimi tuna block is being reduced, keeping price per block stable at consumer level.

According to Japanese customs data, imports of fresh/chilled tuna into Japan further slipped in 2007 to 38 012 MT worth ¥40.6 billion (US$367 million), down by 14.2% compared to the previous year or down by almost 45% compared to 2001 in terms of quantity. The imports of all species declined with yellowfin, bigeye and southern bluefin tuna recording the biggest drops.



Similar to the trends in fresh/chilled tuna, imports of frozen tuna in 2007 declined sharply by around 20% compared to 2006 totaling 197 451 MT worth ¥116.9 billion (US$1.06 billion).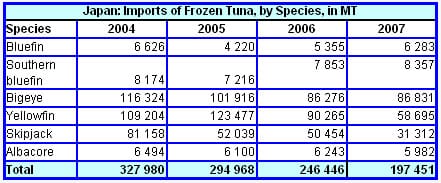 However, a review of imports of frozen tuna indicated that last year the market absorbed more imported frozen tuna loins although tuna imports of all types declined compared to the previous year. Though frozen bluefin loin imports fell, due to restricted fishing and lower catches, imports of red meat quality tuna loins improved confirming increasing demand for sashimi and non-sashimi usage of fillets and loins in the market. South Korea was the main supplier of this product group (56%), followed by China, Indonesia and Fiji.

Vietnam
Vietnam exported 43 812 MT of tuna and tuna products during January-October 2007 which had an export value of US$ 124.20 million , reports Vietnam's Association of Seafood Exporters and Processors(VASEP) . Compared to the same period last year, exports increased by 20% in quantity and 28% in value during this period. Vietnam is a major exporter of fresh chilled tuna and frozen tuna fillets to the US market.

India
The Marine Products Export Development Authority (MPEDA) has come up with an action plan to exploit tuna resources in the country's EEZ waters. The action plan will make Andaman and Nicobar Islands as the hub for tuna fishing from where tuna products will be chilled, packed and exported to Japan, China and other Asian countries. To facilitate exports of catch from these islands, air cargo from Port Blair will be operating. The increasing demand for tuna in the global market has encouraged scores of entrepreneurs to venture into tuna fishing and exports.

During the fiscal year 2006-07, Indian exports of tuna rose by 43% in quantity to reach 23 788 MT from 16 627 MT recorded in the preceding period. The value of tuna exports firmed up by 88%. The bulk of exports (96%) were frozen tuna with about 3% chilled tuna and the rest canned and dried.


China
Zhoushan Genho Food Co located in eastern China reported increased sales of its frozen tuna since they got kosher certification for their products last August. The number of Chinese exporters who have certified their product as kosher have doubled as exporters work to enhance the quality of their products, according to a New York based organization that carries out inspections.
March 2008