As well as the platinum IIP award the company has also retained its Investors in Young People Good Practice Award and has been accredited with the IIP Health and Wellbeing Good Practice Award, making it only the seventh company in Scotland and the first salmon farmer in the UK to achieve all three accolades.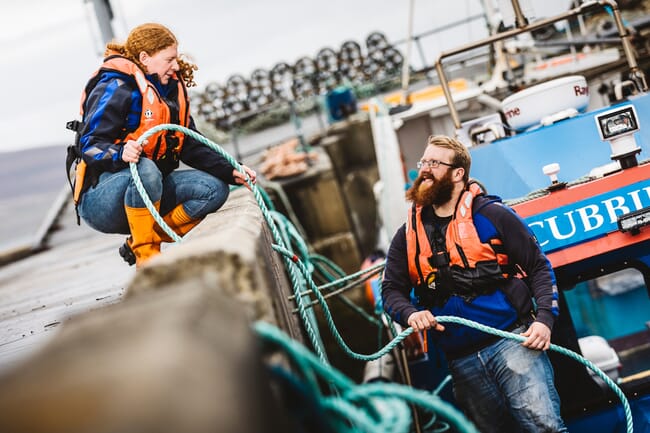 The awards reflect that fact that the company has invested in 3,755 training days in the last 12 months, achieved an all-time level of staff retention (92%) and recorded an all-time low level of absenteeism (1.5%). Company staff have won awards for Aquaculture Learner of the Year, Finfish Farm Manager of the Year and Rising Star in the first half of 2018 alone.
A key driver behind the company's investment has been to help the remote communities in which it farms retain their younger generations and encourage those that have left to study or work to return home.
To this end, Scottish Sea Farms has:
Increased its investment in Modern Apprenticeships, with 46 apprentices currently undertaking these skills-based qualifications – the highest level for any Scottish salmon farmer.
Helped shape a new degree-level of Modern Apprenticeship, Level 4, in partnership with skills bodies SQA and LANTRA.
Introduced a new company graduate programme which has since been rolled out across the sector with the help of the Scottish Aquaculture Innovation Centre (SAIC).
Developed a bespoke course, in partnership with SAIC and Fife College, for first-time managers, helping them make the transition from farm team to farm manager successfully.
Head of human resources, Tracy Bryant-Shaw, says: "The vast majority of our 440-strong team live in the same communities as they work, over 200 of whom are between 17-28 years of age, so we know first-hand how important it is that skilled jobs and opportunities for career progression exist. By investing across these complementary areas, we're helping to retain locals, encourage those who have previously left to return, and also attract new faces into these remote rural areas."