The declaration is in line with South Africa's new "National Protected Areas Expansion Strategy" which seeks to structure the way in which protected areas are declared in order to maximise conservation benefits. This strategy drew attention to South Africa's lack of offshore protected areas, and put forward the Prince Edward Islands.
"The Prince Edward Islands MPA is a significant contribution to the conservation of global biodiversity. The new MPA will also contribute significantly towards South Africa's national and international commitments to biodiversity protection," said the Minister of Water and Environmental Affairs, Mrs B.E.E. Molewa.
Minister Molewa also added that: "The new MPA is intended, among other things, to contribute to the protection of unique species, habitats and ecosystem processes. It will also provide scientific reference points that can inform the future management of the area and to be able to understand better the impacts of climate change on the whole Southern Ocean. It will also contribute to integrated and ecologically sustainable management of marine resources of the area."
The new MPA will comprise of three types of zones:
A 12 nautical mile sanctuary (no take) zone
Four restricted zones, in which fishing effort is limited
A controlled zone, linking the four restricted areas. This zone is to be managed as a low impact zone that links the four zones spatially.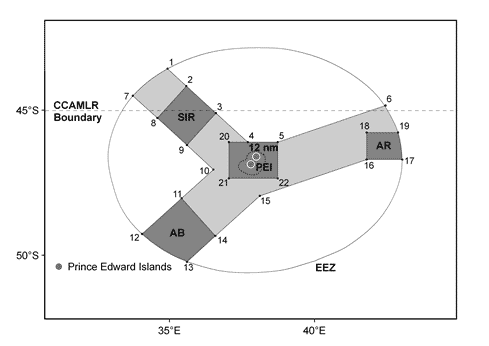 The rationale for the zonation is that the MPA will have a 12nm sanctuary zone for the preservation of the unique island ecosystem and to contribute towards the recovery of the toothfish populations. The MPA will still allow limited utilisation of Patagonian toothfish resources by South African vessels outside the sanctuary area.
The marine biodiversity of the Prince Edward Islands is of global importance. Given the scarcity of land masses in the Southern Ocean, sub-Antarctic islands contain vast populations of seals and seabirds, which use these islands to breed and moult. This means that these islands are critical to the conservation of such species as they are forced to aggregate in high densities where they are vulnerable to disturbance and the threat of introduced predators or pathogens.