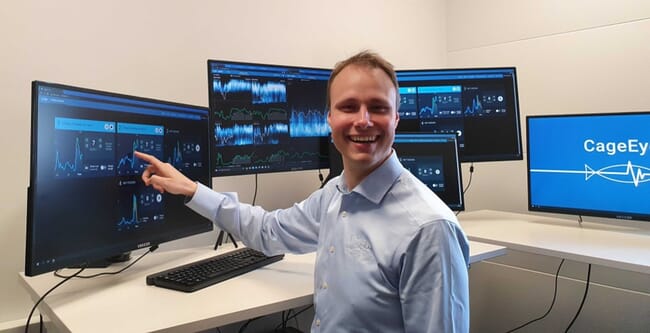 So revealed Bendik Søvegjarto, CEO of Bluegrove – the company behind the CageEye feeding system – during a panel discussion about Accelerating Innovation in Aquaculture, which took place as part of the Animal AgTech Innovation Summit this week.
"For CageEye, we've focused on over 30 years of research & development to understand salmon behaviour. We do that using a Q6 system that monitors the movements of the fish within the cage and then we do behavioural analysis based on that. But it took 30 years of research and 10 years of commercialisation, to get to where we are now, which is the fully autonomous feeding of salmon and we're getting good reports. Just last week one of our major farmers reported that one of the cages using our technology is actually the best performing cage of the whole company in the whole of Norway at this particular point in time," he explained.
"We have now reached a point that digital solutions is actually increasing the sustainability and the efficiency of the use of resources in the aquaculture industry and that's just so exciting," Søvegjarto added.
He went on to reveal the company's plans to launch their product for farmers of species other than salmon shortly, following their success in the salmon sector, as they seek to help produce 8 billion extra seafood meals a year by 2025.
"The tech adoption rate is quite different within the different species. Our main background is in salmon, but we're now working on potential new species, which we will make an announcement about in the not-too-distant future. What we see in other species is that in some ways they are more open to new technologies and doing things in other ways, while the salmon industry has been quite conservative for a long time – they like to do it how they've done it before," he explained.
He added that, now they have a track record in the salmon sector, producers of other species were more willing to consider making the necessary investment.
"Since technology is a very efficient way to transform industry we are seeing that we can skip some steps, which I find quite exciting as it means that you can really lift the potential of other species, which we in Bluegrove need to do in order to make our 8 billion target. Salmon is not enough and that's why we're venturing into new species – we see that the technological platform that we built is quite easy to adapt for new species, but you need the technological infrastructure to build upon," he reflected.
He noted that, while Bluegrove had developed the system mainly to reduce feed waste and improve both sustainability and profits, it has since been found to greatly improve growth rates too.
"When we started CageEye, we thought that the main benefit would be to decrease feed waste and improve FCRs [feed conversion ratios]. We see that we're doing that but what was a surprise to us was that our farming partners that we work with were gaining more confidence during their feeding and saw that they could improve the growth potential at times when they would have been too afraid to push it before. Because they have the data and the insights to measure it they have the confidence to push out a little more feed. And you see it in faster growth rates, and also in good FCRs because it's just as bad to underfeed – because then you have the fish standing in the water, using energy just being there without growing. So we see mainly the enabling of better yields and faster growth.
The discussion, which was chaired by Aqua-Spark's Amy Novogratz, also included Thue Holm, CTO and co-founder of Atlantic Sapphire and Laurent Genet, chief strategy officer at Nutreco.
Aqua-Spark has invested in Hatch, which owns The Fish Site, but we remain editorially independent.