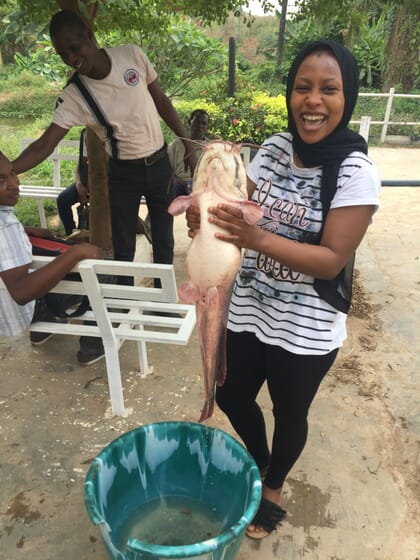 How significant is winning the award?
Winning the award is very significant to me because it gives more credibility to my business – any award from a reputable third party goes a long way in solidifying your reputation, both at home and abroad. It definitely has increased my visibility and my staff also are very happy, it's a boost to morale. My PhD supervisor was also very excited and I'm due to meet with the Dean of my faculty when I get back from my holidays.
What does your PhD involve and where do you hope it will lead you?
My PhD is on the culture and environmental impact of tilapia cage farms on Oyan Lake. It aims to help produce fish sustainably without hurting the environment and generating data/information that can help in creating policies that help both the farmer and the environment.
The commercial culture of fish in cages is fairly new in Nigeria and it seems to be expanding exponentially as a source of food, income and employment, so it's good it is being looked at.
What species do you farm?
I mainly raise catfish. I started off very small after my undergraduate training – producing about 200 fish a year from a backyard system at home. I finished my bachelor's degree in zoology and decided aquaculture was what I wanted to do, then went to do a masters at the University of Stirling's Institute of Aquaculture and since then I've scaled up production. I'm now producing about 12 tonnes of catfish a year - half of which I sell fresh, and the other half I smoke for retail sales. I farm in both earthen ponds and in concrete tanks. I've also been experimenting with a polyculture system, in which I'm producing tilapia and catfish, as well as a small number of poultry. The tilapia aren't growing as big as in the cages on Oyan Lake, as expected, but it's a fun experiment.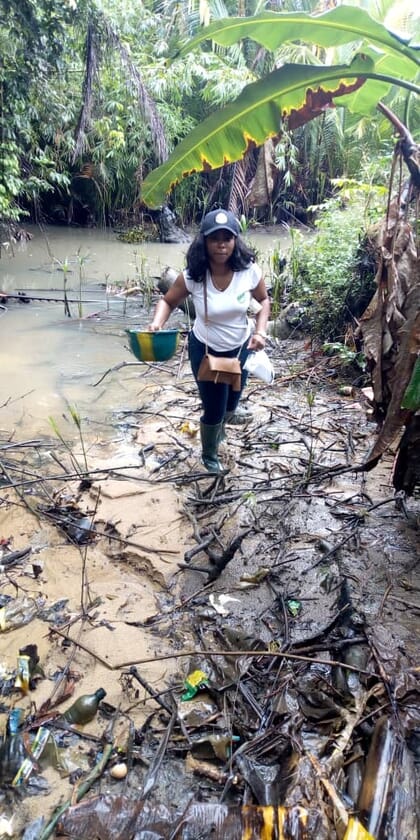 What are the main issues you've had to contend with to reach your current level?

I will say the biggest issue I have had has been staffing – it's incredibly difficult to find and retain staff. First getting people that are willing to stick with you for the long run and are motivated to work. As a lady, it is harder because most of your staff are male and there is the ego thing in Nigeria, where they feel a woman should not tell them what to do.
Another issue is finding funding to scale-up my production - agriculture is capital-intensive and I've had no governmental support so far, no access to minimum interest loans or grants. Securing funds is not going to be any easier following the Covid-19 pandemic.
Another issue is land acquisition, this issue is twofold: firstly to access land is very difficult as a lot of people are scammers and trying to cheat you out of your money. The other issue is that, as a woman, I have been refused at point of sale because the seller felt I couldn't afford the land. Another one wouldn't rent me ponds because I was a woman and said I would soon quit.
What's a typical day for you?
A typical day for me at the farm starts at about 8am, I get on the farm and ask to see the water quality readings that are taking twice daily at (7:30am and 3pm). We measure levels of dissolved oxygen, pH and temperature. If everything looks fine then we then check the quantity of feed, medicine and other inputs.
Then first feeding for grow-out is by 10am, if we have fish in our nursery, feeding them starts at 7am and takes place every 3 hours after that, while our grow-out ponds are fed twice daily. I have two sites for production so, depending on the previous day's report, I pick where to go first.
If it's a breeding week, we select the broodstock we would use over the weekend and inject them on Sunday night for stripping Monday morning.
There's also the business side of the operation to run. We smoke dry fish weekly, mostly mid-week, and we do random grading to assess the stock in the pond that we would harvest from Monday. A member of staff or myself will visit our retail outlet and outlets that carry our products to check stock and collect their orders. We also receive orders on our social media platforms and this determines if we should process early in the week or later.
We also sell fresh fish every couple of months and broker the sales of fish for other farmers close to us. And I visit other farms that have issues if I helped them set up, or for a paid consultation.
That's a typical day for me but farming is full of exciting surprises so a lot of things come up and you can only plan so much.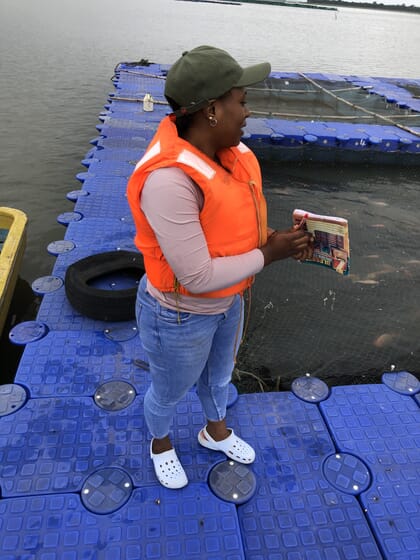 What are the main considerations that catfish farmers in Nigeria need to take into account to ensure a successful operation?
There are quite a few things catfish farmers need to consider, especially in Nigeria. Here are a few of them:
Availability to funds – feed makes up to 70 percent of your total cost
Adequate space/location – you need a site that is suitable for fish farming while allowing easy access to markets and customers
Quality fish seed – if you can't breed your own fish, make sure you find a reputable farm to source fingerlings from.
Access to adequate water supply and basic water quality management.
Find your market - you should find your market before stocking.
How would you like your own farm to develop?
I would like my farm to become a household name and to branch into more value-added production, not just regular smoking, in the near future. I would also like to be able to do more training and capacity building on the farm to help other aspiring farmers.
I would like to increase production and perhaps, I will move more into cage farming, although this is quite expensive to set up and I'm self-funded. I'm hoping that the results from my PhD will give me better access to government funding, both for my own farm and to help other farmers to use the environment more sustainably. Perhaps even helping set up regulations for cage farming, as we don't currently have these in Nigeria.
What are the other key challenges facing fish farmers in Nigeria?
Access to funding
Lack of access to assured land
Insufficient supply of fish seed
Poaching
Lack of qualified staff
Increasing cost of feed
Security
How do you see the comparative growth of the tilapia and catfish sectors in Nigeria in the course of the next decade?
Currently there's about three times more catfish being produced than tilapia, but I see tilapia production growing exponentially in the next decade. To start with there are many suitable inland lakes in Nigeria for the cage culture of tilapia but only Asejire Lake, Oyan Lake, and Ikere Gorge, Epe Lagoon, Eti-osa, Badore, Ojo – Otoawori, Ikorodu and Kainji Lake currently have commercial cages.
The market price per kg for big tilapia is more than that for catfish in many states, because it is grouped with the likes of croaker, which is highly valued, and this will also encourage farmers to venture into it.