Two bioscience students at Swansea University won prizes last month, following the launch of a new award.
Nigel Balmforth, Head of Publishing at 5m, presented prizes and certificates to the winner and runner-up of 5m Publishing's inaugural award for the university's Best Dissertation on Aquaculture and Fisheries.
The presentation took place during the university's graduation ceremonies, which were held at the university's Bay Campus, on behalf of 5m Publishing and Swansea University's Centre for Sustainable Aquatic Research.
Toby Champneys won the top prize, for a dissertation on 'The Effect of Stocking Density on Neophobia in Nile Tilapia (Oreochromis niloticus), while the runner-up was Alice Wren, who wrote about 'The Influence of Human Activity on the Occurrence of Microplastics in European Plaice (Pleuronectes platessa) and Common Sole (Solea solea) in the Coastal Waters of Southwest Wales'.
Reflecting on his win, Toby told Nigel how he hoped his research might help to influence the aquaculture industry.
"During my degree course, I took a module in ichthyology, which I found particularly interesting," he explained. "This influenced my choice of dissertation topic, which encompassed aquatic animal behaviour related to an important issue in aquaculture. I carried out my research at Swansea University's Centre for Sustainable Aquatic Research which has excellent facilities and technicians. My results showed that fish stocked in higher density are much less likely to be tolerant of new objects. The fish also exhibited other behaviour patterns that could indicate high stress levels and should be an important consideration when looking at the welfare implications of high stocking densities in farmed fish."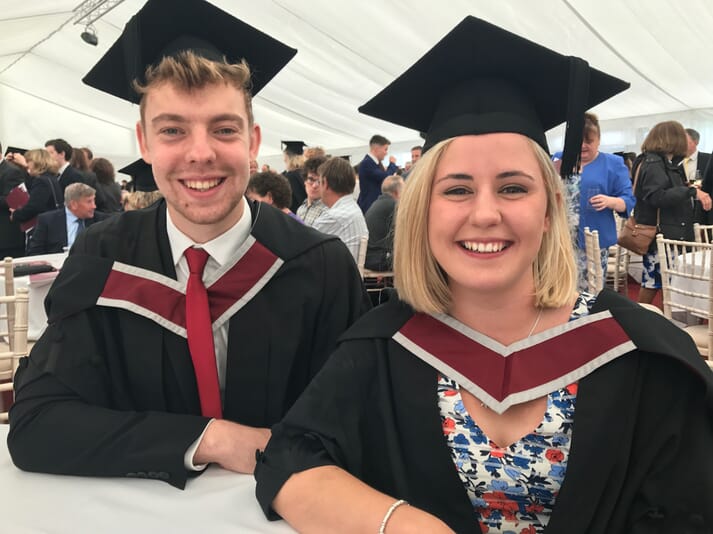 Alice explained that environmental concerns had inspired her to choose her subject.
"Throughout my degree in Marine Biology," she said, "I have become increasingly concerned about the consequences of marine pollution. I chose the theme of my dissertation because I have been aware of the large amount of plastic material coming up in trawls in Swansea Bay, and so far, there has been little research carried out on the abundance and distribution of microplastics in the area. My results showed that the number of fish with microplastics present in the gastro-intestinal tract was significantly higher in areas of high human population density and activity. The recent news to legislate against the use of microbeads is a positive move in the right direction, however, the implications of the presence of microplastics in marine organisms is still largely unclear. Future research should focus on understanding any long-term consequences of microplastic ingestion."