The fisheries industry is an unpredictable place to work. Fluctuating fish stocks, changing market trends and new technologies can have profound effects on the industry from one year to the next, whilst the birth of new aquaculture sectors can often make competing trawler operations redundant by developing a cheaper production alternative.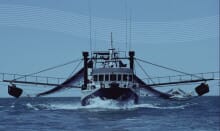 Photo: ABARE
Aquaculture now produces almost half of all global fishery products, rising year-on-year as ocean-caught fisheries decline. This trend has also become apparent in Australia. According to the latest Australian fisheries statistics, released by the Australian Bureau of Agricultural and Resource Economics (ABARE), the total gross value of production for the wildcatch sector decreased by six per cent (AU$82.6 million), whilst the gross value of aquaculture production increased by eight per cent.

However, as the wildcatch sector still accounts for 62 per cent of the gross value of Australian fisheries production, overall value fell by one per cent. ABARE's figures also reveal that the total volume of Australian fisheries production fell by three per cent to 236,000 tonnes.
Wild-catch Versus Farmed Production
Historically, the Australian fisheries industry has been known for producing high value, export products such as rock lobster, pearl, abalone and tuna. But although these products are still huge contributors to the industry, their decreasing value is causing many concerns. Rock lobster remains the most valuable Australian seafood sector worth AU$407 million and accounting for 30 per cent of the total value of wildcatch production. But, over the course of 2007/2008, production value of rock lobster fell by 11 per cent.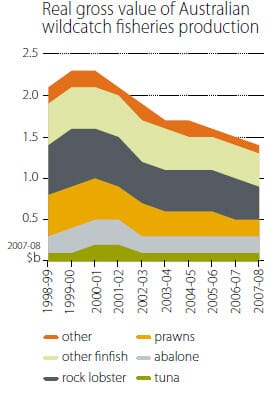 During 2000/2001 to 2007/08 the value of rock lobster has fallen by AU$183 million. Prawns, which currently occupy the second largest seafood sector in Australia - now worth $223 million - has lost $270 million of its total value in the same period of time. Over these years the gross value of production of the wildcatch sector has fallen by 39 per cent in real terms due to a decline in the value of all the major wildcatch species such as rock lobster, prawns, tuna and abalone. These falls were the result of declining unit prices, largely reflecting the strong appreciation of the Australian dollar against the currencies of major trading partners.

According to ABARE, since 1998/99 the real gross value of production has fallen by 0.6 billion (22 per cent), yet production has increased by 1 per cent due to growth in the production of Australian sardines. The volume of sardine production has been able to expand so quickly due to the emergence of another successful industry. Sardines are used as feed in tuna ranching enterprises, a process whereby the fingerlings of ocean-caught tuna are caught and then fattened up in pens.

In particular, the production of southern bluefin tuna is a very highly priced market commodity, able to fetch enormous prices in Japan where it sold as sushi and sashimi and prized for the soft meat on its belly. Following the development of tuna ranching in Port Lincoln, South Australia, the sector has dominated 2007/08 as the fastest growing aquaculture sector in the country, increasing by AU$49.1 million. However tuna ranching in this way is a controversial matter and has received the attention of of many conversationalist groups, who say that low stocks cannot sustain the removal of their fingerlings. The huge quantity of feed that these carnivorous fish eat (mainly in the form of other fish) also has a detrimental effect on other wild fish stocks.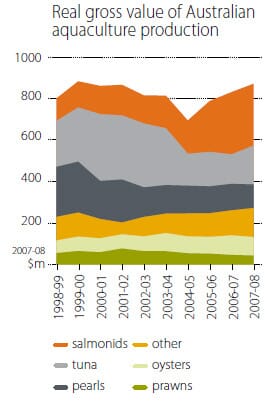 Whilst these concerns may hamper the future of tuna ranching in Australia, a current proposal to globally enforce a ban on the international trade of its Atlantic cousin may actually open further demand for the southern bluefin and raise its value even more.

Farmed salmonids, comprising salmon and trout species, have emerged as the key production species in recent years, says ABARE. Due to rapid growth in Tasmania they now account for 11 per cent of total fisheries production in 2007/08. Salmonids also account for 34 per cent of all Australian aquaculture production by value and 41 per cent by volume. This high level of production combined, with the higher unit prices, has allowed this sector to increase 175 per cent between 1998/99 and 2006/07. In 2007/08, it increased a further AU$8.5 million.

Another success story belonged to barramundi farmers who witnessed their sector rise a further AU$10.1 million that year. These three sectors accounted for 95 per cent of the gross value of Australian aquaculture finfish production, which, in total, rose by AU$83.7 million to AU$546.3 million.

Despite of the success finfish farms, crustacean production lost AU$1.7 million of its value over the course of the year. This was largely due to declining prawn production. The value of mollusc production also fell by AU$12.3 million, driven by an eight per cent decrease in the production of pearl oysters. Yet according to the figures released by ABARE, the entire Australian aquaculture industry grew by AU$62 million, totalling an annual gross value of AU$868 million.
Conclusion
Internationally, things are not looking to promising for Australian fisheries. In 2007/08 total export value fell by 10 per cent. ABARE says that this is largely due to the falling volume of edible fish species, combined with the decline of the key export species.

Historically, Australia has been a net importer of fisheries products in volume terms but a net exporter in value terms. "This disparity reflects the composition of Australian fisheries exports compared to imports," states ABARE. However, in 2007-08 Australia became a net importer of fisheries products in value terms.

Whilst the rising value of the aquaculture sectors cannot yet bring balance to the falling value of wild-catch, they are softening the blow. In just the last nine years, aquaculture has taken another 11 per cent of the gross value of Australian fisheries. Aquaculture now accounts for 40 per cent and this figure seems set to rise for years to come.

July 2009