Tank colour shown to impact performance of Asian seabass
The colour of a fish tank's walls has been shown to have a marked impact on the performance of Asian seabass (Lates calcarifer).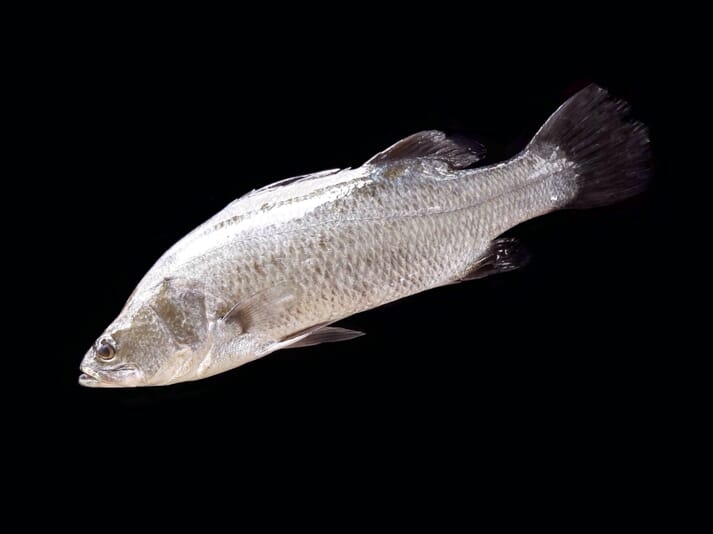 Background colour is known to influence the growth rates and feed utilisation of various fish species and research by a team based in Thailand has demonstrated that it can have marked differences in the performance of Asian seabass too.
The researchers stocked juvenile seabass averaging 16g into 18 tanks of six different colours: transparent, white, black, red, green and blue – and compared the growth performance, feed utilization, digestive enzyme activities, flesh quality, carcass composition and haematological parameters.
After 10 weeks, they noted: "positive growth performance and feed utilisation were observed in fish reared against transparent, white, black or green backgrounds, while negative effects were noted for fish reared on the remaining treatments (p < .05)".
Modulation of the main digestive enzymes was observed across the six treatments, indicating different strategies for utilising nutrients by the fish. The activity ratio of trypsin to chymotrypsin was highest in the fish reared against a black background, followed by a white background.
Flesh quality, in terms of protein synthesis capacity and protein turnover rate, indicated a significant improvement in the fish reared against white, black and green backgrounds, while the levels of myosin and actin were similar across the six colour treatments. Carcass composition and haematological parameters showed no negative effects in either of the preferred treatments.
The researchers concluded that: "These findings indicate that the most suitable background colours for rearing Asian seabass are black, followed by white and green, while transparent, red or blue backgrounds are unsuitable."
An abstract of their research, which was published in Aquaculture Research, can be accessed here.