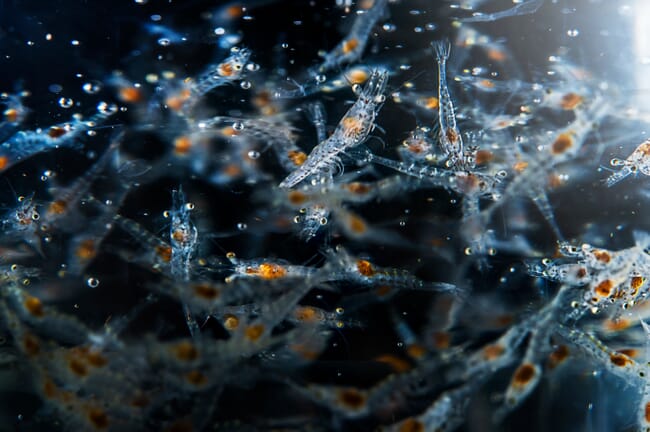 While warm blooded animals often raise their body temperature to limit pathogen infection, in a process known as fever, cold-blooded animals (ectotherms) can achieve a similar outcome by migrating to warmer places, in a process called "behavioural fever".

The new study, led by researchers at Ghent University, examined the existence – and impact – of behavioural fever in WSSV-infected Penaeus vannamei shrimp.
In the study, shrimp weighing 15± 0.5 g were inoculated intramuscularly with WSSV and kept in four-compartment systems (4-CS) – either one with all the chambers at 27 °C or one with a thermal gradient (27–29–31–33 °C).
During the first 4 days post-inoculation, 94 percent of the WSSV-inoculated shrimp died in the 4-CS with a fixed temperature (27 °C), while only 28 percent of those inoculated with WSSV died in the system with a temperature gradient.

"The inoculated animals clearly demonstrated a movement towards the warmer compartments, whereas this was not the case with the mock- and non-inoculated animals. With primary lymphoid organ cell cultures, it was demonstrated that the increase of temperature from 27–29 °C to 31–33 °C inhibits virus replication," the researchers explain.
"It is concluded that behavioural fever is used by shrimp to elevate their temperature when infected with WSSV. Behavioural fever prevents WSSV infection and mortality," they add.
The researchers notes that, depending on the environment, WSSV infection can generate extreme mortality up to 100 percent within 3–10 days and that the virus can replicate in susceptible hosts, such as shrimp, crayfsh and crabs at temperatures between 16 and 32 °C.
"It was previously demonstrated in our lab that increasing water temperature from 27 to 33 °C can shut off virus replication and disease/mortality in WSSV infected shrimp in the acute stage of infection before clinical signs appear. Here we extend these findings by showing the shrimp's ability to employ thermal preference by moving towards higher temperatures to reduce white spot syndrome virus lethal effects," they explain.