The Importance Of The Physical Pellet Quality
Use of new marine and vegetable raw materials has created processing problems and increased variation in physical pellet quality. Especially related to production of experimental feed used in feed conversion and growth trials this can introduce disturbances and weaken interpretation of results. Within commercial fish farming operation it is also of importance that feed producers are able to deliver a high and consistent pellet quality.
New quality criteria
Fiskeriforskning is evaluating new analytical methods to characterize physicochemical properties of feed ingredients. The objective is to develop new quality criteria that describe feed ingredients behaviour in the extrusion process and impact on pellet quality (fat adsorption, sinking and floating properties etc.). Ongoing research activity also covers ingredients binding proper-ties and how this influence pellet hardness and durability during transport and feeding.
Process control
Combined with information related to feed processing conditions this knowledge can be further developed as a tool to improve control of process operation and physical pellet quality.
Strategic focus
The research activity is part of a large strategic focus on feed processing technology and development at Fiskeriforskning in Bergen and represents continuation of a newly finished 5-year strategic institute program (SIP). The program has been funded by Research council of Norway.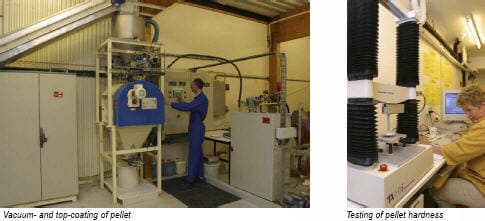 December 2006