The two-day event, which took place in Inverness this week, saw the company – best known for producing a range of vaccines for cultured fish species – outline some of the key research projects that it is involved in, as well as explain some of its latest offerings.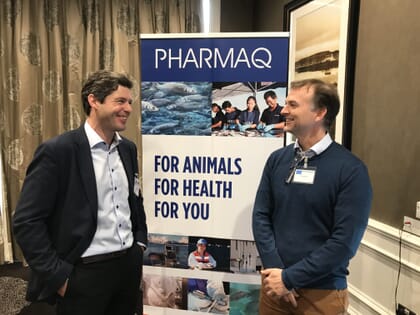 In front of an audience dominated by fish health professionals and farmers from Scotland and Ireland, day one included a description of the company's new service, SmoltVision, which helps salmon producers determine when their smolts are ready to be transferred to sea.
This decision has traditionally been based upon an analysis of ATPase enzyme levels, but recently PHARMAQ Analytiq has developed a real time PCR method for measuring readiness for transfer. The benefits of SmoltVision were outlined by Elise Hjelle who is managing the process for the company. Already widely adopted by farmers in Norway, Canada, Chile, the Faroes and Iceland, PHARMAQ Analytiq is able to return results to producers within 24 hours of receiving the samples. The company is now launching the system in Scotland and Ireland.
The system's accuracy for predicting sea readiness was impressive, if the results presented by Elise were anything to go by. And, considering that mortalities at sea can be as high as 20 percent (amounting to 40 million smolts a year in Norway alone, according to IMR), it is clearly an area where the application of increasingly sophisticated tools is sorely needed.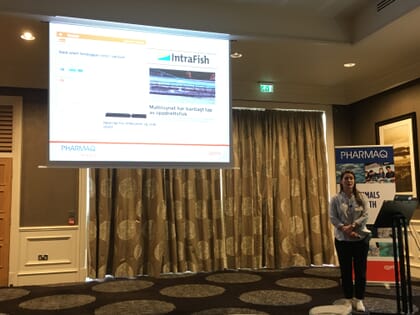 PHARMAQ Analytiq is also looking to adapt the technology so it can be used on rainbow trout destined for rearing in seawater. Because rainbow trout do not go through the smoltification process per se, assessing when they are capable of being transferred to seawater remains a challenge and is currently based on size (usually around 100 grams). However, according to Elise, and to trout producers present at PHARMAQademy, this is by no means failsafe, making the introduction of a PCR analysis of seawater readiness, which should be ready within two years, potentially very useful.
Sea louse vaccines
PHARMAQ is traditionally associated with the development and production of vaccines and therapeutants for fish, so it was no surprise that these areas were also to the fore at the event. Armin Sturm, from Stirling's Institute of Aquaculture, outlined the results of a project supported by PHARMAQ that is trying to determine what makes some sea lice resistant to deltamethrin. As he outlined in his talk, there are still huge gaps to be filled concerning the genetic basis for resistance to most types of sea louse medication – knowledge that could, in the long run lead to improved sea louse management strategies and optimised use of available lice treatments.
Armin's research has already greatly added to the pool of knowledge relating to deltamethrin resistance – not least by pinpointing that it's linked to the inheritance of the parasites' mitochondria. And his research is continuing through a PhD project that PHARMAQ is funding which will continue to investigate genetic markers of resistance.
Lice vaccines were the subject of the final talk, by PHARMAQ's Bjørn Brudeseth, who provided updates on an ongoing project looking into possible development of a vaccine that the company initiated in 2014. While highly realistic about the project, and its long-term nature – after all, no successful parasite vaccines have been developed for fish to date – the project has made some significant progress. Not least is the fact that they have identified some promising candidate proteins for production of antigens against sea lice – which show protection against louse infestations during lab-based challenge trials. Despite this lab-based breakthrough, Bjørn conceded, there is still a long way to go in the project before vaccines can be tested under field conditions.
"It's some years until we are able to start a field study," he reflected, "and it can be challenging to demonstrate efficacy in the field, which is why we have involved epidemiologists from the National Veterinary Institute in the second phase of the project to maximise our chances of detecting differences between treated and control populations."
However, a talk by Louise von Gersdorff Jorgensen, from Copenhagen University, suggests that anti-parasitic vaccines are by no means unrealistic in the long run, following her research into the immunodynamics of I. multifilis infestation, using zebrafish as a model.
Fresh perspectives
Bjørn's talk on developing a sea louse vaccine was preceded by another one he gave that outlined the company's research into Moritella viscosa – the bacterial infection best known for causing winter ulcer in salmon and trout at times when water temperatures dip below 10 °C. Whilst PHARMAQ already has several licenced vaccines with a M. viscosa component , they are currently characterising isolates from a pool of samples collected from salmon, trout and lumpfish with a view to identify and review possible additional vaccine candidates, if applicable.
Other perspectives were offered by presentations by Charlie Mason of the Humane Slaughter Association (HSA), who revealed that the HSA had recently received "six-figure funding" to distribute to promising projects relating to devising humane methods for slaughtering finfish, crustaceans and cephalopods. Meanwhile Willie Malcolm, from Health Protection Scotland, offered a sobering insight into the increasing incidence of antibiotic resistance in human medicine – both an alarming prospect and, indirectly, a compelling argument for the use of vaccines rather than antibiotics when possible.
Another inspiring talk, by Mohamed Shaalan from the University of Veterinary Medicine in Vienna, outlined how silver nanoparticles – delivered to fish either by intraperitoneal injection or bath methods – were proving to be incredibly effective at preventing furunculosis in rainbow trout infected with A. salmonicida. According to Mohamed, not only did the treatment prove effective, it could also be an economically realistic alternative to antibiotics. It will be interesting to see whether Mohamed's 'silver bullet' could be efficacious against a range of bacterial diseases in a range of cultured aquatic species.