Called the Fish Appetite Index (FAI), the Umitron system uses machine learning and image analysis techniques to accurately quantify fish appetite. FAI software has already been rolled out to existing customers to optimise their feeding operations.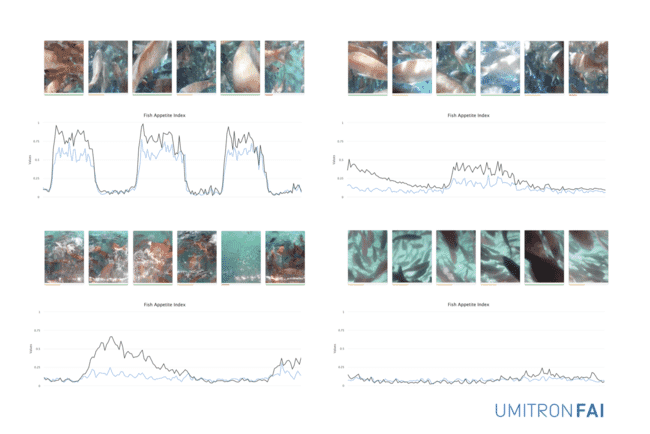 According to Umitron: "FAI takes the guesswork out of fish feeding" by using an algorithm that takes in the same visual information that humans would and then scores fish appetite and presents it in an easy to understand chart. When used in tandem with a smart feeder the feed time intervals and amounts can be adjusted via a smartphone.
When used in combination with smartfeeders, this allows farmers to stay onshore during weekends while still keeping a close eye on their fish stocks. Furthermore, it reduces the need for every employee to be an expert at feeding and instead frees workers to focus on other tasks that improve fish welfare.
"Today, there are many companies developing machine-learning algorithms for a variety of industries but only testing them under ideal conditions. The Umitron Fish Appetite Index on the other hand is already being embraced by our existing customers at their ocean-based farm sites where it operates under real world conditions. It might be difficult for some of our potential customers to completely trust artificial intelligence at first, but FAI is an important tool that can be used to increase productivity and reduce waste," said Masahiko Yamada, Umitron's managing director.
Umitro is currently looking for partners interested in using FAI for species such as Atlantic salmon, rainbow trout, European sea bass, and gilthead sea bream. Similarly, Umitron is looking for feeding system manufacturing partners who wish to utilise software to improve their current products. Umitron data analysis software such as FAI can be used in tandem with feed barges to optimise existing operations.
The company will participate in AquaNor, on August 20-23, and The Japan International Seafood & Technology Expo on August 21-23 in Tokyo.