Emmanuel Agbelogode has just finished feeding 1,200 catfish in one of his earthen ponds at Egbokodo-Itsekiri fish cluster in the Niger Delta. With a smile on his face, he carries a full sack of fish feed to another of his ponds.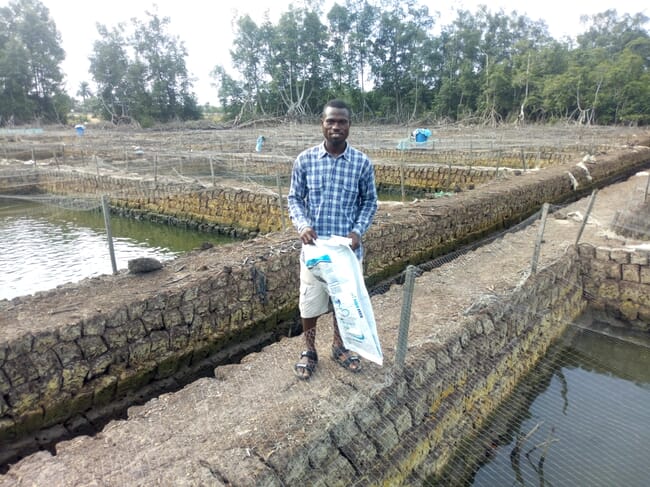 "I have suffered in this country," he says while feeding them. He was unemployed for seven years – during which time he could only find menial, poorly paid work.
"I was always being fed by my friends. Sometimes I had to beg to put food in my stomach," he recalls.
In 2015, the Delta State government's Job Creation Office established the Youth Agricultural Entrepreneurs Programme (YAGEP) to reduce unemployment. When the state government called for applications in 2017, Emmanuel applied and was selected as an aquaculture beneficiary.
"This is a new life for me," he says happily. "I don't depend on people to meet my needs any more. I meet my needs on my own now through this business. It has been a good change and has improved me financially."

By the end of 2018 there were 20.9 million unemployed Nigerians – a figure that had risen from 17.6 million in less than a year, according to data from the Nigeria Bureau of Statistics (NBS) and the majority of those affected are youths. Some 91.6 million Nigerians are now estimated to be living in extreme poverty, according to a report from the World Poverty Clock. The report also predicts that the number could further increase to 120 million by 2030 if significant efforts are not taken by the government to address the problem.
As well as poverty, high youth unemployment has an impact on public safety, with many young people with little else to do, and no income, engaging in criminal activities. As a result, various state governments are churning out programmes to create jobs. The Delta State government believes agriculture is the key to reducing unemployment and poverty, which is why it launched YAGEP, designed to train and develop unemployed youths in agriculture – and aquaculture – to become entrepreneurs, managers and leaders.
"Delta State has a comparative advantage in aquaculture," says the chief job-creation officer, Professor Eric Eboh. "The state is endowed with natural water ecologies that support aquaculture. Aquaculture is lucrative and is targeted to meet the high fish demand of consumers in the state, country and diaspora. Also, aquaculture is an existing practice among indigenes of Delta State with organised clusters and fish farming areas."
Under the initiative Agbelogode was given two earthen fish ponds, 2,000 catfish juveniles and 145 bags of fish feed to grow the fish stock from juvenile to table size and ₦15,000 (£32.97) for the first nine months.
"I invest ₦265,000 (£585) every four months and I harvest ₦415,000 (£911). I have two ponds and I still maintain them. I want to expand to three ponds and stock 1,000 in each pond," he says.
Simon Oluehiremen is a 2016 beneficiary of the programme. After he graduated from university, he worked briefly as a farm manager for an aquaculture company before he decided to apply for support.
"Presently, I have expanded. From two ponds given to me, I now have seven ponds. Being a beneficiary, I feel great because most of my mates are out there jobless and, up till now, they still beg for what to eat. But for me, I don't beg for what to eat any more," he says.
Oluehiremen, who is now CEO of Omorovie Fish Farm, stocks 1,000 catfish juveniles in each pond.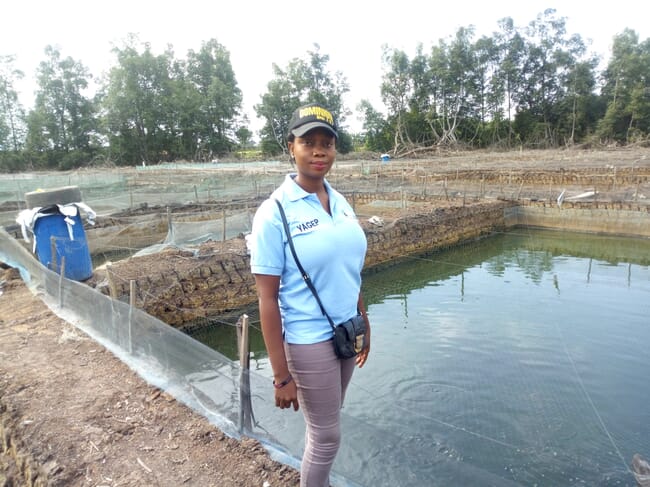 As a beneficiary in 2017, Mercy Akpukama was full of excitement when she was informed of her selection. "I was taken out of the street. At least, I have something to do because it has been my desire to have something to do. I was given two ponds, 2,000 juvenile fish and 145 bags of feed. I still have two ponds. It's not been easy [to expand]. What it is not easy is the financial aspect of it. After feeding, you need more feed and I stock 1,000 fish in each pond."
She says that through the programme she has been doing things herself and is now self-sufficient. "With this, I have my own ponds and I no longer depend on my parents. I hope to increase to five ponds but finance has been a problem."
Wisdom Ikeke was jobless when he got selected as a beneficiary. "Life was difficult," he says. "I used to depend on my friends to take care of me and feed me. Since I got this, I no longer depend on anybody. I even help others. With the proceeds I make from this business, I was able to help somebody who wanted to learn the business, so I was able to pay for his learning fees."
Ikeke harvests every six months, spending ₦300,000 (£659) to take care of each pond, and at the end of the sales he makes a profit of ₦100,000 (£219). From two ponds, he has expanded to four and hopes to increase to six before the year ends.
The challenges
High mortality rates and the lack of control over pricing are the main challenges faced by the country's catfish farmers.
Ikeke said the cost of feeds is high. "Raising 1,000 fish to maturity cost me about ₦350,000 (£769) for six months and after spending this amount of money, I still don't have control over prices. The forces of supply and demand control the market. The buyers profit from it more than the sellers. When you have many farmers wanting to sell their fish and only three people wanting to buy, that alone crashes the price."
He said the fish mortality is also a challenge. He stocks 1,000 fish and loses about 200 when he wants to harvest. The region is an oil-producing area and much of the water has been contaminated by an oil spill, which particularly hits those like Ikeke and Akpukama who operate in earthen ponds.
"Sometimes, expectations are not met," says Akpukama. "After stocking 1,000 fish, in the end, you will be seeing 700. That is really affecting me.
The main challenge Agbelogodo faces is the difficulty of attempting to expand. "When I try to expand, I also try to keep up with other expenses like hiring labourers during stocking and harvesting. It's capital-intensive, that's why I have not been able to expand."
For Oluehiremen another challenge is the lack of finance to expand. "I try to stock every month so that every month I harvest. The profit depends on the market. The prices are not stable. But, despite this, I make at least ₦50,000 [£109] for each pond."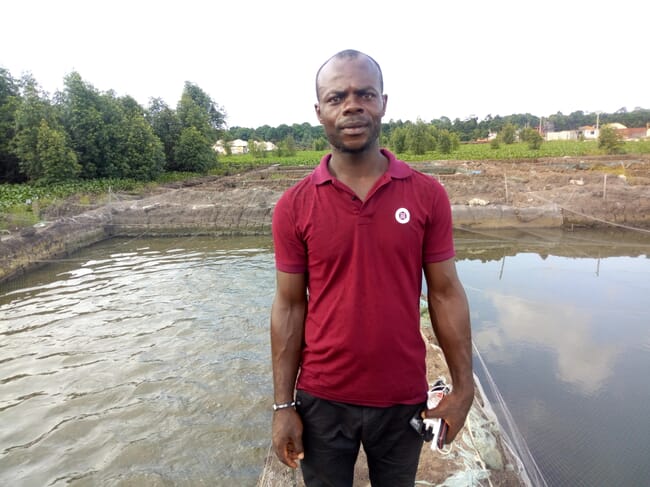 To help the beneficiaries overcome these challenges, an aquaculture service provider in charge of the cluster, Forgive Makpanoku, trains them on pond management. "They had a finance challenge, but we noticed it was not just the lack of finance," says Makpanoku. "We then came up with a training programme and demonstrations on how to feed, keep records and other things. I help farmers to address the challenges of mortality and disease control and marketing by giving them the A-Z of aquaculture."
Trained by the Foundation for Partnership Initiatives in the Niger Delta (PIND), he says the majority of the beneficiaries have now been trained in both technical production and business management.
Eboh says over 700 Delta state youths have benefited from the fish-production aspect of the programme since its creation, helping them to discover their potential and increasing their feelings of self-worth.
The job creation office has five fish clusters in the state. They include Ugbokodo fish cluster, Mbiri, Alao-Ossissa, Egbokodo-Itsekiri, and Akakpo-Anwai communities. He says they also contribute to an increase in fish production to satisfy local and international market demands and to provide more job opportunities.
"The expectation is for them to be self-dependent by becoming entrepreneurs themselves and helping to train others, thereby reducing the number of unemployed youths in the state. We expect a multiplier effect on the rate of entrepreneurship turnover in the state in the years to come."