Shrimp situation extremely difficult
At present, demand is reportedly very low on all three major shrimp markets. Sharp cut backs in consumer purchases are expected. Prices have started to decline in the second half of 2008, and exporters have difficulties selling at the moment.

The situation is not expected to improve in the near future. The best solution for producing countries in the developing world seems to be diversification, including exploration of the domestic and regional market.
The market for shrimp in Europe is very quiet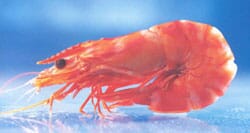 Demand for shrimp is decreasing on all major European markets although the situation varies from country to country. Some have already technically entered into recession and others have not, hence a difference in consuming attitude. EUROSTAT figures show that for the third quarter of 2008, household consumption expenditure remained unchanged in the Euro area and increased by 0.1 per cent in the EU27. However, in recent months, European consumers have been more cautious on their everyday requirements spending and are generally less inclined to spend on expensive food commodities, such as shrimp.

The market for shrimp in Europe is very quiet although sales are progressing in view of the festive season. The French market is rather stable, with people continuing to go out to restaurants, the sector in which shrimp is mainly consumed. Other markets, in particular Spain, Italy and UK are gloomier. In general, prices for shrimp are on a downward trend due to decreasing demand, including in the USA, which has direct repercussions on the other major shrimp markets.
Spanish shrimp imports collapse
Spain is under great economic pressure and although it remains the number one market for shrimp in Europe, imports decreased in Jan-Sep 2008 by 9 per cent on last year's figures both in volume and value. Total imports in the third quarter of 2008 were of almost 111 000 tonnes corresponding to EUR 542 million.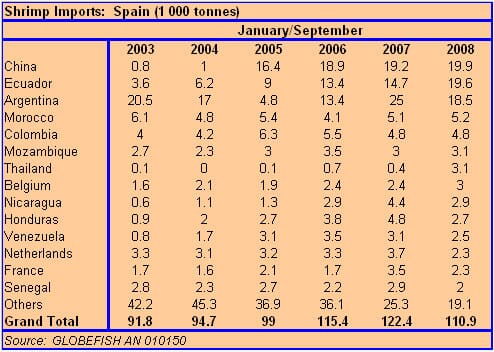 Shrimp consumed in Spain has essentially three different origins: China, Ecuador and Argentina. These three countries, in turns, took the lead among top suppliers in the last few years, but have more recently shared an even 18 per cent market share. The export trend to Spain for each of these three countries is distinct: China observed rather stable figures while Ecuador experienced a boom in its exports to Spain (+33 per cent), and Argentina suffered a collapse of 26 per cent.

During the period under survey, China exported almost 20 000 tonnes. According to CORPEI (Ecuadorian Export and Investment Promotion Corporation), 52 per cent of Ecuadorian shrimp is intended for the EU market and more particularly for Spain and Italy. Spain is the major market for Ecuadorian shrimp (19 600 tonnes in Jan-Sep 2008). Argentine official figures indicate that Pleoticus muelleri landings recovered from June onwards after catastrophic results at the beginning of the year, but were, however, 11 per cent lower than last year (40 000 tonnes landed in Jan-Sep 2008).

Apart from these three big players on the Spanish market, it is worth mentioning that Thailand increased by seven fold the volume of its exports to Spain as a result of the difficult US market. During the period Jan-Sep 2008, Thailand exported to the USA 6 000 tonnes less than during the same period in 2007, but compensated losses somewhat with 2 700 additional tonnes to Spain.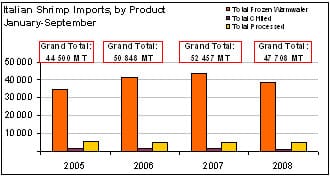 The Italian shrimp market is shrinking
In the same way as Spain, during the third quarter of 2008, Italy experienced a further 9 per cent decrease of its shrimp import volumes simultaneously with the first signs of recession. Demand is continuing to decrease as Italian households turn away from expensive products. Notwithstanding this difficult market, Ecuador managed to increase further its market share on this market, facilitated by lower availability from Argentina and by competitive prices. India also noticeably increased its exports to Italy with a 30 per cent gain, and products with an average unit value as low as EUR 3.32/kg (EUR 1.15/kg cheaper than Ecuadorian shrimp). Recently, cultivation of Vannamei has been approved in India, which will allow the country to diversify its shrimp production (mainly Black Tiger) and to offer even more competitive products.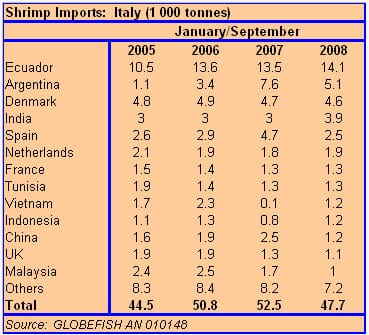 Shrimp demand in France stops progressing but remains rather good
Demand for shrimp on the French market is rather stable and import figures for January-September show only a slight decrease compared to 2007 (-1 per cent in volume and -2 per cent in value) for a total of 75 300 tonnes. The decrease concerns only high-priced products such as processed shrimp (-12 per cent), fresh shrimp (-18 per cent) and coldwater shrimp (-13 per cent), which is not surprising in a period of economic slow down. However, there is an exception to this trend: shrimp of Madacascan origin. With a unit value per kilo at around EUR 8.50, Madagascan shrimp can be considered as a "luxury" product, and nevertheless French consumers remain loyal to this product. Indeed, during the third quarter of 2008, French imports from Madagascar increased by 8 per cent, bringing that country to the second position among top shrimp suppliers to France.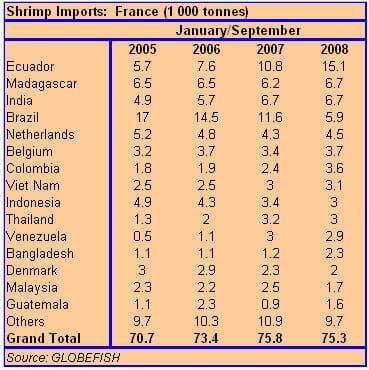 Latest EUROSTAT figures show that France has not entered into technical recession and the GDP for the third quarter of 2008 continues to show a positive trend at 0,1 per cent. Household expenditure figures remain positive (+0.2 per cent for the third quarter of 2008) and people have not markedly reduced going out to restaurants, the sector in which shrimp is mainly consumed. Whole warmwater shrimp imports continued to increase on the French market, with Ecuador consolidating further its dominant market share (20 per cent of total French shrimp imports). With 15 100 tonnes exported in January-September 2008, it increased by 40 per cent the volume of its exports compared to the same period last year, notwithstanding the slight increase of average unit value of Ecuadorian products (+11 cents/kg).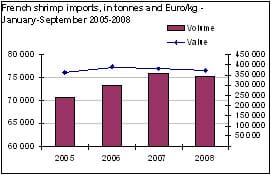 German shrimp continues to expand somewhat
Although Germany, the first biggest Eurozone's economy, has entered officially into recession, the gloomy situation has not had a dramatic impact on the shrimp market. In the third quarter of 2008, the economic situation put an end to the past-years' tremendous escalation in shrimp imports, but figures continue to show a slight expansion on last year's imports.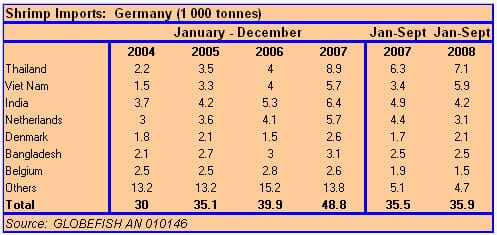 The great majority of shrimp consumed in Germany is of Asian origin. Thailand is the leader on this market for whole frozen products but also in the prepared and preserved sector where it represents 24 per cent of the total volume imported. Thailand recently consolidated its market share and during the period January-September increased by 13 per cent the volume of its total exports to Germany. Thailand is followed by Viet Nam which, thanks to a 74 per cent increase, reached the second position among Germany suppliers superseding India.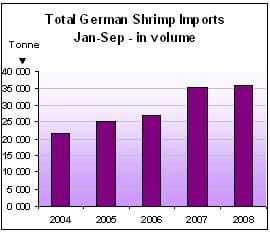 Lower volumes from almost all major shrimp suppliers to the UK
Third quarter 2008's national figures show that the shrimp market in the UK weakened markedly compared to the same period last year. Both the frozen-whole sector (47 per cent of total imports) and the prepared/preserved sector (51 per cent) suffered due to the present difficult economic situation. However, the warmwater sector was mostly hit (-10 per cent on last year figures), while coldwater shrimp products registered only a 4 per cent decrease. Iceland remains the number one supplier to the UK market with a total of 10 800 tonnes corresponding to a 7 per cent decrease on last year figures while Danish exports (second supplier to the UK) remain stable. The most drastic drops were observed for India (-24 per cent compared to last year) and Canada (-40 per cent).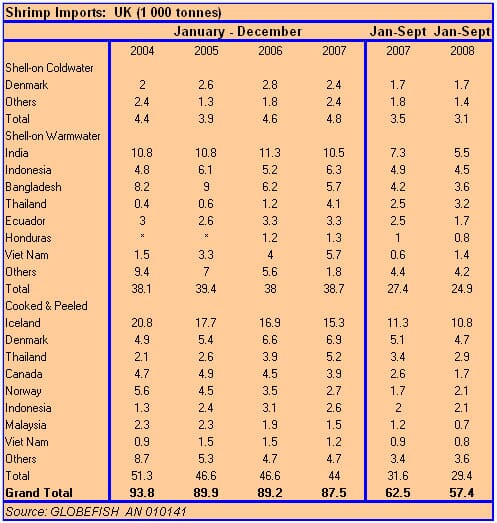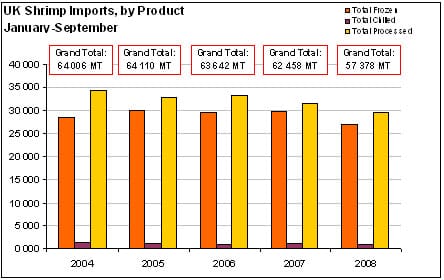 Gloomy outlook for the main shrimp markets
The EU is expected to see a further decline in imports, especially in the Southern part of the continent. The opening months of the year are generally a slow consumption period, thus no recovery in the shrimp market is likely to occur in the coming months.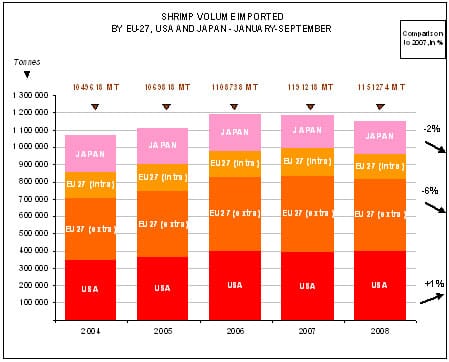 January 2009