Fernando Flores, Novartis Animal Health gave an update of the sea lice situation in Chile at AquaNor 2011. Charlotte Johnston, TheFishSite editor reports.
It is the Southern part of Chile where the majority of fish farming takes place, explained Mr Flores. Water temperatures range from eight degrees Celsius in winter to 16 degrees Celsius in the summer time, with water salinity averaging around three per cent, with the exception of fjords or shallow farming areas.

Over the past 10 years, exports of salmon and trout increased significantly, peaking in 2008 at 450,000 tons. The infectious salmon anaemia (ISA) outbreak in 2007, didn't affect the export markets until nearly a year and a half later.

Although suffering after the ISA crisis, exports are beginning to recover with exports in 2012 expected to reach 350,000 tonnes.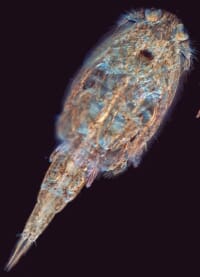 Caligus sea lice
Sea lice
Sea lice species in Chile are different to the sea lice seen in European waters, said Mr Flores. The main species present is caligus, of which there are different varieties. Mr Flores said that this species has been present since the 1980s.

For the 10 to 12 years there has only being one product available to treat sea lice. A lack of product rotation has meant that the situation has got progressively worse.

Caligus rogercresseyi is a natural host in native wild fish including robalo, sea silverside, and small eyed flounder.

The life cycle of the caligus depends on a number of factors including light, water temperature and salinity. In summer the average length of the cycle is 26 days. Of these it takes the parasite 12 to 13 days to find a host, said Mr Flores. As water temperature increases the life cycle of the caligus decreases. The lice also survive longer in higher levels of salinity.

Average number of caligus per fish
Throughout 2006/2007 the numbers of sea lice per fish slowly crept up, peaking in 2007 at 30 caligus per fish.

Mr Flores puts this down to the quality of smolts going out to sea. In 2007 production was booming, meaning more and more smolts were going out to sea. Because of the high demand for smolts, it is likely the quality of smolts were slightly poorer.

Since the crisis, producers have been able to choose higher quality smolts, and there have been less fish in the sea, reducing the chances for the parasites to move from site to site.

The average lice per fish is between two and three, which has remained consistent since 2009.

Despite this, Mr Flores suggested that in areas where there are only one or two products used, more products should be made available.

The first authorisation of an ISA vaccine was introduced in April 2009 by Novartis. Where vaccinations are based on water volumes, Mr Flores reminded producers that water volume does change over the growing period. As fish grow there is less water in the cage. The distance between the fish also decreases, meaning there are more chances for the lice to infect greater quantities of fish.

National programme

Caligus counts are taken once a year at the end of July. 10 fish in all cages are sampled, the worst cage is then identified and used as an index cage. Juveniles, adults and females with eggs are all counted.

Farms then count caligus from 1 random cage and the index cage every 15 days, sampling 10 random fish per cage.

Practice also pre determines the period for smolt transfer, harvest and the fallow period for each area, to limit the risk of parasites and other diseases spreading.

Mr Flores said that the timing of treatments depends on the level and type of infestation, season of the year and temperatures etc.

Products currently licensed for use in Chile include Generic, Slice, Generics, Betamax and Alphamax.

September 2011